Top 10 Under $20: White Wine Edition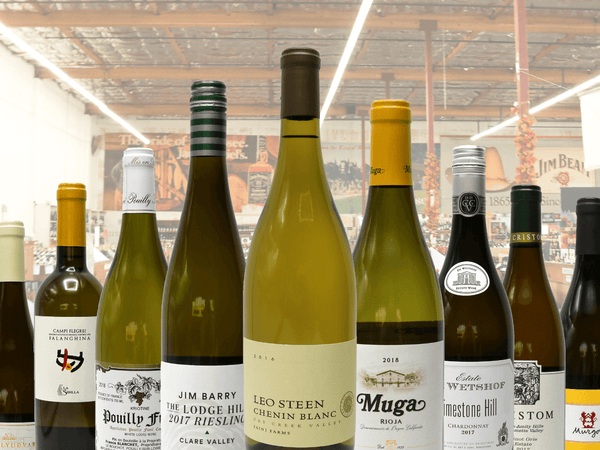 Written by Jordan Wardlaw, Import Wine Specialist
All of you who checked out my recent article Top 10 Under $20: Red Wine Edition clearly know how committed we are to value. This is where the real fun begins, with a list that could easily consist of 100 wines from our international selection.
I've narrowed it down to ten that I am very passionate about at the moment, especially during the summer months when my home cooking emphasizes freshness and more "world" cuisine flavors and textures. All of the wines are dry, each of them represents a super bargain for your wine budget and certainly they will all be pleasing to enjoy during the summer season with or without a meal (though preferably the latter). 
#1. LEO STEEN WINES
(Healdsburg, CA)
Wine: 2017 Saini Farm Chenin Blanc
Varietal: Chenin Blanc
Year: 2017
ABV: 13%
Price: $17.49
Why I Chose It: Simply put, I am in love with Leo Hansen's wines and they have become some of my favorite in all of California. What I love most about Leo is that his wines reflect his passion, and his devotion to Chenin Blanc makes me all the more fond of him because it is a grape that I have championed at Bottle Barn ever since I first fell in love with the great wines of the Loire Valley.
Of the three single vineyard Chenin he produces on his boutique label, this is the only one grown on Sonoma County soil and is also the most broadly appealing with its bright yet slightly round and unctuous flavors.
The Saini vineyard in Dry Creek is home to the oldest Chenin Blanc vines in the appellation, producing low yields and naturally firm concentration of flavor on the palate, allowing for a very minimalist approach to vinification.
This wine completes malolactic fermentation in older French oak, offering silken texture and superb finesse. But I also appreciate that it shows very textbook Chenin Blanc aromatics and flavors: Lanolin, chamomile tea, honey, stone fruit, lemon pith and white pepper.
Who Will Enjoy It: Just about any moderately adventurous wine lover looking for a clean, expressive and versatile alternative to Chardonnay. 
Serving Tip: All purpose white wine stems or Riedel Grand Cru Riesling glass at about 47 degrees. Pairs beautifully with richer seafood or mild to moderately intense Thai cuisine. 
#2. BODEGAS MUGA
(La Rioja, Spain)
Wine: 2018 Rioja D.O.Ca. White Blend
Blend: 90% Viura, 10% Malvasía and Garnacha Blanca
Year: 2018
ABV: 13%
Price: $16.99
Why I Chose It: I'm always looking for an affordable alternative to my first love, white Burgundy. While it is a loose comparison,  I have found that white Burgundy collectors very much appreciate this barrel-fermented white for its richness, subtlety and brightness.
Viura can be a rather unremarkable grape, but the alluvial and calcareous marl soils of the Muga property coupled with the winemaker's restrained use of oak elevate it to high art. The flavors are indeed somewhat reminiscent of some of the great Chablis: Salt-preserved lemon curd, peach, citrus blossom and oyster shell.
Tasting last year's release in a large Burgundy stem changed the way I think of this wine, retaining all of the freshness and minerality on the palate but amplifying the brightness, savour and broad structure that make it so intriguing and balanced. 
Who Will Enjoy It: Lovers of classic barrel-fermented wines that are light on their feet and never actually taste of oak. 
Serving Tip: A large Burgundy stem at 50 degrees greatly enhances the aromatic appeal of the Muga whites. 
#3. JIM BARRY WINES
(Clare Valley, Australia)
Wine: 2017 Lodge Hill Riesling
Varietal: Riesling
Year: 2017
ABV: 12%
Price: $18.49
Why I Chose It: I love racy dry Riesling, and I believe it is the ideal summer wine. This high-elevation expression offers electric acidity and a laser beam of green apple and citrus flavors in its youth, aging into notes of apricot and spice. The 2017 has had just enough bottle time to show more fruit character and length on the palate. 
Who Will Enjoy It: Acid freaks. If you tend to prefer whites with moderate to low acidity with toasty, buttery flavors and broad mouthfeel characteristics, steer clear of this wine and stick with Muga. 
Serving Tip: Use smaller stemware such as the classic Riesling glass at a modest 48 degrees and this wine will be allowed to fully reveal itself. The lighter body, high acid and delicate structure make it ideal for raw fish and other lighter dishes. 
#4. BODEGAS JORGE ORDONEZ
(Malaga, Spain)
Wine: 2016 Botani Moscatel
Varietal: Muscat
Year: 2018
ABV: 13.5%
Price: $16.49
Why I Chose It: For its absurd value, and because I believe Spanish whites and Muscat are both vastly underappreciated. But this wine is simply unique; the vineyard itself must be seen to be believed.
Spanish impresario Jorge Ordonez and his team go to ridiculous measures to farm and harvest an ancient clone of Muscat of Alexandria planted on north facing decomposed slate and quartz slopes at a harrowing 70 degree incline; without terraces, ladders or mechanization. Facing away from the hot Mediterranean sun allows the grapes to retain the freshness and purity that is the hallmark of this wine.
I love the tension between the floral, herbal and spice flavors which leave distinct impressions of jasmine, ginger, grapefruit pith, stone fruit and fresh cut grass. 
Who Will Enjoy It: The sheer intensity and raciness of this wine gives something of a hipster appeal. But if you enjoy a fresh palate cleanser during a great meal based around shellfish and fresh herbs, this is just the ticket. 
#5. MURGO
(Mount Etna, Sicily)
Wine: 2017 Etna Bianco DOC
Blend: 70% Carricante, 30% Catarratto Bianco
Year: 2018
ABV: 13%
Price: $15.99
Why I Chose It: The wines of Mount Etna are thrilling, and the whites are every bit as good as the reds. It seems this is a region whose time has finally arrived in the world, but it wasn't long ago that obscure varietals grown on the slopes of an active volcano were recognized and appreciated by very few outside of Italy.
Murgo's wines are particularly noteworthy because they still reside in the lower price tier for the appellation, consistently over-delivering on price point. The whites reveal the pure volcanic terroir even more than the reds, with stony minerality and exotic spice character. 
Who Will Enjoy It: Those who are looking for more "earth" driven wines and tend to enjoy fresh aromatic wines from places like the Loire Valley. Not that these lovely wines are devoid of fruit, but undoubtedly the salinity and minerality are the dominant qualities here. 
Serving Tip: The most common temptation with this pure, medium-bodied style is to chill it down excessively. I strongly urge you to serve at the standard range of 47-50 degrees which will allow some of the more subtle aromatics and silky mouthfeel to reach full potential. 
#6. DE WETSHOF ESTATE
(Robertson, South Africa)
Wine: 2017 Limestone Hill Unoaked Chardonnay
Varietal: Chardonnay
Year: 2017
ABV: 13%
Price: $16.99
Why I Chose It: Because life is too short to drink bland, flabby and insipid Chardonnay. And it is never surprising to me anymore when South Africa serves up another superb value from a small estate producer. We're seeing a steady increase in demand for well-crafted Chardonnay sans oak, and I simply believe this is head-and-shoulders above most of the competition outside of Chablis.
The limestone subsoils and cool microclimate of the De Wetshof estate offer ideal growing conditions for Chardonnay that retains freshness, acidity and a sense of finesse. The flavor profile is awfully complex at this modest price point: Golden apple, peach, lemon curd, slightly nutty and leesy flavors showing up in the mid palate with a clean and somewhat chalky finish. It's a great study in transparency and  terroir. 
Who Will Enjoy It: Terroir geeks! But more casual stainless steel Chardonnay fans will be delighted at the quality and price, and Chablis lovers will marvel at the superb value for mid-week drinking. 
#7. DOMAINE FRANCIS BLANCHET
(Loire Valley, France)
Wine: 2018 Pouilly-Fumé "Kriotine"
Varietal: Sauvignon Blanc
Year: 2018
ABV: 13%
Price: $19.99
Why I Chose It: With Sancerre surging in popularity amongst our customer base, I feel Pouilly Fumé far too often gets saddled with second-class status. Top producers such as Blanchet are capable of turning out wines of remarkable clarity, structure and elegance.
The 2018 "Kriotine" is a departure from the "Cuvée Silice" that we offer regularly, grown on a tiny parcel of chalky limestone soils rather than the flinty silex for which the appellation is known. For that reason I feel it is more broadly appealing, with less nerve, intensity and smokiness and more richness and juicy primary fruit character. It is showing lovely notes of white peach, Asian pear, grapefruit, mango, salted Meyer lemon and crushed stone minerality. 
Who Will Enjoy It: Anyone who frequents our Sancerre selection but who might have overlooked this nearby appellation, or simply any Sauvignon Blanc fan looking for a different expression.
Serving Tip: Pair this with your favorite grassy, tangy goat's milk cheese and smoked salmon and you will have created pure harmony. Once again- not too cold! 
#8. KIRÁLYUDVAR
(Tokaj, Hungary)
Wine: 2015 Furmint Sec
Varietal: Furmint
Year: 2015
ABV: 13.5%
Price: $19.99
Why I Chose It: It is my favorite dry wine in all of Hungary and on a short list of my perennial favorites in our entire selection. This biodynamic producer located in the foothills of the Capathian Mountains produces some of the best Tokaj Aszu dessert wines in the country, but it is their dry wine made from 100% Furmint that excites me most.
It has everything: Body, structure, fresh acidity and an excellent sense of weight without ever feeling heavy. It presents endless food pairing possibilities. More experienced tasters will instantly note the similarities between this style of Furmint and dry Chenin Blanc, though the two varities are to my knowledge entirely unrelated. And like Chenin, Furmint is highly valued for its ability to produce still, sparkling and sweet wines that are all equally compelling.
This vintage is their best effort to date; forceful, fleshy, rich and intense. Baked apple, quince, chamomile, lanolin and honey flavors are very delineated in this vintage and remind me of the great dry Vouvrays, but at a price that you would be hard-pressed to find on any of those bottles. This is a win-win. 
Who Will Enjoy It: Fans of the great Chenin Blanc wines from the Loire Valley's Touraine subregion. 
Serving Tip: This might be the most versatile food wine on the list, but I recently had it with sashimi and ginger and it was a knockout combination.
#9. LA SIBILLA
(Campania, Italy)
Wine: Falanghina, Campi Flegrei DOC
Varietal: Falanghina
Year: 2017
ABV: 13%
Price: $17.99
Why I Chose It: I can't think of a more deliciously appropriate choice for the current season. This is exactly the wine I want in my glass while I'm grazing on olives and charcuterie with friends and family on the back deck or prepping for the evening's main course. The light sandy soils of this vineyard just north of Naples lend the wines an airy sense of weightlessness while never sacrificing flavor depth. Juicy lemons, tarragon, subtle spices and white flowers are seamlessly fused into a wine of delicate structure. It is the ideal wine for shellfish, crab, octopus or red snapper.
Who Will Enjoy It: If you are a fan of crisp and aromatic Italian whites that beg for fresh summer flavors at the table, this is the wine for you. It is quintessentially southern Italian and Mediterranean in character. 
#10. CRISTOM VINEYARDS
(Willamette Valley, Oregon)
Wine: 2017 Estate Pinot Gris
Varietal: Pinot Gris
Year: 2018
ABV: 14%
Price: $19.99
Why I Chose It: I think most consumers, and even devoted wine geeks, have a hard time getting excited about Pinot Gris. While I admit that its reputation for bland and prosaic wines is well-deserved in many cases, Willamette Valley is a region that completely defies that notion and Cristom's superb single-vineyard bottling is one of the very best examples.
There is a push-pull tension of opposites in nearly every vintage that I find impossible to resist; at once displaying both tremendous nerve and viscosity, ample fruit and phenolic intensity. Cristom planted Pinot Gris exclusively to the southernmost portion of its estate vineyard in the Eola-Amity Hills AVA, a cooler site heavily influenced by the wind and fog that enters through the Van Duzer corridor and the only vineyard block on the estate comprised of pure sedimentary marine soil.
The focus and attention to detail is very manifest in the wine which has an effortless grace. Lime, tarragon and slightly bitter pear skin notes on the entry lead to a broad, palate coating viscosity in the mid palate. But the true intrigue of this wine is its distinctive spice character; think of tart apples baked in cinnamon, allspice and ginger. Never dull, never insipid- this Pinot Gris is a serious wine and a tremendous value every single year. 
Who Will Enjoy It: Fans of dry Alsatian whites will love the fragrance and spice character.
---
1 comment
---
---