Top 10 Under $20: Red Wine Edition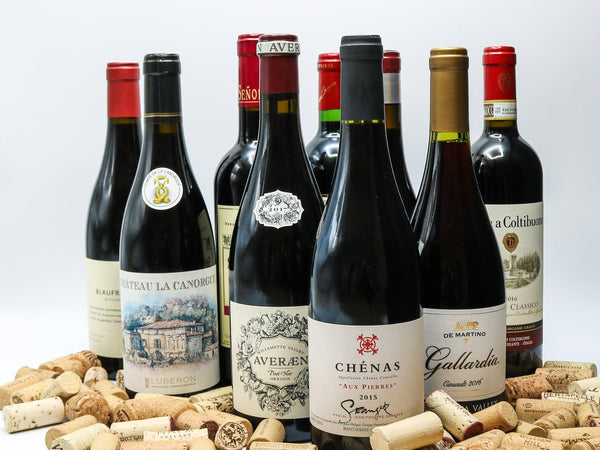 Written by Jordan Wardlaw, Import Wine Specialist
"Price is what you pay. Value is what you get."  It's a practical wisdom on which most budget-conscious consumers will agree.  Yet there is a persistent misperception regarding "QPR", or quality-to-price ratio, that leads to the very familiar question:  "Can I find anything of great quality for less than twenty bones?" The answer is a resounding "Yes".
The wine curators at Bottle Barn, together with our trusted import and wholesale partners, remain firmly committed to discovering "value" for our customers.  It is both our professional and personal mission to continually provide selections that defy the conventional wisdom.
Discovering the $15 bottle of wine that outperforms the $45 selection has become a challenge that I relish.  And while I firmly believe there is "value" at all price tiers, today's focus is the "premium" segment of the market: Varietal wines retailing between $15 and $21 USD.  If the word "premium" applied to this price range sounds confusing, you're not alone.
For example, the consumer advocates at Wine Folly define the Premium segment as "good, solid quality wines with typicity and basic terroir."  Certainly many of my Tuesday Night selections fall within those parameters, yet I tend to pay less than $15 for the majority of them.
If your confusion remains, consider the following statement about Luxury Wines:  "Excellent, handcrafted, cellar-worthy wines from top regions or microsites from top producers."  Certainly many if not all of these wines are deserving of "90 point" scores or higher from various mainstream journalists.  Seeing as a bottle in the Luxury category is expected to command a retail price between $50-$100, one can understand the disappointment when the wine simply fails to live up to the 90 Point hype.
All subjectivity aside, I present to you 10 wines of 90-point and above quality, typicity and terroir at the $21 price point or less.  In my view this is the most exciting segment in our selection from the standpoint of pure value, dollar-per-ounce excellence.  We'll explore the range of wines in depth, which run the gamut from the tried-and-true to roads less travelled. By default there will be no discussion of the great Burgundies or cult Napa Cabernets, but also none of the attendant anxieties and heartbreaks.  This article is dedicated to our beloved value-hunters; we salute you!


#1.  BADIA A COLTIBUONO (Tuscany, Italy)
Wine: 2016 Chianti Classico DOCG
Blend: 90% Sangiovese, 10% Canaiolo
ABV: 14%
Note: Certified Organic
Price: $19.99
The Coltibuono estate, a high elevation family-owned farm in Chianti's southern Gaiole commune, is one of the most traditional and revered in Tuscany.  Commercial wine production dates back to 1950, though viticulture has been practiced here for several centuries. Only indigenous varietals grow in the vineyard (no Syrah or Merlot), which is just one component of a symbiotic ecosystem comprised of protected woodlands, beneficial cover crops and livestock.
The key features of this historic terroir are the prized albarese clay and limestone soils, ideally suited to the noble Sangiovese grape, along with elevations that reach well above 2,000 ft in the vineyard.  The result is an elegant, high-acid wine with high-toned floral aromatics and briary flavors of sour cherries and small wild red berries. Spice notes of cinnamon and clove are common in this blend, as well as herbal notes of mint, tomato leaf, and wild rosemary.
No new oak is used in the aging of this "normale" bottling.  The firm tannin structure and bright acidity makes it an ideal match with rustic dishes like herb-crusted lamb or tomato-based pasta dishes.  The 2016 vintage is an outstanding effort with a decade's worth of cellaring potential; truly the epitome of superb value.

Wine Advocate, 90 Points
#2. HERMANOS DE PECIÑA (Rioja, Spain)
Wine: 2013 Rioja Crianza
Blend: 95% Tempranillo, 3% Graciano, 2% Garnacha
ABV: 13.5%
Price: $19.99
This is a truly artisan-scale Rioja crafted in the Old World tradition, exuding both masculinity and finesse.  Pedro Peciña, former winemaker at the legendary La Rioja Alta, has acquired a handful of small parcels planted in thin, chalky soils throughout the slightly cooler, high-elevation northern reaches of Rioja.  I continue to be blown away at the unusual degree of purity, aromatic intensity and depth that this producer coaxes out of their Crianza for such a modest price.
This is simply not the typical lean, youthful fruit that we often see in the Crianza designation:  Wines whose more primary flavors are the result of a short barrel and bottle maturation period (typically 2 years).  This wine sees a 3-year élevage in neutral American oak barrels and is racked twice annually for subtle introduction of oxygen, then bottled unfiltered after a natural gentle egg white fining.
I found it to be very developed and approachable upon release, but offering the immense structure and dark, brooding fruit character normally found in a Reserva bottling. The tannins are ripe and supple on the palate following a burst of blackberry, cherry-vanilla, cassis, old leather, spice box and tobacco.  A robust yet pretty wine with plenty of stuffing for aging, and showcasing the classic savory herb and spice character of the region.
Wine Advocate, 91 Points


#3. ROCCHE COSTAMAGNA (Piedmont, Italy)
Wine: 2015 "Roccardo", Langhe DOC
Varietal: 100% Nebbiolo
ABV: 13.5%
Price: $14.99
I'll come right out and say it: This is an outright steal-- a classic vintage of Piedmont Nebbiolo that I am always proud to have at the table, and a "Langhe" in name only.  If we think of Langhe DOC as the Piemontese equivalent of Burgundy's basic "Bourgogne Rouge", traditionally this would offer a fresh, fruit-driven young wine from a broader viticultural area and blended to offer the basic character of the region and the vintage.  In this case we have a complex, cellar-worthy selection from young vines in the north and west reaches of Barolo, making it a truly stunning value.
Costamagna's history dates back to 1841 in the heart of the La Morra commune of Barolo.  Today the operation is overseen by Alessandro Locatelli along with a consulting enologist.  The 2015 Roccardo Langhe Nebbiolo is sourced from two vineyard sites in the communes of La Morra and Verduno planted in calcareous "blue" marl soils mixed with sandy, sedimentary deposits.  Ruby garnet in the glass, displaying a fragrant bouquet of briary wild black raspberries, dried rose petal, orange peel and mint. Tremendously fresh and elegant on the palate with polished, integrated tannins.
Both serious and approachable, this "baby" Barolo feels equally at home with BBQ or fine dining. Bring on the wild pig and truffles, or simply enjoy a bottle on its own.


#4. CHÂTEAU LA CANORGUE (Provence, France)
Wine: 2016 Luberon Rouge
Blend: 70% Syrah, 30% Grenache
ABV: 14.5%
Note: Certified Organic and Biodynamically Farmed
Price: $16.99
This is a highly-anticipated release, and one of the most frequently requested wines in our French selection.  Somewhat off the beaten path in Bonnieux, straddling the viticultural border between the Rhône and Provence, sits this idyllic 60 acre property in Luberon National Park.  Early pioneers of organic farming, Canorgue has built a cult following in Europe and abroad for both its red and white "Luberon" which in fine vintages give the more celebrated wines of Châteauneuf-du-Pape and Gigondas a run for their money.  And the 2016 is certainly an exceptional effort.
Full-bodied, juicy and structured, the limestone-rich clay soils lend the reds a lifted freshness and sense of finesse.  Always a very aromatically intense wine, aromas of leather, clove, wild garrigue, all spice, espresso and black olive swirl in the glass along with spicy wild berry flavors.  I always find a wonderful tension between primary fruit and "animal" flavors, along with sweet tannins and fresh minerality. Despite the rather Provencale spirit to this blend, I encourage you to compare the quality of Canorgue's wines to those of their more famous Southern Rhône neighbors that fetch easily three times the price.
Wine Advocate, 91 Points


#5. DESCENDIENTES DE J. PALACIOS (Castilla y León, Spain)
Wine: 2016 "Pétalos", Bierzo
Varietal: 100% Mencía
ABV: 13.5%
Price: $18.99
Now we shift to the remote appellation of Bierzo in the cool, maritime-influenced mountains overlooking Castilla y León in northwestern Spain.  Founder Alvaro Palacios is one of the true visionaries of the modern Spanish wine revolution, making his mark in Priorat in the early 1990s with modern, stylish single-vineyard wines of impressive power and structure.
The emphasis here has always been a fanatical commitment to quality in the vineyard, favoring challenging high-elevation growing sites and farming for painfully low yields.  Thankfully for us, that same obsession with quality and emphasis on terroir permeates these wines made from 100% Mencía which are the culmination of a years-long search for an ideal site.
Farming and winemaking at this beautiful estate is overseen by Palacios and his nephew Ricardo Perez, a formally trained enologist whose resumé includes an internship at Petrus.  Head-pruned vines tended by hand and mule on impossibly steep schist-covered slopes yield tiny berries and small clusters, contributing aromatic intensity and spice character to the deep magenta colored wines with tart, brambly flavors on the palate.
The appeal of this wine is in the juxtaposition of its aromatics and flavors; dense, ripe characteristics on the nose with freshness and minerality on the palate.  Only large format casks are used for aging, and the wines are bottled unfiltered. Impeccably balanced with firms tannins and the ability to age for 5-7 years.
Wine Spectator, 92 Points


#6. AVERAEN WINES (Oregon, USA)
Wine: 2017 Willamette Valley Pinot Noir
ABV: 13.5%
Price: $18.99
I've been very excited about this small-scale negociant ever since I tasted the inaugural release of their flagship wine, now being offered for the 2017 vintage.  This is textbook Willamette Valley Pinot Noir at a bargain price, showcasing outstanding fruit character from a world-class terroir that has become a serious player on the world stage.
Bottle Barn customers are no stranger to Adam Smith's wines, as his initial success in building the Sonoma-based Banshee brand left a lasting impression on many value-seekers over the past several years.  He soon headed north and formed key partnerships with a host of reputable growers throughout Willamette's six AVAs, all of which contribute fruit to this outstanding reference-point bottle that has gained a very devoted following in our store.
My first impression of the 2017 vintage is its striking floral character and red-fruited, spice-accented mid palate.  With more air comes darker berry flavors, harmonious tannins and a mineral streak on the finish that provides a true sense of place emanating from the young volcanic soils of the western valley.
The emphasis of Averaen's style is on freshness and supple texture but this is by no means a timid expression of Pinot Noir, offering plenty of depth and backbone and taking the traditional place at the table where it will surely be able to handle the robust flavors of game meats, stews, BBQ or roast duck.  Keep an eye out for this rapidly up-and-coming producer.
Vinous Media (Josh Raynolds), 91 Points


#7. PASCAL JEAN-PHILIPPE GRANGER (Beaujolais, France)
Wine: 2015 "Aux Pierres", Chénas
Varietal: 100% Gamay
ABV: 13%
Note: Organically Farmed
Price: $19.99
As the reputation of Cru Beaujolais Gamay continues to grow in the US market, we are increasingly inundated with offerings (and customer demands!) from this exciting region.  Sommeliers and wine merchants throughout the world have been passionately promoting Beaujolais wines for their superb quality-to-price ratio which is arguably unmatched by any other classic red wine producing region on the planet.
Pascal Granger is a vigneron whose beautiful wines continue to knock me out with top-notch quality, typicity and value pricing. Each of their wines are robust, cellar-worthy, and unmistakably Burgundian in character and structure. Today's selection, "Aux Pierres", comes from their smallest vineyard holding in the village Chénas and happens to be one of their very best bottlings.
Chénas is arguably the unsung hero of the 10 "Cru" of Beaujolais, perhaps due to its relatively small size, the short list of highly-regarded producers and a small presence in the international market.  But the best examples from this northern Cru are capable of going toe-to-toe with some of the finest wines of Morgon and Moulin-a-Vent, and this one is exceptionally fine and well-structured.
Traditional vinification is de rigueur at this 200-year-old estate: Long macerations, partially destemmed fruit in cement vats followed by aging in neutral oak foudres.   The micro-produced 2015 vintage is nothing short of stunning; fresh cut violets, brambly raspberries, dried orange peel, Asian spice all charged with mineral tension. The youthful grippy tannins will soften over time, so plan on enjoying one now and cellaring a few more over the next 5-7 years.
Wine Advocate, 89 Points


#8. DE MARTINO (Maipo, Chile)
Wine: 2016 "Gallardía" Cinsault, Itata Valley
Varietal: 100% Cinsault
ABV: 13%
Price: $15.99
Here we have another hidden gem (and perhaps the most unusual on this list), buried in the resplendent treasure trove that is legendary British importer Michael Broadbent's renowned portfolio.  Despite a somewhat second-class status as a blending grape in France's southern Rhône valley and Languedoc-Roussillon, Cinsault has become a rather vital commercial grape and the fourth most widely-planted variety in France and the workhorse varietal in rosé production.
It seems the same essential characteristics favored by French growers, its heat tolerance and naturally high acidity, are quite valuable in the warm climates of South Africa, Australia and California's Central Valley. What is happening at De Martino's estate off the Pacific coast in Chile's Itata Valley is another story entirely:  An oddly harmonious marriage of grape and location.
Fourth-generation winegrowing family De Martino has a proud tradition dating back to 1934 when the first wines were produced in the more northern Maipo Valley.  Moving 150 miles south to Itata we find Cinsault vines up to 110 years old rooted in granite soils, yielding extremely fresh and elegant wines with seductive aromatics:  At once both floral and smoky, showing dried rose petal, peat, camphor and fennel. The palate is a radiant burst of sour cherries, licorice, tobacco and underbrush.
This super-value bottling showcases fruit from the younger plantings in living soils which are painstakingly dry farmed, plowed by horse & hand and see no chemical pesticide treatments.  The vines benefit from a sunny climate moderated by the coastal breezes and diurnal temperature variations that allow for a longer growing season, slower ripening and retention of natural acidity.
While there might not be a standard template for a "textbook Cinsault", De Martino has certainly won us over with this exceptional example from a unique terroir. This wine consistently reminds me of sitting by a forest campfire.
Wine & Spirits, 92 Points


#9. ROSI SCHUSTER (Burgenland, Austria)
Wine: 2015 Blaufränkisch 
ABV: 13%
Note: Organically Farmed
Price: $18.99
My next pick comes from another seriously underrated corner of the wine world.  Burgenland DAC is located in eastern Austria heading towards the Hungarian border, and is home to several indigenous "Germanic" black grape varieties.  This may come as a surprise (certainly Gruner Veltliner gets most of the glory), but the red wines of this region are becoming some of the most talked-about amongst my customers.
I agree with Master Sommelier Ian Cauble who, in praising the producer of this very wine, asserted that it is Blaufränkisch that is best positioned to take its place on the world stage.  This ancient noble variety, with its exotic blue fruits, herbal notes and pungent peppercorn character, is perhaps the best recognized in a family of varieties that appear to be related to Pinot Noir.
Hannes Schuster, son of the founding Rosi, produces this Blaufränkisch from organically-farmed parcels planted to loamy clay and sandy limestone soils in the subregions of St. Margarethen and Zagersdorf.
In terms of scale and structure, traditional renditions seem to fall somewhere in between Loire Valley Cabernet Franc and Cru Beaujolais; but the amalgam of flavors are unique as the textbook Schuster wines no doubt demonstrate.  Black cherry and wild blueberries, racy peppercorn, black currant, coriander and crushed gravel are pulsating in the glass.
Maturing for several months in 500-liter Austrian oak casks provides lovely integration of tannin, which are nonetheless firm and assertive on the palate.  The flavors naturally marry well to a variety of intensely-flavored fish and fowl, and the aging potential is anywhere from 3-5 years for best enjoyment.
Wine Advocate, 92 Points


#10. CHATEAU BARREJAT (Southwest France)
Wine: 2016 Madiran AOC
Blend: 60% Tannat, 40% Cabernet Sauvignon & Cabernet Franc
ABV: 12.5%
Price: $15.49
It's not hyperbole to say that this may be the single greatest value in our entire selection of French reds.  Remaining somewhat in the shadow of the more famous Madiran estate Domaine Boucassé, Denis Capmartin's 27 hectare property known as Chateau Barrejat lies just outside the small commune of Maumusson on a site that is known to have been producing wines dating back to Roman times. But by far its most important historical attributes relate directly to the Great French Wine Blight of the mid-19th century.
For reasons that are fairly uncertain, the Tannat vines of southwest France were largely unaffected by the phylloxera aphid that destroyed virtually every vineyard in the country between 1850 and 1870.  Though Barrejat's vineyards are an average of 40 years old, they are the direct descendants of the pre-phylloxera survivors from the prior century.
The modern-day Capmartin estate is covered in a diverse series of alluvial soils ranging from sandy clay to rocky gravel, ideally suited to creating wines of freshness, aromatic complexity and finesse.  Tannat is an unusually tannic grape (as the name certainly implies) and consequently it is only required to comprise 60% of the final blend in Madiran, the balance of which is filled by Cabernet Sauvignon and Cabernet Franc.
Fermentation at Barrejat is done in a combination of cement, fiberglass and steel before being racked to neutral French oak foudre for aging.  The nose displays black currant, red plum, dried herb, dark chocolate and roasted meat character while offering a fresh attack, ripe tannins and a subtle complexity across the palate that is rarely found in a wine at this price point.
This unique combination of flavor and tannin profile make it an ideal companion for both Mediterranean cuisine and simple preparations of game meats; think Basque-style ratatouille, spicy sausages or lamb. Barrejat's super-value wines continue to be very popular with fans of both Bordeaux and the Languedoc. 
---
1 comment
---
---