Sauvignon Blanc versus Pinot Grigio: Two White Wine Favorites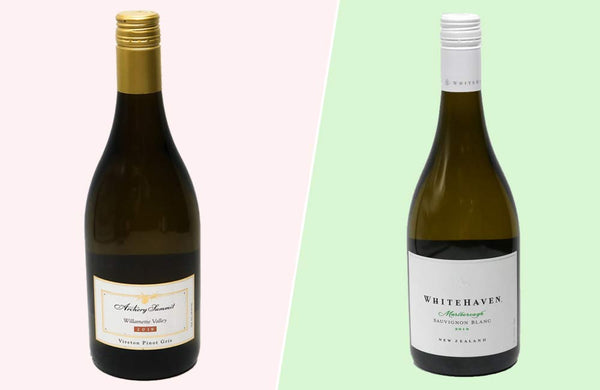 Do you prefer sauvignon blanc wine or pinot grigio wine? If I were forced to choose a white wine bottle, it would probably be sauvignon blanc, in part because of how this grape, and the wine made from it, expresses a sense of place. That said, pinot grigio, also known under its original French name pinot gris, can't be beat for summer wine drinking, chilling on the terrace, or for a picnic.
Both white wines are named after the grapes of the same name. They are often 100% mono-varietal wines. France jumps to mind as the top producer of both, though of course Italy makes superb pinot grigio wines. Both can be a California wine, too, and Sunshine State winemakers produce a variety of styles of both. Finally, the expressive and distinctive New Zealand sauvignon blancs have tantalized American palates for a couple of decades now.
Comparing Pinot Grigio Wine and Sauvignon Blanc Wine
What do sauvignon blanc wine and pinot grigio wine share in common? They are generally dry white wines expressing fruit and mineral flavors and aromas. Sauvignon blancs can tend more towards green and vegetal flavors depending on where the grapes are grown. They can both be enjoyed as young wines and when made well will have a balance of acidity, residual sugar, and alcohol. Both pair extremely well with seafood dishes.
Pinot grigio tends to be quite a savory wine; it's a close relative of pinot noir—really just a pinkish mutation of the same grape. These wines have a richness and subtlety that makes them excellent food companions. The wines express aromas and flavors of cantaloupe, crushed wet gravel, citrus zest, and white peaches. Like sauvignon blanc, the alcohol level is usually around 12-13 percent and they present a medium body. The acidity in pinto grigio wines will not overpower the wine, which contrasts with sauvignon blanc. Great examples come from Alsace in France as well as Alto Adige in Italy.
Sauvignon blanc's capacity to express the essence of diverse terroirs set it apart. As a California wine, you will find a plethora of choices with different flavor profiles. Some diverse examples are listed below that you can order from your favorite wine store California, Bottle Barn. "Racy acidity" is a common phrase for these wines. I love the white wines of Graves in Bordeaux, France, and particularly its sub-appellation of Pessac-Leognan. There's nothing better than enjoying one of these wines with fresh oysters and seafood soup at one of Bordeaux's city markets! The grape originated in France's Loire Valley, where supreme wines are still made. Pouilly fume is wonderful, and this white wine bottle will always contain 100% sauvignon blanc! Robert Mondavi originated another classic: the fume blanc. This style has now been copied by others, like the 2021 Dry Creek Vineyard Fume Blanc or the 2021 Ferrari-Carano Fume Blanc. These examples of California wine are great values! The word "fume" is used because sauvignon blanc wines can also have a smokiness about them.
Sauvignon blanc wine captures aromas of honeydew melons and grapefruit, extending to passionfruit and gooseberry. These are high acidity wines but with about the same alcohol range as pinot grigio wine. For me, they can often have a bit less body that pinot grigios, but they make up for this in extremely expressive flavors, even cut grass and mango. The "green" aromatics in Sauvignon Blanc wine originate from compounds called methoxypyrazines, whose typical associated flavor is green bell pepper. Wine grower can control pyrazine levels through careful pruning and vegetation management, so the resulting wines can vary tremendously in flavors.
What Are Good Pinot Grigio and Sauvignon Blanc Wines to Try?
Here are suggestions for three each of Pinot Grigio/Pinot Gris and Sauvignon Blanc wines from different regions:
Pinot Grigio
2019 Archery Summit Vireton Pinot Gris: From Oregon's Willamette Valley, this wine has 13.9% alcohol, which is pretty high, but does not overwhelm the flavors of honeydew and citrus blossoms and a touch of subtle minerality. Fermented in stainless steel, the flavors are bright and the winemaker kept up balanced acidity.

The 2019 Etude Carneros Pinot Gris emulates an Alsatian style, though it has more alcohol, at 13.2%. A great summer wine, tree blossom aromas do not obscure tropical notes. Wine Enthusiast says its "opulent in texture with a subdued, balanced sense of ripeness." 91 points.

A great value, the 2020 Kris Delle Venezie Pinot Grigio is made from grapes grown in the three regions of Delle Venezie. With a brilliant lemon-green color, this white wine bottle contains aromas of white flowers, citrus zest, tangerine, and even a hint of almond.
Sauvignon Blanc
2021 Whitehaven Marlborough Sauvignon Blanc well exemplifies "racy acidity," but this does not overpower expressive aromas of lemon, passionfruit, and freshly-cut grass. On the palate, expect grapefruit, white peach, yellow pear and pineapple. A good representative of New Zealand Sauv Blanc.

The 2020 Kamen Moon Mountain District Sauvignon Blanc comes from a mountainous AVA in Sonoma County's Mayacamas range just over the border from Napa County. The flavor intensity and a firm acidity give savory characteristics to this wine with a hallmark long finish. White peaches, orange flowers, and slate aromas jump out. 

A truly fine wine, the 2019 Domaine Didier Dagueneau Blanc etc. is a Fume Blanc from biodynamically-farmed grapes featuring pronounced freshness so typical of Loire wines. This wine was oak aged and is the most complex of the three selections.
Let us know in the comments whether you prefer Sauvignon Blanc or Pinot Grigio! Did you like learning about these white wines, including famous California wines and those from other famous regions? Check out our other wine information too!
By Charlie Leary
---