California's Top 10 Collectible Wines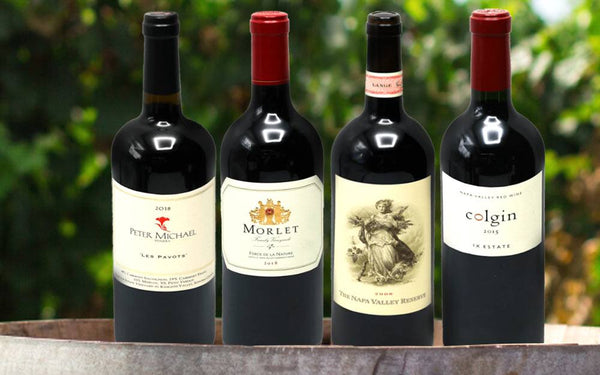 Finding rare and collectible wine online makes building a serious wine collection much easier. For California wine, the most collectible selections come from Sonoma County and Napa County, leaders in fine wine production and the best appellations.
Your wine store California, Bottle Barn, is located in Sonoma County, next to Napa, and has unsurpassed capacity to stock collectibles, curated by an amazingly knowledgeable staff and with prices that make collecting affordable.
Still, these are going to be relatively expensive wines. So, care is needed for cellaring them. Your favorite bottle store takes great care of such wines and you need to continue that after purchase. After you receive the bottles from ordering wine online, Keith Wallace, head of the Wine School of Philadelphia and himself a winemaker, says, "make sure you store your wines in the proper conditions."
His recommendation? Find a space you can maintain as close to 55-degrees Fahrenheit as possible, with some humidity (so corks do not dry out), free from vibrations and direct sunlight. Sunlight actually has a profound affected on stored wine. These factors are critical for collectible Sonoma and Napa selections. Of course, there are wine refrigerators, which are convenient for many. "There are some great cellars out there for a few hundred dollars," states Wallace. Ensure "they're vibration-free and humidity-controlled units." You will find drinking wines that have been stored properly—with humid corks and well-rested, temperature-appropriate wine, much more enjoyable to drink.
I've selected a Top 10 for collectible California wine.
2013 Aubert Eastside Vineyard Chardonnay: A white wine that received 100 points from Wine Advocate. From a vineyard owned by Ulises Valdez and planted with the Montrachet clone, this Chardonnay displays terrific intensity, plenty of stony minerality, and great precision with aromas of white peach, marzipan, pineapple, brioche, and crème brûlée. The grapes were grown on five-acre vineyard sits on a west-facing hill on Eastside Road in the Russian River, Sonoma County.
2018 Peter Michael Les Pavots: A Bordeaux style blend of 68% Cabernet Sauvignon, 19% Cabernet Franc, 10% Merlot, 3% Petit Verdot that scored 97 points from both James Suckling and Jeb Dunnuck. Full-bodied with good concentration, it features notable tannins, awesome mid-palate depth, and a great finish. It's a serious, powerful, blockbuster beauty that holds onto perfect balance and a beautiful expression of elegance. It will keep for twenty years or more. Suckling described "sweet berries, black olives, tile and fresh herbs on the nose with floral undertones."
2018 Schrader RBS To Kalon Vineyard Cabernet Sauvignon: Grab this one now! It scored 99 points from Jeb Dunnuck. This deep purple California wine has a unique style: seamless, elegant, and full-bodied. You will discover aromas of creme de cassis and blue fruit, wildflowers, violets, vanilla, and new saddle leather. This wine flirts with perfection, according to the critics. The tannins, fruit purity, balance, and overall harmony "is just about off the charts." You may want to drink the whole bottle now, but it will also age for 25+ years.
2018 Morlet Force De La Nature Cabernet Franc: Another 100 point winner by Wine Advocate, but this time from Cabernet Franc grown in Beckstoffer's To Kalon vineyard. It offers a complex bouquet of crème de cassis, roasting coffee, duff, and blue flowers. Incredibly complex, a bit of aeration will produce more spice and incense notes. This full-bodied wine offers layers of flavor, and it is perfectly balanced on the palate, with flawless integration of fruit, acidity, and tannins. Give bottle up to 4 years in the cellar before drinking; it will age flawlessly for up to two decades.
2015 Colgin IX Estate Napa Valley Red Wine: Jeb Dunnuck granted 100 points to this 62% Cabernet Sauvignon, 19% Cabernet Franc, 15% Merlot and 4% Petit Verdot blend. This inky purple-hued wine is complete with superb aromatics, huge richness, and purity. It expresses a "singular character that needs to be tasted to be believed." Cassis, blue fruit and flowers as well as lead pencil shaving notes soar from the glass. On the palate this wine expresses a "youthful, full-bodied, beautifully concentrated style" that builds in the mouth, withs fine tannins and integrated acidity. It needs up to five years of bottle age but will keep up to half a century.
2018 Opus One: With 99 points from James Suckling and 98 from Wine Advocate, you can't go wrong collecting Opus One from your wine store California! Always a classic Bordeaux blend, the 2018 Opus One features 84% Cabernet Sauvignon and 6% Petit Verdot, with the rest being Merlot and Cabernet Franc. This deep purple-colored wine expresses the lively, fresher side of the 2018 vintage. It shows off its brilliant, utterly classic style: with crème de cassis and blue fruit aromas as well as notes of lead pencil, candied violets, damp soil, and chocolate-like nuances. This is a wine with finesse "yet is concentrated and seamless, with serious length." We recommend at least 4-5 years in the cellar before sampling; it will evolve well for three decades or more.
2008 The Napa Valley Reserve Red Wine: This very special wine can be drunk now or stored for a decade or more. The Napa Valley Reserve is a private wine club founded by William Harlan, owner of Harlan Estate Winery located on 80 acres in St. Helena. Members pay an entry fee of more than $100,000 and are allowed to help with winemaking activities, including grape harvesting. They also pay for wine allotments, which are not available for direct sale from the club. This Bordeaux-style red wine bottle is literally made for international wine collectors.
2004 Paul Hobbs Beckstoffer Dr. Crane Vineyard Cabernet Sauvignon: In a magnum format, which ages better longer, this Cab scored 95 points from Wine Spectator. On the nose, encounter flavors of ripe currants, black cherries and plum. "These are rich and riveting on the palate, coating the mouth with levels of flavor development." This wine is polished and gazelle-like, with hints of anise and moka, exhibiting a long finish.
2018 Stag's Leap Wine Cellars Cask 23 Cabernet Sauvignon: Err not with Stag's Leap Wine Cellars, also scoring high with Wine Spectator. This red wine seduces the palate, with blueberry, raspberry, and black cherry flavors showing off range and freshness. Graphite and alder notes make an appearance on the finish, with a notes of anise and vanilla subtly discernable. This wine exhibits polish, detail, and length. Perfect for drinking from now through 2040!
2015 Aubert Ritchie Vineyard Chardonnay: Back to Sonoma, with 97 points from Vinous! The 2015 Chardonnay Ritchie Vineyard is laced with the essence of citrus confit, wet rocks, white flowers, white pepper, and fresh fruit. The intense and bright flavors do not overpower expressive richness or intensity. The Ritchie Chardonnay captures all of the very best qualities of this vintage. "It's a magical wine." Don't miss tasting it.
Did you enjoy this article and the recommendations? Start your wine collection today. Read more about California wine as well as wine worldwide with special insights from Bottle Barn!
By Charlie Leary
---