Port versus Sherry: Knowing the Difference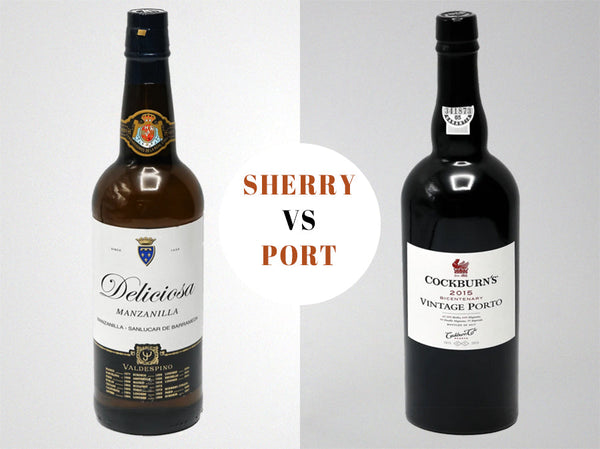 "Sherry," said W. Somerset Maugham, is "the civilized drink." Sylvia Plath stated of drinking Sherry: "I get the sensuous feeling of indulgence . . . luxury, bliss, erotic-tinged." Sherry, indeed, counts among the most sophisticated, varied, and historically fascinating drinks, made in a single Spanish region but carrying an English name that betrays its effulgent past. Nothing could be more representative of Andalusia.
Port, likewise, speaks so clearly of Portugal, but like its neighbor, testifying to finesse based on astounding history and terroir. For British author Evelyn Waugh, Port "is the comfort of age and the companion of the scholar and the philosopher." A 19th century viticulture text described: "Portugal in itself, poor, yet climatically highly endowed, is capable of producing a variety of the most beautiful grapes, and a variety of wines, which, if properly made, would not be surpassed by those of any other country."
Port and Sherry, then, are not fortified wine for the faint of heart, but represent two general types, tied to an expression of place and history, whose simple names betray a myriad of intriguing variations, all tied to wine trade history dating back hundreds and thousands of years. For those interested in exploring a whole facet of the wine word, they are worth both sampling (from the best California wine store) and contrasting.
Where do Port and Sherry come from? 
Sherry and Port are not a single white wine or red wine, but rather classes of wine made in very particular places in Spain and Portugal, respectively. Sherry is officially known as wine from the appellation (DO) DO Jerez – Xérès – Sherry (they use all three historical names) in Cadiz, Andalusia. This is known as the Sherry Zone, and a lot of interesting and exciting things are happening there that makes Jerez one of the most sophisticated drinks around today.
This is the very south of Spain, not too far from Gibraltar, Portugal, and the Atlantic Ocean, though it has a dry, hot Mediterranean climate. The Sherry Zone is new phraseology for what used to be called the Sherry Triangle based on three towns: Jerez de la Frontera, El Puerto de Santa María, and Sanlúcar de Barrameda, Manzanilla's origin,  where the cavernous Sherry ageing and production "bodegas" lie. One particularity of the region is the soil called albariza. As the name indicates, this is a cream colored calcareous soil that reflects heat and holds moisture. It's key to the production of fine sherries like Fino and Manzanilla, Oloroso and Palo Cortado!
Port comes from the Douro River Valley in Portugal; in Spain the same river is called the Duero. It features an excellent climate for winegrowing, with the deep river and its treacherous slopes critical to understanding the terroir. The Valley stretches from the village of Barqueiros up to almost the Spanish border. There are three sub-appellations: The westernmost is Baixo Corgo; to the east of it is Cima Corgo and its grapes grown are considered better quality; finally, there's Douro Superior in the eastern extension, with seriously steep hillsides above the river and excellent grape quality.
What are Port and Sherry Made From? 
Both Port and Sherry/Jerez are fortified wines based on techniques developed hundreds of years ago to provide consistency and longevity. These are true wines: Sherry is made mostly from a grape called Palomino Fino, which produces extremely dry wines, with the sweet versions coming from Pedro Ximenez (PX) and Moscatel grapes. Port is made from a variety of red wine grapes (there are 82 permitted!), including prominently Touriga Franca, Tinta Barroca, Touriga Nacional, and Tinta Roriz, which is called Tempranillo in Spain.
Both Sherry and Port go through multi-stage production processes that include fortification with wine-based spirits, although the Sherry DO has just announced allowing non-fortified wines (but still with high alcohol levels, but naturally so). In the Sherry Zone, production is through a solera system where wines from different vintages are blended together while ageing in stacked barrels. Distilled spirits are added to reach the desired level, which depends on the type of wine being produced. Critical to the production of fine sherries, like Fino, is ageing under a blanket of natural yeast called flor or "flower." Ageing can also occur in contact with air left in the barrels, which results in desired oxidative properties.
Port is made by first fermenting the red wine must, as for any wine, but then adding spirits to cut the fermentation short by killing the yeast. This results in a red wine with high residual sugars, so Port is sweet. Sherries like Fino, Manzanilla, Palo Cortado, Oloroso, and Amontillado, by contrast, are fermented to complete dryness. 
Types of Port  
Port comes in a variety of styles including Ruby Port, Tawny Port (including vintage Colheita and ages of 10, 20, 30, or 40 years), Vintage Port (including Single Quinta), Late Bottled Vintage (LBV) Port, White Port, Crusted Port, and the rare Garrafeira.
Types of Sherry 
Sherry can be divided into sweet Cream styles (which are made by blending), PX, Fino (dry and nutty), Manzanilla (like Fino, but only made in Sanlucar, near the sea), Oloroso, Amontillado, and Palo Cortado. There are now some specialty sherries, like en rama, which are hard to find, but true treats.
Your California wine store, the award-winning Bottle Barn, has both Port and Sherry when you buy wine online. Try the 2015 Cockburn's Vintage Port, which scored 96 points from Decanter. For a representative of Sherry, sample the Valdespino Deliciosa Manzanilla, served cold! It got 93 points from Wine & Spirits.
Did you like reading an introduction to Port and Sherry? Leave us a comment and visit Bottle Barn's other wine articles, including some recent ones on wine's potential health benefits.
---