All About Tempranillo Wine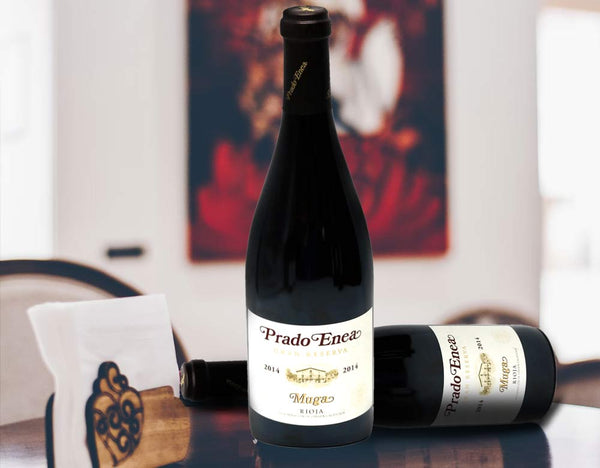 For lovers of Cabernet Sauvignon and Merlot wines or those from Bordeaux, or people who adore Sangiovese wine from Italy, it's well worth exploring Tempranillo wine. Tempranillo wine has the complexity of flavors, the ability to age gracefully, and most importantly the balance of alcohol, acidity, and tannins to produce world-class red wines (though notably white wine from Tempranillo blanco also exists). Most Tempranillo wines originate in Spain, where the government recently announced that from the total national vineyard of 2,336,574 acres, a whopping 501,000 belong to Tempranillo. Next time you pick up a red wine bottle, you will know Tempranillo originated in the Ebro River Valley hundreds of years ago. The most famous Spanish regions for quality Spanish red wine are Rioja, Ribera del Duero, and Toro.
Tempranillo has clearly become a favorite of wine growers across the Iberian peninsula, but like Cabernet Sauvignon, it has travelled the world. It's a traditional variety for Port, the fortified wine from Portugal, and has a loyal following among winemakers in California and Oregon. Because of its long history in Spain, it has a host of different names depending on the region: Cencibel in Madrid, for example, as well as Tinto Fino in Ribera del Duero, even Grenache de Logroño, Tinto de la Rioja, Ull de Llebre in Catalunya, Tinto de Toro, Jacivera, Tempranilla, and Tinto de Santiago; but don't get confused because these are all the same Tempranillo grape. "Tempranillo may be the most underrated wine on the planet," say the experts at Wine Folly.
What Does Tempranillo Wine Taste Like?
This depends on where the grape is grown and the local winemaking style, though there's always some consistency to this noble grape. Winemakers at one famous Spanish red wine producer explain that in varied regions "the viticultural practices and different vinification techniques offer a multitude of profiles" but that all Tempranillo wine has shared attributes: "aromatic, versatile, fruity wines with a pleasant amount of alcohol and firm yet delicate tannins." These winemaking experts from Penedes continues to say that "warm climates bring out echoes of black forest fruit and plum. In milder climates, black fruit gives way to red fruit and a ruby-colored wine."
Your wine store California allows trying Tempranillo wine's different styles from different places, which goes well beyond Spain and includes California, though Spanish wines provide the standard reference for quality. It's the core red wine grape of both famous regions Rioja DOCa and Ribera del Duero DO. Traditionally, these wines prominently feature oak ageing, which is required for higher classification like Gran Reserva, though over the last decade or so Spanish winemakers have experimented with more fruit forward and fresher wine. The harsh climate of Toro is another Spanish region that makes excellent wine from this grape. It adapts well to different soils and microclimates, to produce remarkable wines that always say, "Tempranillo." The grape grows best in a continental climate combined, and you will find it at high elevations that are colder, bringing out structure and concentration; these are the right conditions for a grape variety that ripens early ("temprano" means early in Spanish).
At its best, this grape makes very elegant wines with balanced acidity and velvety tannins. Tempranillo is a friend of blending and reacts well to ageing, including for very long periods. Bottle Barn has some great old Rioja wines, including the 1964 Bilbainas S.A. Vina Pomal Reserva!
Tempranillo wines can run the gamut from earthy, tobacco, prune, and leather flavors to brighter flavors, allowing you to savor ripe cherry, red plum, raspberry, and rose petal. One of my personal favorites from my favorite bottle store is the 2014 Bodegas Muga Prado Enea Gran Reserva. Vanilla from oak is often present, as is the case with Muga wines. More traditional Rioja wines are medium to full-bodied, with aromas and flavors of red cherries, baking spices, and a touch of earthiness complimented by vanilla. Tempranillo from New World regions like the United States, Argentina, and Australia will tend to have more pronounced dark red fruit flavors, like plum, and more body, with more noticeable tannins. "Tempranillo wines from New World regions, including Argentina, Mexico, and the United States," says Wine Folly, "generally offer more fruit flavors like cherry and tomato-sauce," followed by prominent tannins and fewer earthy notes. Tempranillo wine typically has a distinctive purple color, often used to identify it in blind tastings.
Which Tempranillo Wines Should I Try?
New World winemakers began producing finer wines out of Tempranillo beginning in the early 2000s, including in Oregon and California. I love the style of the sustainably-produced 2020 Tooth & Nail Tempranillo from Paso Robles; "a New World take on this classic Spanish variety" says the winemaker. Enticing aromas of black fruit, wet stone, and purple flowers  alongside captivating flavors of brambleberry, blueberry and cinnamon. The 2018 Bokisch Liberty Oaks Vineyard Tempranillo, a California wine from Lodi, where Bokisch specializes in Spanish varietals because of the similar terroir. "Chocolaty in flavor and mouth filling in texture, this richly tannic wine is packed with black fruits, dark chocolate, vanilla and toasted almonds," says Wine Enthusiast. You can order wine online to compare these New World wines with some Old World examples. The 2018 Bodegas Ordonez Triton Tinta de Toro, is made from truly old vines on their own roots from an up-and-coming Spanish region that managed to survive the phylloxera plague. This powerful, elegant wine features distinctive mineral expression along with red fruit flavors and aromas. The 2019 Dominio de Pingus Psi is from Ribera, where winemaker Peter Sisseck blended in 10% Garnacha. I highly recommend this wine, and your wine store California has a great price on this red wine bottle: $27.99! On the palate you will encounter a medium body with ultra-fine tannins and a beautiful, creamy finish, according to James Suckling. It's okay to drink now, or put it in the cellar for up to 20 years!
Did you like learning about Tempranillo wine and the red wine bottle suggestions? Check out Bottle Barn's other informational wine articles to learn all about the world of wine.
By Charlie Leary
---