10 Wines to Pair with Holiday Celebrations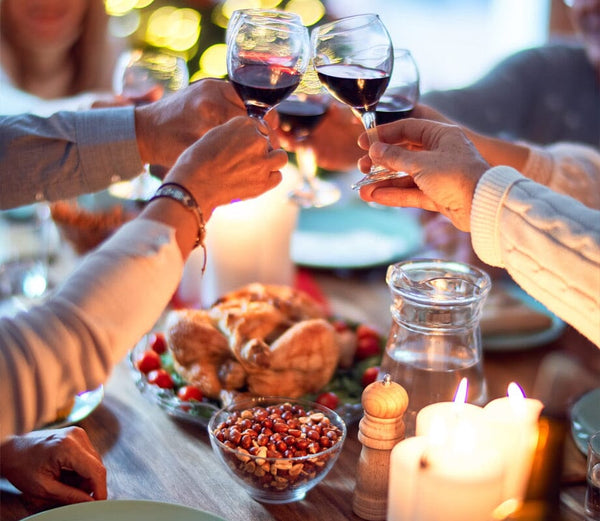 It's the time of year to reunite with family and get together with friends. Perhaps you're in the midst of sunny climes and palm trees, or perhaps in a cozy house, fire crackling, with a snowman outside. In any event the season demands celebratory meals, feasts, snacks, sweets, and . . . the appropriate wines to choose when you order wine delivery. 
The opportunity presents itself to try a whole range of different wine styles, from aperitifs to sparklers and from dessert wines to some Beaujolais. Light reds may match perfectly with roasted fowl, and don't forget about sherries and Ports! 
Here's a list of ten suggested wines from your favorite online wine store, Bottle Barn in Sonoma. It's truly "Where Wine Country Buys Wine." 
First, let's consider some sparkling wines, whose effervescence matches the tone of celebration. 
When you buy wine online for the holidays, it's a safe bet to pick some classic red wine and white wine to go with celebratory feasts. 
Sherry and Port serve as great holiday wines and help you continue the mood with appropriate pairings for snacks or hors d'oeuvres. Dry sherries pair perfectly with nuts and cheese, while Port is perfect with desserts or for an after-dinner toast. 
The Valdespino Deliciosa Manzanilla Sanclucar de Barrameda Sherry is superb. A "saca" is the withdrawing of wine for bottling from the solera casks. This last saca from Valdespino showcases a delectable mix of almond flavors, salinity, and white fruit, melded together alongside this fortified wine's deep mineral notes.
For a real treat, get the 2016 Quinta do Noval Vintage Port, which received an astounding 98 points from Wine Spectator. You may want to get two and cellar one bottle. It radiates dark currant, fig, and blackberry flavors with emergent bramble, coffee, and ganache notes. It's a mouthwatering Port and the fruit flavors and aromas persist for a long finish. 
Plan your holiday menu and then choose appropriate wines from the recommendations above. Don't shy away from pairing sparkling wines with the wonderful main dishes and even the Sanlucar sherry will go well with stuffing! Chardonnay will always be a crowd pleaser if you're unsure of each guest's taste. 
Bottle Barn has many more wines for holiday, thousands of choices, to peruse when you buy wine online for the holidays! For more ideas, check out the other information packed wine articles and be sure to leave us a comment below!
---