Wines from Castilla y Leon: A Region Every Wine Lover Should Know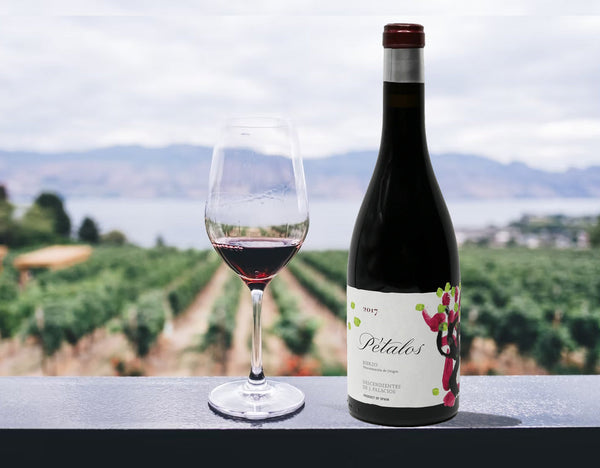 The autonomous community of Castilla y Leon in Spain is home to the Duero River Valley, the origin of incredible white and red wine. Within its borders, you find distinct appellations such as Bierzo, Cigales, Toro, Rueda, and last but not least, Ribera del Duero! Even outside these famous wine appellations, you find superb winemakers like Abadia Retuerta, and within Ribera del Duero's boundaries (I highly recommend this wine), the world-famous Vega Sicilia.
The Tempranillo wine grape is the king of Castilla y Leon, producing complex, age-worthy red wine, but beyond this, there's surprising diversity, including the fresh white wines made from the Verdejo grape in Rueda and the fresh red wines made from the Mencia grape in Bierzo. Cigales is famous for its rose wine, which accounts for 64% of wine production there, made from what's known as the clarete method, where red and white grapes are vinified together. 
Where is Castilla y Léon Wine Region Located?
To define an overall terroir for this huge area, the commonalities would be the Duero River (which becomes the Douro in Portugal) and its valley, the continental climate, and the high elevations of surrounding mountains. A local saying is, nueve meses de invierno y tres meses de infierno ("nine months of winter and three months of hell"). Soils are generally sandy-stone, alluvial deposits, and clay, with some limestone patches. Each region may have its own peculiarities, such as Toro, which features a lot of sandy soils, where the pest phylloxera could not survive. In Ribera del Duero, there are over 32 different soil types! The average height of Castilla y Leon's mountains is over 2700 feet. 
In Spain, the analogy for an AVA (American Viticultural Area) is a DOP, or Protected Denomination of Origin. In general DOP rules are stricter than those of AVAs, and they often prescribe the grape varieties than can be cultivated as well as production and ageing methods. 
Let's take a look at a few of Castilla y Leon's most important DOPs and some representative wines from each. You will be amazed at the diversity found here, predominantly when you want to order red wine, though the whites shine as well. 
What Kind of Wine is Made in Bierzo, Castilla y Leon?
Bierzo is a bit of anomaly, lying with Castilla y Leon, but with heavy maritime influences from the Atlantic Ocean because it neighbors Galicia and lies near Asturias, separated by the Cantabrica mountains. That said, Bierzo remains part of Spain's Meseta and experiences hot although somewhat moderated summers. The River Sil runs through it. The vast majority of production is red wine, particularly from the Mencia grape, a variety to truly keep an eye on. Bierzo red wines must contain at least 70% Mencia, though many winemakers use 100%. Most vineyards feature granitic and slate soils. I like to compare these Mencia wines with Pinot Noir or Gamay Noir. A great example of Mencia from Bierzo is the 2020 Descendientes de J. Palacios Bierzo Petalos, from an outstanding producer. This red wine bottle was made in a way to offer both the fresh red fruit flavors of Mencia while giving structure to the wine. Thus, the bunches were only partly de-stemmed and the must went through 25 days of maceration and three months of malolactic conversion. It then matured in large oak barrels for 12 months.
What Kind of Wine is Made in DO Rueda, Castilla y Leon? 
Verdejo is the signature grape of Rueda, although Sauvignon Blanc is also grown for both varietal wines and blending. Rueda wines are a favorite of bars and restaurants in Spain. The Rueda DO produces 99% white wine from vineyards of between 2200 and 2600 feet in altitude with sandy limestone, limestone, and gravel soils. There are an amazing 36,455 acres under cultivation and 87% of that is Verdejo! In addition, the DO accounts for 40% of Spain's white wine production. It's a white wine powerhouse. The wines are light with crisp acidity and flavors of lemon, lime, peach, and even mango. A typical example is the Bodegas Naia Verdejo. Vinous says, "Incisive scents of lemon pith, pear skin, ginger and dusty minerals take on floral and herb accents with air."
What Kind of Wine is made in DO Toro, Castilla y Leon? 
If you want a powerful red wine made from Tempranillo, look no further than DO Toro. Rueda's neighbor, this appellation makes 93% red wine from vineyards on sandy soils, with some clay and limestone. Planting density is extremely low and there are many old vines, some on their own rootstock. This area has a typical continental climate accentuated by an altitude of between 2100 and 2700 feet. Here Tempranillo is known under the local name of Tinta del Toro, which you will probably see on wine labels. These are fruity but concentrated wines, bold and tannic. Many of these red wines are aged in French oak, adding further complexity. A good example to order red wine is the 2016 Numanthia Toro, which was made to express complex flavor and feature a long finish. James Suckling recommends drinking it after 2023, characterizing this wine as "dense, layered red with berry, chocolate and walnut character."
What Kind of Wine is Made in DO Ribera del Duero, Castilla y Leon?
Ribera del Duero counts among Spain's most famous wine regions, just behind DOCa Rioja. Fifty years most wine was made by cooperatives, with the distinction of world-renowned Vega Sicilia wines. 99% of wines from this DO are red, from high vineyards between about 2500 and 3000 feet in altitude on sandy limestone and clay soils, although there is an an incredible diversity of soil types here. As in Toro, Tempranillo reigns supreme. The area receives an average of 18 inches of rain a year, and the grapes get plenty of sun exposure, balanced by cool nights. There's no better introduction to the modern style of these wines than the 2019 Dominio de Pingus Psi, which blends 10% Garnacha with Tempranillo, which may appear under the names Tinto Fino or Tinta del Pais. Ageing conditions are controlled by the DO, and you will find Crianza, Reserva, and Gran Reserva designations. 
Have fun reading and learning about Castilla y Leon wines? Check out Bottle Barn's other wine articles, which feature information on wine regions worldwide. 
By Charlie Leary
---