White Blend Wine: Everything You Should Know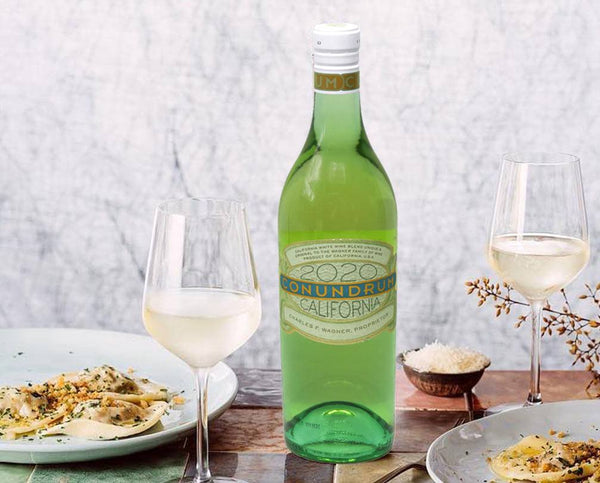 You may be used to ordering a Chardonnay or a Pinot Grigio and expecting that the wine you receive will be 100% made from Chardonnay or Pinot Grigio grapes. Drinking 100% varietal wines is a great way to learn the characteristics of specific grapes and how they translate into a white wine bottle. However, much white wine is made from a blend of different grapes, sometimes just two, at other times up to ten! 
Blending is a winemaker's art, though on rare occasions this choice comes from the vineyard in what's known as field blends. In older vineyards, often a variety of different grapes varieties were planted side by side; all the grapes were mixed together at harvest, and the resulting wine thus expresses what's in the field. Much more common when you buy white wine online these days is a mixing of wines done in the winery; the winemaker chooses what percentage of, say, Chardonnay wine to blend with what percentage of, say, Semillon wine to achieve the desired results in the resulting best white blend wine. 
This allows for controlled results, especially since different grape varieties mature (reaching an optimal sugar-acid balance) at different times, and they may also come from different vineyard sites with distinct conditions, like soil, climate, and that year's weather. 
A white wine blend gives the winemaker greater resources to produce a consistent, top-quality wine year after year. In many Old World wine regions, blending is the rule. In Champagne, this includes not only blending wines from different grapes but also distinct vintages (older wines known as reserve wines). For white wines from Bordeaux in France, blending is most common, but with a limited number of varietals allowed, in this case, Sauvignon Blanc, Semillon, and Muscadelle, with small amounts of Colombard, Sauvignon Gris, and Ugni Blanc also allowed. If the winemaker doesn't use only these grapes, the wine can't be labelled as a Bordeaux. Each European appellation is generally highly regulated in terms of what one can put into a blend, while New World regions, like in California, do not face such restrictions. 
There's commonly also minimum percentages, especially for rose blends, where a percentage of allowed red grapes is specified. That is the case in D.O. Cava in Spain, for example. Cava sparkling wines are often blend, though sometimes they are 100% from one grape variety. 
You may not always know that you are drinking a blend wine. Many regions have regulations that allow from 15% to 25% of wines from other grapes in a wine labelled as a single varietal. In the United States, broader appellations require 75% of the wine to be made from the grape listed on the label (and to have come from within that region or American Viticultural Area or AVA). This becomes stricter, 85%, for sub-appellations. For example, a Chardonnay wine from the North Coast AVA, which is not located within another AVA, may contain up to 25% of wine made from other grapes, but the winery doesn't have to tell you that information. It may just say "Chardonnay." A Chardonnay from the Napa Valley AVA (or any of its sub-appellations), however, must contain 85% Chardonnay wine, and 15% can be from other grapes (and/or from other AVAs). A few states, like Oregon, have their own stricter laws. 
What Food to Pair with White Blend Wines 
The great thing about a blend wine is that it is often more complex, with a broader range of aromas, flavors, and even more complex mouth feel. These wines also better express the winemakers skill, and if you like a particular blend from a particular producer, you may see greater consistency over many years from a blend. White wine blends are generally complex, with characteristics from each varietal used in winemaking as well as an effect from the blending. Blends can therefore match perfectly with dishes featuring complex flavors: a Louisiana jambalaya, soups made from varied ingredients, or meats roasted with various herbs and a distinctive sauce. So what do you want in your white wine bottle? Blend or single varietal?
5 Best White Wine Blends at Bottle Barn
For blends, here's a few suggestions to buy white wine online: 
We hope you enjoyed putting a little thought into white wine blends. Please leave us a comment below and check out information in Bottle Barn's other wine articles!
By Charlie Leary
---