Wine will Elevate Your Halloween: Spooky and Sophisticated Pairings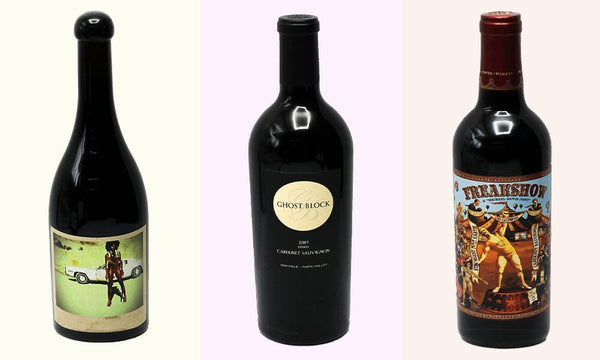 Halloween is a time for all things eerie and enchanting. While we often associate this holiday with costumes and candy, it's also a perfect occasion to explore the world of wine. Imagine sipping on a glass of 2019 Ghost Block Estate Cabernet Sauvignon as you carve pumpkins or indulging in a piece of chocolate alongside a glass of 2020 Orin Swift Machete Red. Let's embark on a journey through some bewitching wine selections that will add sophistication to your Halloween celebrations. No matter what spooky options you choose, the best online wine store has you covered with these suggestions. 
Picture yourself in a dimly lit room with the faint glow of candlelight. This is the ideal setting to uncork a bottle of 2019 Ghost Block Estate Cabernet Sauvignon. This Napa Valley gem is renowned for its dark, haunting flavors of blackberry, plum, and subtle notes of oak. Its velvety texture and complex profile make it a perfect companion for hearty fall dishes like roasted meats and stews at your Halloween feast. 
For a Halloween wine that's as intriguing as it is delicious, consider the 2020 Michael David Winery Freakshow Cabernet Sauvignon. The name alone sets the stage for a spooky evening; the evocative label is even better. This wine boasts bold flavors of black cherries, mocha, and a touch of spice, making it an excellent choice to enjoy by the fireside while sharing ghost stories. 
If you're seeking a wine with a name that evokes the supernatural, look no further than the 2020 Orin Swift Machete Red. With its brooding label art and flavors of dark berries, chocolate, and espresso, this wine is the embodiment of Halloween sophistication. It's perfect for sipping as you hand out candy to trick-or-treaters or serve alongside a hearty pumpkin soup. 
The saignee winemaking method refers to bleeding the grapes; how spooky! To add a touch of elegance to your Halloween soirée, consider starting with a glass of Jose Dhondt Rose de Saignee Brut Champagne. Its delicate bubbles and beautiful pink hue create a captivating visual that's reminiscent of a vibrant autumn sunset. With notes of red berries and a crisp, refreshing finish, it's an ideal aperitif for your Halloween celebration. This sparkler is one to stock up on when you buy wine online. 
What says Halloween more than orange color? For those who appreciate the unconventional, the 2022 Tessier Skin-Contact Pinot Gris is a wine that pushes boundaries. With its orange hue and complex flavors of orange peel, dried apricot, and spice, it's a fascinating choice to intrigue your guests. Serve this skin-contact wine with appetizers like stuffed mushrooms or cheese platters for an avant-garde twist on Halloween pairings. 
If you're aiming for something truly enchanting with another orange wine, the 2016 Langhart-Hill Rumpelstiltskin Skin Fermented Gewurztraminer will cast a spell on your taste buds. This skin-fermented wine has captivating aromatics of lychee, rose petals, and exotic spices. Its complexity and intriguing texture make it a superb companion for dishes like butternut squash ravioli or spiced apple desserts. 
Blood-Red Sangria
To infuse a touch of Halloween magic into your wine offerings, consider preparing a blood-red sangria. Start with a robust red wine like Cabernet Sauvignon or a fruity Zinfandel. Add fresh blood oranges, blackberries, and a hint of blackcurrant liqueur for a dramatic, dark hue. The result is a chillingly delightful drink that will enchant your guests. 
As the night draws to a close, it's time to indulge in Halloween sweets. Pair your chocolate treats with a rich Tawny Port or a late-harvest Riesling. Another great option: the 2021 Bella Grace Orange Muscat! The sweetness of these wines complements the richness of chocolate, creating a decadent finale to your Halloween celebration. 
In all, wine can add a touch of sophistication and intrigue to your Halloween festivities. Whether you choose a Cabernet Sauvignon that's as mysterious as the night or an unconventional skin-contact orange Pinot Gris, these wines will elevate your celebration. So, as you prepare for a night of ghouls and ghosts, don't forget to uncork a bottle or two to add a touch of elegance to your Halloween soirée. Cheers to a spooky and sophisticated Halloween!
---