People's Choice: The Top 12 Rosés of 2019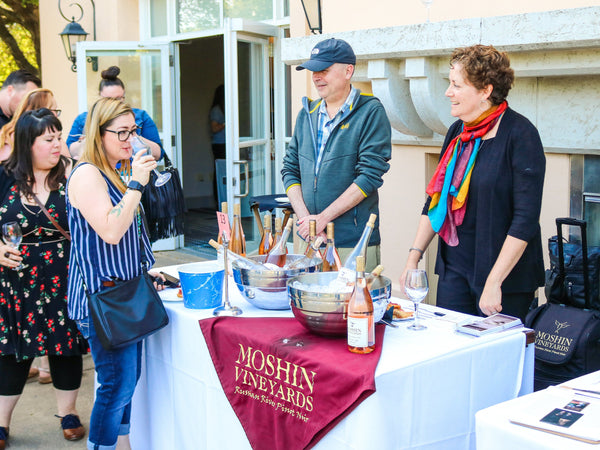 At this year's 3rd Annual Rosé Tasting we had our guests vote for which of the 60 rose wines they liked the best
—and the results are in! Here's what customers are loving this year.
#1 - 2018 Tiny House Rosé of Pinotage
Retail: $24.00
Our Price: $21.99
Gold Medal and 91 Points, Experience Rose Wine Competition
"The ripe peach color introduces a mouthwatering nose punch full of guava, watermelon rind, stone fruit and sea spray. The mouthfeel is bright and uplifting with a bit of fleshiness on the mid-palate and a finish lasting well over half a minute."
#2 - 2018 Moshin Rosé of Pinot Noir
Retail: $25.00
Our Price: $21.99
"Floral with fresh red fruit aromas, bright flavors of strawberry, cherry and watermelon and hints of grapefruit. The finish is clean and fresh - the perfect balance of succulent fruit and mouthwatering acidity. Drink now through 2020."
#2 [Tie!] - 2016 Davis Family Vineyards Rosé de Noir Sparkling
Retail Price: $55.00
Our Price: $29.99
"There are very few optimal vineyard sites on the planet that are ideal for producing sparkling wine, but after years of tenacity, Guy found the perfect spot, worthy of the Davis Family Vineyards label! Bright, beautiful & elegant, this sparkling will be sure to impress your friends and loved ones this holiday season. We can't think of a better way to celebrate!"
#3 - 2018 Domaine Tempier Bandol Rosé
Our Price: $44.99
Wine Advocate, 89-92 Points
"Still in tank at the end of February, Tempier's 2018 Bandol Rose marks another successful vintage for this consistent standout. It's light to medium-bodied, not overly ripe or rich, but all about balance and refreshment. Tangerine and melon aromas and flavors hit all the right notes, lingering on the already elegant finish."
#3 [Tie!] - 2018 Ion Wines Rosé
Our Price: $15.49
"On the nose it's tropical, floral and inviting. But, notes of guava, lemon zest and lychee on the mid palate steal the show. It's dry, muscular and the rich mineral driven acidity lends a crispness to the finish."
#3 [Tie!] - 2018 Trombetta Rosé of Pinot Noir
Our Price: $26.99
"Bright cherry, wild strawberry and bright red fruit flavors. Bright acid through the mid palate which ends in a refreshing finish."
#4 - 2018 A Deux Têtes Miller Vineyard Grenache Rosé
Our Price: $32.99
Jeb Dunnick, 89-91 Points
"From young vines and all barrel-fermented, the 2018 Grenache Miller Vineyard Rose is a food-driven beauty with a full, layered style that carries lots of orange blossom, citrus, and flowery incense. It has plenty of richness yet stays balanced, fresh and clean. It reminds me of a top rosé from Gigondas. Drink it with food."
#4 [Tie!] - 2018 Pedroncelli Rosé of Zinfandel
Our Price: $13.49
"Pale pink in color with bright aromas of cherry and rose petals. Flavors feature strawberry and cherry up front with a hint of white pepper spice. Refreshing, clean and crisp with a touch of spiciness on the finish. Our Rosé is made to be enjoyed upon release."
#4 [Tie!] - 2018 Acorn Winery Allegria Vineyards Rosato
Our Price: $26.99
"The wine has a vibrant deep salmon color, and inviting aromas of fresh-picked red berries, with hints of pear and flowers. The creamy entry glides into lively acidity that continues through the lengthy finish. Delicious, crisp flavors of juicy raspberry, apple, and cherry infuse the taste buds and linger on."
#5 - 2018 Barnard Griffin Rosé of Sangiovese
Our Price: $13.49
Barnard Griffin Winery was established in 1983 by Winemaker Rob Griffin and his wife, Deborah Barnard. Rob saw the opportunity to make great wine in Washington and moved north in 1977. Pleased with his move to Washington, he says "The northern latitude of Washington and the ideally drained sandy soils of the Columbia Valley make it possible to produce deeply concentrated wines of pronounced character."
#5 [Tie!] - 2018 Heitz Cellar Grignolino Rosé
Retail Price: $30.00
Our Price: $26.99
"Notes of ripe strawberry, peach, orange zest and grapefruit jump out of the glass and its fresh acidity makes this wine a perfect choice for warm weather days. The Grignolino grape is a little-known Italian red variety, farmed on our estate vineyard since 1961, that bursts with surprising flavors and a vivacious mouthfeel when made as a Rosé. The juicy texture, lively aromas, and refreshing palate are a treat to enjoy on its own or paired with your favorite spring and summer seasonal cuisine."
#6 - 2018 Lucy Rosé of Pinot Noir
"Light pinkish coral color; attractive, fragrant, floral, cherry, strawberry, and cranberry fruit aroma with hints of rose petal and baking spice; medium body; crisp, red berry, watermelon, and citrus flavors with bright acidity and some richness in the elegant mouthfeel; lingering aftertaste. 13.9% alcohol; 1,041 cases; 100% Pinot Noir; released March 2019. (May 2019)"
Did your favorite rosé not make the list? Let us know in the comments!
---
2 comments
---
---