Chardonnay Wine: Oaked or Unoaked, What's Your Preference?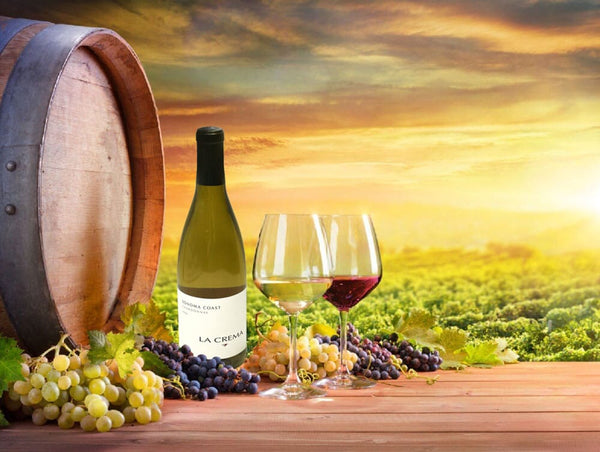 Before glass bottles, most wines were stored and sold in wooden barrels, large and small. A very particular oak barrel, the barrique, was developed for Bordeaux's wine trade. It contains 225 liters, although larger barrels, holding 900 liters, were also used extensively. When most of us picture a wine barrel, it's the barrique. Although we as humanity have outgrown the need to store wine in oak barrels, we still have a fondness for it. Oak barrels now form an integral part of both modern wine and whiskey production! Oak is suitable for and commonly used in making both red wine and white wine, but the wine where oak or no oak most commonly becomes an issue is Chardonnay.
How is wine affected by oak contact?
When you open that white wine bottle, the wine could have been fermented in oak barrels, aged in oak barrels, or possibly aged in contact with oak chips or staves (no barrel).
Oak wood makes three important contributions to Chardonnay wine:
Oak contact during fermentation and/or ageing adds flavoring compounds including vanilla, clove, smoke, and coconut aromas. Ageing in oak barrels allows oxygen to penetrate very slowly, a process that makes the wine smoother and less astringent. That is oak wood is porous, to a degree. It is also a suitable environment where certain metabolic reactions (mainly malolactic fermentation) can take place, making wines taste creamier.
What flavors does oak bring to wine? 
Unlike beer, wine regulations in most countries do not allow flavor additives (such as coriander, orange peel, etc.). Thus, oak has become the accepted way of influencing the flavor of wine. When added to wine, the flavors of the oak combine with the flavors of the wine to create a wide variety of potential new flavors.
Organic flavoring compounds that come from oak wood include:
Furfural: nuts, burnt almonds, burnt sugar
Guaiacol: illuminated harmonics
Oak lactone: woody, dill, and coconuts
Eugenol: spice character, cloves and smoke
Vanillin: vanilla
Syringaldehyde: vanilla-like
The differences between new and used oak in wine aging (H2)
As with tea, the flavor of the oak extract is reduced each time it is used. Barrels are routinely reused, though the number of times can vary depending on the winemaker's goals. You will also notice that the aging periods vary according to the preference of the winemaker and the type of wine. Here are some classic oak ageing examples, for comparison:
Chardonnay: several months in Slavonian oak barrels
Pinot Grigio: several months in Slavonian oak barrels
Cabernet Sauvignon: several months in Austrian, Hungarian, or American oaks
Zweigelt: several months in Austrian or Hungarian oaks
Brunello di Montalcino: 24 months in large used 1000+ liters of French and Slavonic (Croatian) oak
Pinot Noir: 10 months in used French or American oak barrels
Malbec: 18 months in roasted foudres of 3500 liters
Rioja Gran Reserva: 24 months in a blend of 40% American oak and 60% French oak
The larger the barrel used, the less oak lactones and the less oxygen enter a wine. Casks like barriques are traditionally 225 liter barrels, while barrels known as Botti and Foudres can be much, much larger, 1,000 to 20,000 liters.
Different types of oak used for winemaking 
There are two primary types of oak that are preferred for winemaking: Quercus alba (American white oak) and Quercus petrea (European white oak). Each variety gives slightly different flavor profiles. In addition, the climate in which the oak grows also influences the flavor. For example, wines aged on Slavonian Kitnjak or Lužnjak oaks will be different from wines aged on Quercus petrea from the Zemplen Mountains forest in Hungary or Quercus petrea from the French Allier.
In Europe, very high quality oaks are found primarily in France, Hungary, and Croatia (Slavonia). Quality American oak comes from Missouri and the Midwest.
Differences between American and European oak wood
The main difference between European and American oaks is density. European oaks usually have a higher density. In general, American oak is ideal for 'heavier' and more structured wines such as Merlot, Cabernet Sauvignon and Petite Syrah. These wines can handle the robust flavors and oxygenation of American more easily, while European oak is ideal for lighter wines such as Pinot Grigio, Riesling, or, our favorite, Chardonnay.
The Difference Between Oaked and Unoaked Chardonnay Wine 
For a while in the 1990s and 2000s, a style of buttery Chardonnay developed, especially in Australia and the United States. This distinct flavor profile came from extensive use of new oak in winemaking. Some consumers loved these wines, others not so much, so some wineries started making a point of not using any oak, resulting in the unoaked Chardonnay wine you'll find advertised when you buy white wine online. Of course, in France using no oak or only well-aged barrels (that impart far less buttery or vanilla flavor) were common. Think of a crisp, mineral-toned Chablis, for example. Today, it's hard to say a particular re       gion produces oaked on unoaked Chardonnay. With modern winemaking techniques, it's really a question of the winemaker's goals and his or her target market.
Oaked and Unoaked Chardonnay with Food
Buttery and vanilla-laden Chardonnays go with certain food, crisp and more austere unoaked chardonnays with others. La Crema winery recommends complementing oaky Chardonnay with foods that highlight toasty flavors, like toasted nuts or pastry crust, grilling or smoking, while you should match crisp, delicate Chardonnay wine with simply prepared foods, like baked fish or poultry with butter and fresh herbs. You can play to ripe oaked or unoaked Chardonnay wine's impression of sweetness with ingredients like sweet corn, butternut, sweet potatoes or caramelized foods including crisp-skinned roast chicken.
Have you learned the difference between oaked and unoaked Chardonnay? This can be important when you buy white wine online!          
---