A story of luxury and exclusivity: Unusual Macallan Whisky values at Bottle Barn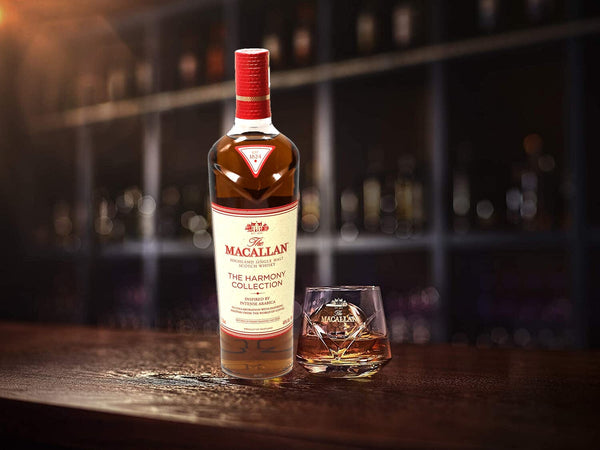 The Macallan is a single malt Scotch whisky distillery located in Craigellachie, Moray, Scotland. The Macallan was founded in 1824 by Alexander Reid, a barley farmer and school teacher. Reid was granted one of the earliest licenses to legally distill whisky in Scotland, and he began production at the Macallan distillery soon after. 
Macallan's Rise 
The Macallan Scotch whisky's reputation as a high-quality product was established in the early 20th century, when the distillery was purchased by Roderick Kemp, who had a background in the wine trade. Kemp brought a greater focus on the cask-aging process, and under his guidance, the Macallan began to produce whisky aged in sherry casks, which gave it a unique and distinct flavor. 
In the years since, the Macallan has continued to innovate and push the boundaries of possibities in the world of whisky. The distillery has experimented with a range of cask finishes, including those from wine, bourbon, and even tequila barrels, to create new and exciting flavor profiles. Casks play an important role in the production of whisky, as they can add a wide range of flavors and aromas to the spirit. The type of cask used, as well as how long the whisky is aged in it, greatly impact the final taste and color. This can include flavors from the wood, including vanilla, caramel, and spice. Tannins are another. This is a molecule found in wood that lends whisky a dry, slightly bitter taste. In addition, the longer the whisky is aged in a cask, the more color it will take on from the wood. Casks that have previously held sherry or other fortified wines can also give a darker color to the whisky. Casks that have held other spirits or wines, such as sherry or port, can give the whisky unique aromas and flavors. Finally, the wood pores allows whisky to breathe, and this can cause it to absorb aromas from the environment around it. 
Today, the Macallan is known for producing some of the most sought-after and expensive whiskies in the world. The distillery's rare and aged expressions can fetch tens of thousands of dollars at auction, and the brand has become a symbol of luxury and exclusivity. Your favorite liquor store California has some great whisky options at great prices. 
Three Luxury Macallan Whiskies to Try 
Macallan Rare Cask 2022 Release Single Malt Scotch Whisky: The Rare Cask is made from handpicked first-fill sherry casks. The nose is soft and opulent, with notes of vanilla, raisin, apple, lemon, and orange, balanced by a spicy quartet of root ginger, cinnamon, nutmeg, and clove. The palate is spicy and oaky, with vanilla, chocolate, and light citrus zest. The finish is warming and woody. This is a bold, chewy, and full-bodied single malt that showcases Macallan's deep stocks and immaculate wood management.
Macallan The Harmony Collection "Intense Arabica" Single Malt Scotch Whiskey: This special single malt is the second edition in a limited annual release series and is inspired by the Ethiopian Arabica bean. It has a distinct coffee flavor and exudes notes of espresso, dark chocolate, sweet oak, tiramisu, and vanilla. The nose is a combination of tiramisu, cappuccino, gingerbread, raisins, almonds, sweet oak, and vanilla, while the finish is long and sweet with dark roast coffee flavors. This intensely flavored single malt whisky invites you to immerse yourself in a sensory journey through flavor and aroma.
Macallan 25 Years Old Sherry Oak Single Malt Scotch Whisky: The Macallan Sherry Oak 25 years old is a special single malt whisky that is part of the Sherry Oak range, matured exclusively in hand-picked sherry seasoned oak casks from Jerez. It has a rich and full flavor character with notes of citrus, dried fruits, and wood smoke. The nose is a balance of citrus, cinnamon, sherry, and wood smoke, while the taste is full and rich with dried fruits and a hint of wood smoke. The finish is long with dried fruit, wood smoke, and spice.
Did you learn to love Macallan scotch whisky? Leave us a comment below!
---