Judging When to Open That Wine Bottle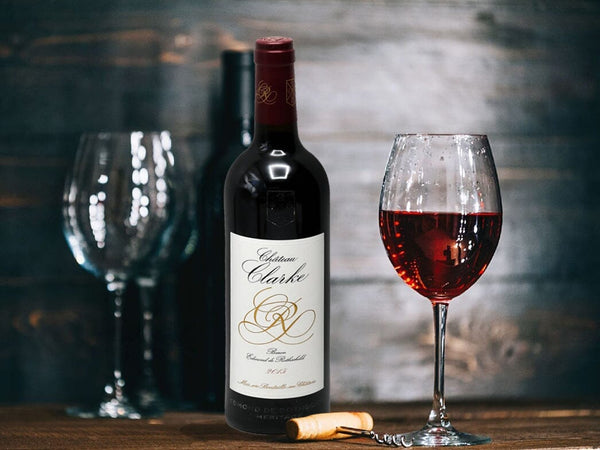 When should I open this bottle of wine? For many of us, there's an easy answer: right away! Maybe you're building a wine collection, just stocked a new wine refrigerator with different wines, or have some treasures tucked away, however, and then the question becomes: when do I drink it?
In Spain, they even make "Reserva" category rose wine that might be better after some ageing. Mostly, however, we're talking about reds and whites. Wine reviews, like those found in Wine Spectator or Wine Enthusiast, often provide a suggested window or a "best after" date, especially for red wine but for some white wine as well. For instance, for the 2015 Chateau Clarke from Listrac in Bordeaux, Wine Enthusiast said, "The wine will age well and should not be drunk before 2023," while James Suckling opined, "you can drink it now, but better in 2020" and Wine Advocate estimated, "a classic Listrac that should give 10-12 years of pleasure." Who's correct? And what are the general guidelines for judging when to open a particular wine bottle?
Of course, Bottle Barn customers all have individual taste, and that may determine when to drink a wine. Do you mind young tannins? Do you favor tertiary flavors? Is wine maturation a mystery? According to Sonal Holand, India's first Master of Wine (MW), 95% or more of all wine made today is designed by the winemaker to drink now, as soon as it hits the shelves of your favorite wine store California. But there are also lots of wines available that are made for ageing and will taste better if uncorked (or maybe unscrewed) at the right time.
Here's some general categories to consider, modelled on advice from another MW, Barbara Drew.
Needs Bottle Ageing 
This category includes wines that are too young and that you will enjoy much more if they are matured more in the bottle (always stored on their side, please). The typical example is a Bordeaux red wine from a recent vintage, especially those from well-regarded chateaux. Another example could be a Napa or Sonoma Cabernet Sauvignon. Why? First are the tannins. Wines made from grapes with lots of tannins need time for them to soften and polymerize. In addition, such wines—like those made from Cab, but also Tannat, Monastrell, Syrah, and Nebbiolo—develop substantial additional complexity as they get older under the right conditions, such as no direct light, steady cool temperature, and no disturbance.
What are some examples? In the opinions of all the experts, the Listrac above, a 2015, was not ready to drink for at least five years, and probably more, even though it's made from 70% Merlot, which is softer and drinkable earlier, and 30% Cabernet Sauvignon. The winemaker intended this one to be laid down, as they say, though many winemakers, even in Bordeaux and especially from lesser known appellations, are now making wines to be drunk younger.
Jeb Dunning said of the 2019 Chateau Labegorce, "Drink this rich, sensationally textured Margaux any time over the coming two decades," which brings up a good point. If you buy wine online and have more than two or three bottles, you may want to sample them at different ages, and you will find the wine's flavors, mouthfeel, and aromas evolve.
Even some white wines, such as the 2020 Domaine Etienne Delarche Corton-Charlemagne Grand Cru white Burgundy, will evolve. While young, such wines may be so tightly coiled that their full aromatic and flavor potential take time to unravel.
There's nothing wrong with drinking these wines as soon as you buy them, as James Suckling suggested, but, "you may miss out on some complexity by not waiting a few more years for these bottles to mature," says Drew. Of course pairing food with wines of different ages can be fun. Hearty, expressive dishes foods can take on bold tannins.
Open it Now!
The vast majority of younger wines today are often fruit forward and expressive, including the notes from oak ageing that can be pleasant. Red wine from grapes with lower or softer tannins, like  Merlot, Sangiovese, Grenache, Cabernet Franc, and of course Pinot Noir or Gamay Noir, will be highly palatable young. Aromatic whites, even some fermented or aged at the winery with oak contact, will be fully expressive early on. This includes Riesling, Torrontes, Moscato, and Gewurztraminer. Of course most Chardonnay, Sauvignon Blanc, or Pinot Gris based wines can be drunk right away, with the exception of wines like the Grand Cru White Burgundy. 
If you enjoy fruitiness in red or white wines when you buy wine and are prepared for red wines that may have some noticeable tannins, then crack it open. Winemaking has changed in the 21st century; vintners craft wines to be enjoyed now in the majority of cases. When entertaining, these are the wines to choose as they will have characteristics amenable to a wide range of palates.
Cellar Selection 
So how do you tell when a wine from the first category is in its prime? How long is a piece of string?" says Drew in response. As we saw above with the Listrac wine, even experts disagree. What you're looking for is a balance of flavors that comes from maturation. Technically this means alcohol, acidity, residual sugar, tannins, and fruit (or other flavors and aromas) in harmony. Too, wines with lower acidity will not age as well. Wine experts divide them into primary, secondary, and tertiary aromas. What does that mean?  Primary refers to fresh fruit aromas and flavors while secondary ones come from the winemaking process. Tertiary ones come precisely from maturation in bottle, which can go too far. The Oxford Companion to Wine states: flavor compounds responsible for the initial primary aromas of the grape and those of fermentation (sometimes called secondary aroma, or secondary bouquet) are also interacting with each other and with other phenolics, so that gradually the smell of wine is said to be transformed . . . into a bouquet of tertiary aromas, a very much more subtle array and arrangement of flavors. The spectrum runs from barrel-fresh to vinegar. "Have you ever put your nose to the floor of a forest?" queried renowned wine expert Gerard Basset. Those are the tertiary aromas in fine red wines. We're talking about things like truffles, leather, cigar box, tobacco, cedar, pencil lead, porcini mushrooms or perhaps chanterelles, and even tar.
At the right point, which can vary for each person, the tannins too will be softer in red (and orange) wines, have polymerized to become silkier on the gums and tongue. Drew says, "Overall the flavors and aromas will feel more spread out on the palate – instead of hitting you with a ball of flavor all at once, the flavors and aromas take their time, allowing you to savor them in turn." In age-worthy white wines, aromas of honey, beeswax, and hazelnuts and almonds may emerge.
Those who like wines with a long, savory finish and these kinds of tertiary aromas in balance with softened tannins, but still with sugar and subtle acidity, structure, will delight in cellar selections. An example? The 2015 Hall Mount Veeder Cabernet Sauvignon. This should drink very well now, and go on maturing for another 15-20 years. But you better grab this one now from your favorite wine store California!
Hurry! 
There are wines that need to be cracked open now and enjoyed, lest they go way beyond their prime, even when stored appropriately. Wines designed to be drunk young that go past 2-3 years for whites, or 7-10 years for reds (maybe less) will be heading towards the vinegar end of the spectrum. They will not develop any further. No new flavor or notes, with balance headed off of a cliff. Even age-worth Bordeaux reds can get to this point.
The tannins will soften as much as possible (tannins never totally disappear), and this is a good taste test. Nick Jackson MW says such a wine will "put up no resistance to being drunk. It has no single component . . . causing the drinker to pause." Beyond this point, flavor and aromas will fade, distinct notes will disappear. In white wines, color is often a clue. If they're amber or deep golden, in most cases, it's ready now.
I hope you enjoyed learning about how to judge when to open that red or white wine bottle! Leave us a comment and read other wine information from the award-winning Bottle Barn.
By Charlie Leary
---