Guide to Gewurztraminer wine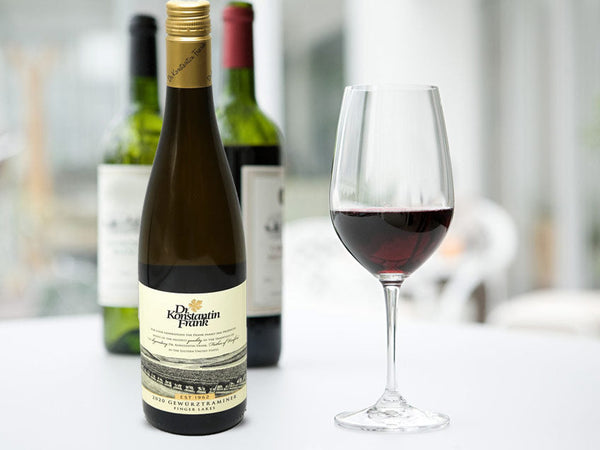 Gewurztraminer is unique among white grapes for its rich, aromatic character. On the palate it is fresh, slender, and sometimes so elusive that begs you to take another sip. Its color also makes it unmistakable: unlike other white wine varieties, the wines it produces are not deeply golden or greenish but often rather pink. Its origins have not yet been defined. According to the best theory, the grape hails from northern Italy, where it was known as Traminer. Later it took the German prefix "gewurz," referring to its spicy aromas. Famous there, this variety spread throughout Alsace (France), which was part of Germany for much of its history. Currently, Alsace is the main producer, though there are many California wines as well. Historically, Gewürztraminer has bridged the Latin and Germanic worlds. According to some interpretations, in fact, the name derives from the Latin word 'terminus', which means limit or frontier, such as that represented by the Alps or the Rhine.
A Gewürztraminer wine is immediately recognizable. Simply bring a glass of wine to your nose to feel invaded by the intense perfume from which it gets its name. Despite being considered for decades as a simple white, good only as an aperitif, today it is one of the most appreciated aromatic wines. Modern wineries know how to give a different and innovative complexity to this peculiar grape.
Where Does Gewürztraminer Wine Come From? 
Among the historical terroirs that over the centuries have perfected its cultivation are the Italian South Tyrol, the Southeast of Germany and, above all, Alsace. Gewurztraminer is a resistant grape that prefers the cold, but it also adapts to climates characterized by strong thermal excursions, preferring calcareous, sandy-clay, and granite soils.
This remarkable versatility, together with contemporary tastes for more delicate flavors, has made the white wine a triumph for many connoisseurs. Today Gewurztraminer is produced from Australia to California, and even in China. The grape's ineffable seduction has crossed traditional borders, convincing excellent winegrowers capable of producing very serious wines. If Alsace continues to be the terroir where to look for the highest quality, even in sunny Spain there are many wineries that have successfully produced distinctive styles.
Gewürztraminer Wine Characteristics 
The Gewurztraminer grape is characterized by small leaves and clusters and remarkable resistance to parasites. Its most unique aspect, however, is the skin of the berries, which takes on a pleasant pink color and is usually protected by a waxy patina that envelops it like a light mist. It is precisely the skin, rich in terpenes, that produces the white wine's distinctive fragrant aroma. It is a late-harvest wine, ideal for drinking young, but it also elegantly tolerates a light aging that gives it a more complex and alcoholic aspect. It can also be made into a dessert wine.
In the glass it usually may have a yellow straw to pink color barely veiled by a more intense hue that turns golden. The nose is immediately emits tropical aromas, where along with lychees, pineapple and passion fruit, unexpected notes of apple and pear, spices, star anise and cloves arrive: a true aromatic palette, rich and exuberant. It is a very intense variety with great aromatic potential that can sometimes be confused with Muscatel, although Gewürztraminer has a greater variety and complexity of aromas. In well-made wines, primary aromas of tropical fruits (lychee, peach, passion fruit, and mango), citrus, flowers (rose petal, carnation, gardenia), spices, and a touch of pepper appear, and sometimes secondary aromas of petroleum also appear. In the mouth, depending on the elaboration, they are harmonic, fresh, light, low acid wines with very fruity and floral nuances, which when there is prolonged maceration with the skins, these wines can get somewhat more unctuous, persistent, pungent and spicy.
Traditionally in Alsace and also in Germany, the most recognized wines have been made as sweet or dessert wines, to be appreciated when you buy wine online. Such sweet wines come from either a late harvest, botrytised grapes, or are ice wines, where the high concentration of sugar and acids because of the partial loss of water means that they age very well. In the rest of the world, sweet and semi-sweet wines can be found. Owing to their relative low acidity, good concentration of sugars, and extraordinary aromatic potential, they are very well accepted as aperitif wines.
While undoubtedly an excellent aperitif wine, this is not all. Gewurztraminer wine is perfect to accompany delicate first courses, as well as cheeses, refined shellfish dishes and lean meat-based main courses. Perhaps the best of it is offered in combination with Southeast Asian cuisine, such as Thai, but also in very spicy or hot preparations, like Korean. It is a white wine and, as such, should be drunk cold, but not iced. The perfumes of the wine will explode at a temperature between 50 and 55 degrees.
Each terroir gives life to a different wine, even with the same grape. According to one winegrower, in fact, "each grape behaves differently depending on where it grows and the important thing is to work it according to the specific conditions."
Gewürztraminer today is one of the most appreciated aromatic wines, even by experts. Gewürztraminer drinkers are often very loyal, used to drinking white wines, and clear about liking aromatic wines.
Five Gewürztraminer Wines to Try
Please visit Bottle Barn's other wine information articles!
By Charlie Leary
---