Local Favorite: Ferrari-Carano Vineyards & Winery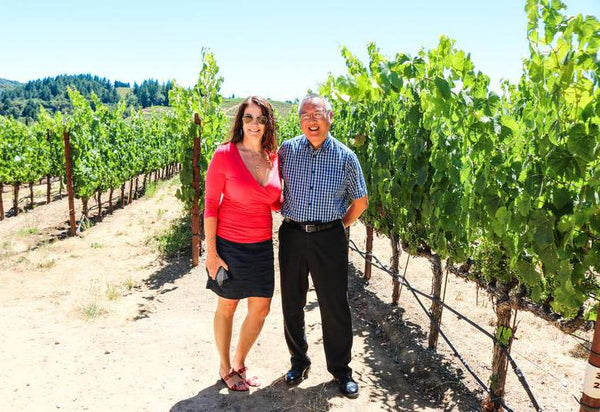 Pictured: Cheryl McMillan, Director Marketing Communications and Patrick V. Mukaida, Director of Hospitality at Ferrari-Carano
If you're reading this, odds are you're from Sonoma County and have already discovered the viticultural oasis that is Healdsburg and Dry Creek Valley. As someone from the Napa side, I had not, but since I have am forever changed.
Dry Creek Valley is a wine growing region in northern Sonoma County full of vineyards, rolling hills and a gentle hush from being miles from the bustling cities down south. It was established as an AVA in 1983 and today is home to nearly 170 wineries. One of them being the exquisite Ferrari-Carano.
Don and Rhonda Carano founded Ferrari-Carano in 1981. With a casino in Reno they came to the region to try to find wines to carry at their establishment, but instead fell in love with the land and began taking viticulture and enology classes at UC Davis. Realizing Dry Creek Valley's potential, they quickly bought land and began building the winery in 1985.
Since then, they have built and incredible legacy together. Although Don Carano passed away last year, the family and team are working harder than ever to continue to bring recognition to this region by producing high-quality wines. In 2015, all 24 of Ferrari-Carano's vineyards (about 1,400 acres) became Certified California Sustainable Vineyards, having gone above and beyond many of the requirements for land preservation, water efficiency, energy efficiency and more.
Beyond their efforts to be as green as possible in the production process, much credit must go to the their incredible winemaking team. Led by Sarah Quider, they strive to create beautiful wines of place, letting the fruit speak with only minor enhancements made through the winemaking and blending process. Although when the winery opened they only made Fumé Blanc and Chardonnay, today Sarah and her team produce over 20 different wines including whites, reds, rosé and dessert wines.
"What I love about all three wineries is that we have women winemakers at all three ranches," Quider says, "It is a team of seven women winemakers that put all the wines together, and we have a winery owner who is a female, Rhonda Carano, so it's kind of like girl power over here."
Ferrari-Carano is open daily from 10AM to 5PM with no appointment necessary, and a free tour each day at 10AM. To learn more about their visitor options, click here.
At Bottle Barn we carry a variety of Ferrari-Carano wines at all times. Come see what we have in stock today!
---
1 comment
---
---