Everything You Need to Know About Australian Wine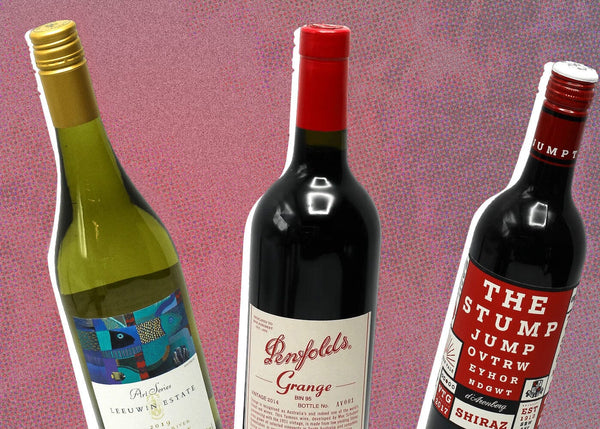 Wine Australia has a rich and diverse history going back over 200 years, although many tend to think of it as a newcomer. The first vineyards in Australia were established by European settlers in the late 1700s, with the first commercial vineyard being established in near Sydney in 1788. In the mid-19th century, Australian wine production began to develop into a significant industry. 
What Are Australia's "Old Vines"? 
One of the most notable and important aspects of Australian wine history is its old vines. Old vines are grapevines that are more than 35 years old and are considered to be a valuable resource in the wine industry due to the unique qualities they can impart to the grapes they produce. Most are used to make red wine. 
Recently, there has been growing interest in preserving and promoting the heritage and cultural significance of old vines in Australia, and efforts are underway to identify and protect these precious resources for future generations. 
Many old vines can be found in the Barossa Valley region of South Australia, which is home to some of the country's oldest and most revered vineyards. Barossa even has an Old Vines Charter. Old vines are equal to or older than 35 years; Survivor Vines, 75 years; Centenarian Vines, 100 years; and Ancestor Vines, 125 years! These vineyards, which were planted in the mid-19th century, are considered to be some of the finest and oldest in the world. The age and low yields of these old vines contribute to the production of premium wines that are prized for their complexity, depth of flavor, and balance. 
What are the Wine Regions and Terroirs of Australia? 
Australia is a large and diverse country with a wide range of climates and growing conditions, which is reflected in its wine variety. The majority of Australia's vineyards are located in regions with a Mediterranean climate, which is characterized by hot, dry summers and cool, wet winters. Such conditions are well-suited to grape growing, with long, warm growing seasons that allow grapes to ripen fully and develop good flavor and color. 
Australia's terroirs are also very diverse and includes a range of soil types, elevations, and topographies. This diversity allows for a wide range of grape varieties to be grown and for the production of many different wine styles. 
Australia is best known for its full-bodied red wines, particularly those made from the Shiraz grape. These wines are often characterized by their rich, fruit-forward flavors, high alcohol levels, and bold, spicy character. However, Australia also produces a range of white wines, including crisp, refreshing Sauvignon Blancs and Chardonnays with citrus and stone fruit flavors. In recent years, there has also been a growing interest in alternative and lesser-known grape varieties, such as Tempranillo and Graciano, which are being grown and made into unique and interesting wines. 
Great Wine Producers of Australia 
There are many famous and well-respected Australian wine producers to choose from when you buy wine online. Some of the most famous and influential producers include:
These are just a few examples of the many famous and well-respected producers of Australia wine that you can find at your favorite
wine store California
. The country is home to a thriving and diverse wine industry, with producers of all sizes and styles, making it one of the world's great wine-producing nations.
---