Discover Unconventional Charm: Five Unusual Wineries to Experience Cabernet Sauvignon in Napa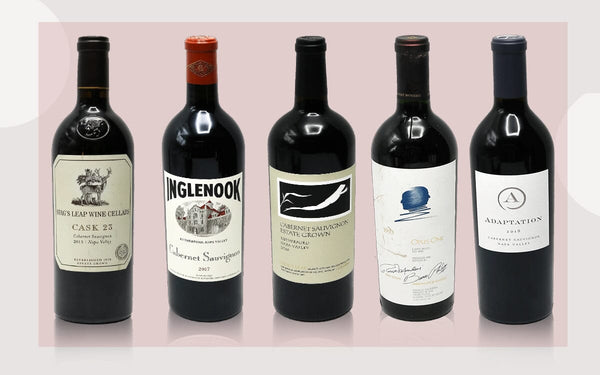 Nestled in the heart of California's wine country, Napa Valley boasts worldwide fame for its exceptional vineyards and world-class wineries. No one knows better than your favorite wine store California! While the region boasts several iconic wineries, it's the hidden gems that offer a unique and adventurous experience for wine enthusiasts seeking the bold flavors of Cabernet Sauvignon. In this article, we invite you to embark on an exciting journey as we unveil five unusual wineries in Napa, where you can delight in exceptional Cabernet Sauvignon and create lasting memories. 
Get Enchanted at Chimney Rock Winery

: Step into the captivating world of Chimney Rock Winery, nestled in the Stags Leap District of Napa Valley. Begin your visit with a guided tour of their stunning estate, surrounded by picturesque vineyards. Marvel at the rugged rock formations that give the winery its name. Witness the winemaking process firsthand as you explore their state-of-the-art cellar and barrel room. Conclude the experience with a tasting of their renowned Cabernet Sauvignon, known for its elegance and intensity, and let the enchantment of Chimney Rock Winery leave an indelible mark on your palate. 
Embrace Nature at Frog's Leap Winery

: Escape the beaten path and venture into the tranquil embrace of Frog's Leap Winery, an oasis of sustainable viticulture. Explore their organic vineyards, where biodynamic farming practices create a harmonious relationship between nature and wine. Engage in a vineyard tour led by passionate guides who share insights into their eco-friendly approach. Experience a tasting of their expressive Cabernet Sauvignon, which beautifully showcases the unique terroir of the Rutherford AVA, leaving you with a profound appreciation for both the wine and the environment.

 
Discover History at Inglenook Winery

: Step into the historic Inglenook Winery, a Napa Valley icon that dates back to 1879. Immerse yourself in the rich heritage of this legendary estate, with its stunning chateau and vineyards. Take a guided tour of the historic cellar, where time-honored winemaking traditions are meticulously preserved. Learn about the estate's fascinating history, from the original founder Gustave Niebaum to the renowned filmmaker Francis Ford Coppola. Indulge in a tasting of their exquisite Cabernet Sauvignon, experiencing the culmination of legacy and craftsmanship in every sip. 
Indulge in Opulence at Opus One Winery

: Prepare to be immersed in luxury at Opus One Winery, a collaboration between two iconic winemaking families to make Napa Valley wines, the Rothschilds and the Mondavis. Marvel at the stunning architecture and picturesque vineyards that surround the estate. Delve into the winery's unique production process, blending Old World techniques with New World innovation. Enjoy a guided tasting of their opulent Cabernet Sauvignon, a testament to the artistry and dedication that define Opus One's winemaking philosophy.
Experience Modern Elegance at Odette Estate

: Odette Estate embodies modern elegance in the heart of Stags Leap District. Immerse yourself in the contemporary design and breathtaking views of the estate. Take a behind-the-scenes tour to witness the precision and attention to detail that goes into crafting their exceptional wines. Savor their flagship Cabernet Sauvignon, a true expression of the estate's terroir, and allow yourself to be transported by the refined flavors and velvety textures that grace your palate. The knowledgeable staff at Odette Estate will guide you through the tasting, sharing insights into the winemaking philosophy and the unique characteristics of their Cabernet Sauvignon. Prepare to be captivated by the modern elegance and unforgettable flavors that await you at Odette Estate.
Visit these off-beat wineries in Napa Valley for a remarkable experience. From the enchantment of Chimney Rock Winery to the sustainable practices at Frog's Leap Winery, the rich history at Inglenook Winery, the opulence of Opus One Winery, and the modern elegance at Odette Estate, each winery offers a distinctive journey that combines exceptional wine with captivating surroundings. And don't forget you can order online wine delivery anytime!
---