Debunking Sweet Wine Myths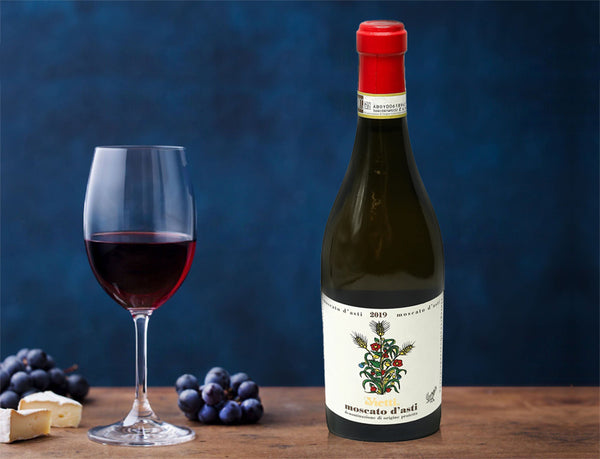 There's a rare Spanish wine from Alicante called Fondillon. It's created using a solera system, similar to that used for sherry wines from Jerez, but it's minimum ageing is 10 years and the crushed grapes are first dried, concentrating the sugars. It's made from a red grape, Monastrell or Mourvèdre. This process produces a completely unique wine, usually sweet but also naturally high in alcohol. Welcome to the word of sweet wines, which contrary to popular perception, is extremely diverse and sophisticated, from Fondillon to sparkling sweet Champagne, and from slightly fizzy Moscato d'Asti to rich vintage Port.
Here's a few myths or misconceptions about sweet wines that deserve debunking before you buy wine online:
Sweet wines are only dessert wines 
While it's true that sweet wines go well with desserts, that's far from their only suitable venue. Sweeter wines can make wonderful aperitifs or accompany cheeses and charcuterie. They also pair extremely well with spicy dishes, whether that be complex Mexican mole sauces or hot, tongue-tingling Thai cuisine. Examples include sweet Alsatian Rieslings as well as demi-sec Champagnes from France or Cavas from Spain. Well-chilled Muscatel based wines are perfectly refreshing on their own in hot weather!
Sweet wines have artificial sugars 
Almost all sweet wines are the result of natural fermentation of grape juice (must) and there are no added sugars. Why are they sweet? It depends on the wine. The 2021 Vietti Moscato d'Asti from the best wine store California, for example, starts with well-ripened, highly aromatic Moscato grapes. The aromas and flavors actually enhance the sensation of sweetness. After crushing, the must is maintained at low temperatures without sulfites to prevent fermentation. Before bottling, yeast is added and temperature increased to about 54 degrees F, which starts fermentation in pressurized tanks, ensuring the natural CO2 is maintained in the wine. "The fermentation is stopped at 5% Alc. by reducing again the temperature," says the winemaker. This result in a slightly-sparkling, extremely fresh wine with sweetness and low alcohol. For other wines, the sugar content in the grapes is so high upon pressing—whether from freezing, Botrytis, or desiccation—that a wine with normal to high alcohol levels is made with lots of retained, natural sugar. There's no need to stop fermentation because there is so much sugar in the original must!
Sweet wines are not fine wines 
We could argue if White Zinfandel or inexpensive Chilean Moscato qualifies as fine wine, but there are plenty of sweet wines that definitely belong in this category. Think of the complexity, finesse, and suppleness of French Sauternes, or the incredible balance of acidity, body, and flavor of high-quality Rieslings from Germany. In giving the Quinta do Noval Vintage Port 98 points, Wine Spectator said it's complete "distinctive, with youthfully rambunctious dark currant, fig and blackberry fruit paste flavors liberally spiked with bramble, Turkish coffee and ganache notes." Is that not a fine sweet red wine?
Rose and Riesling define the world sweet wines 
Not all Riesling and Rose wines are sweet, though there's excellent examples of both that are sweet. As the example of Fondillon shows, the world of sweet wines is extremely diverse. Consider the golden-hued 2014 Far Niente Dolce Napa Valley Late Harvest, made from 89% Sémillon and 11% Sauvignon Blanc and featuring notes of ripe orange, fresh loquat, and apricot. Or from Tuscany, the 2009 San Giusto A Rentennano Vin San Giusto, a darkly opulent sweet wine, produced out of Malvasia and Trebbiano.
Sweet wines are all cloyingly sweet 
Like any fine wine, sweet wines can be balanced and complex. Think of sweeter Champagnes, for example, or the Dibon Ice Demi-Sec Cava, which is made to preserve the freshness of the orchard fruit aromas and balancing acidity while still preserving residual sugars. Or consider the 2001 Selbach-Oster Zeltinger Himmelreich Riesling Eiswein, which superbly balances sweetness with acidity, complimenting flavors of peach, lime and slate enduring through a mouthwatering finish. It's 8% alcohol assures you of plenty of residual sugar, but without at all being cloying. Will sweet wines with lots of residual sugar have more calories? Yes. Instead of 30 calories per glass, you may have up to 70 calories (or even 130) per glass for wines with lots of residuals sugars.
In all, sweet wines exist on a broad spectrum and have many ideal occasions. The food pairing possibilities are nearly endless! Classics include Pot with Stilton cheese and nuts, but think about demi-sec Cava with juicy roast pork, or an aperitif of late-harvest Semillon with roasted almonds and extra-aged cheddar!
Please check out our other wine article pages from Bottle Barn, your wine store California!
By Charlie Leary
---