Winery Profile: Simi, A Sonoma County Pioneer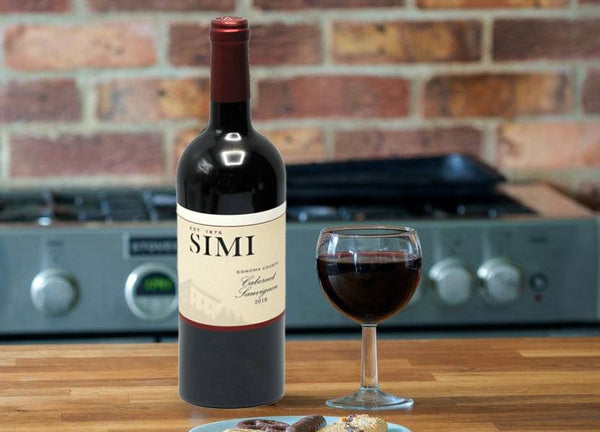 In 1904, a flu outbreak took the lives of brothers Pietro and Giuseppe Simi, leaving the Sonoma County wine estate they had founded in 1890 in the hands of eighteen-year old Isabelle Simi, Giuseppe's daughter. She went on to lead the company until 1970. Following her lead, women have played critical roles in Simi's success story since then.
First attracted by the Gold Rush, the two brothers from the famed wine region of Montepulciano, Italy, had turned to winemaking in the 1870s, recognizing the potential of Sonoma County and the market in booming San Francisco. Isabelle expanded the business, then called Montepulciano Cellars, including building steel-reinforced cellars that proved resistant to the destruction caused by the Great San Francisco Earthquake of 1906. Having worked in the vineyards and winery from a young age, she set out to build, quality age-worthy wines from her father and uncle's plantings of Cabernet Sauvignon, Zinfandel, Chardonnay, and Carignan which proved prescient.
In 1920, prohibition caused the vast majority of California wineries to shut their doors. Isabelle had to sell all the vineyards to survive the downturn; but she also negotiated a special license to produce sacramental wine and, most importantly, she put those special cellars to good use. She stored thousands upon thousands of red wine bottles, aging them in perfect conditions for eventual sale; she was convinced Prohibition would not last forever.
 She reopened under the name Simi Winery and more than that, innovated the idea of wine tastings and direct sales, allowing consumers to buy wine at the cellar door. In 1934, a giant 25,000 wine barrel placed horizontally against the winery welcomed visitors. Among those attracted was collector Alfred Hitchcock, who loved Simi wines.
Always located in Healdsburg, today Simi has vineyards nearby in the Alexander Valley of Sonoma County and in the Russian River Valley appellation. This includes the Landside Vineyard, one of the most diverse vineyards in Alexander Valley. Landslide boasts five distinct soil types created by a volcanic landslide from Mount St. Helena. The vineyard has three distinguishable sections for matching grape varieties with the appropriate terroir and several microclimates.
The strong tradition of female leadership continues, with Lisa Evich as Director of Winemaking and Rebecca Valls as winemaker producing up to 20 different wines, including Sonoma County, Alexander Valley, and Sonoma Coast appellations. If you want to taste some of this incredible history that contributes to every bottle, sample the 2019 Simi Sonoma County Cabernet Sauvignon, a Gold Medal winner at the 2021 Sonoma County Harvest Fair. Oak aged, it offers velvety texture and bright, luscious flavors, with dark bramble and roasted coffee on the nose. Simi has always produced Sauvignon Blanc, and the 2021 Simi Sonoma County Sauvignon Blanc is a great example. This pale-straw-colored Sauvignon Blanc is bright and crisp, opening with the aromas of freshly cut grass and citrus notes of lime zest, orange blossom, and grapefruit.
Isabelle started the "buy wine near me" method of direct sales and tastings, survived Prohibition, and set the example for generations of excellent Simi Winery offerings.
By Charlie Leary
---