Winery Profile: Martin Ray Vineyards & Winery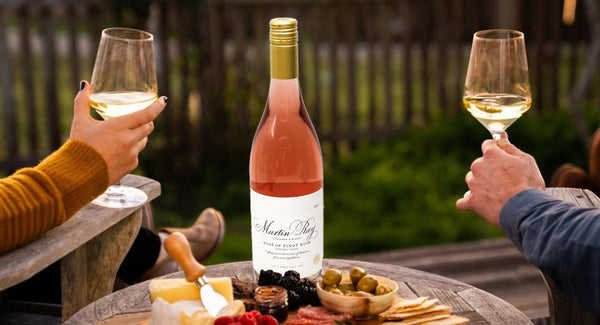 Through his unwavering belief in the quality of California wines and his key roles in post-Prohibition wine growing, Martin Ray foreshadowed much of the trajectory towards quality that occurred after the historic "Judgment of Paris," when California wines beat their French counterparts in a blind tasting. Unfortunately, Ray died that same year.
Who Was Martin Ray?
A friend of Paul Masson, he bought the eponymous winery in 1936, after catching the "wine bug" and leaving a career as a stock broker. In many ways, he tried to bring back the heights of quality California wine production had reached before Prohibition, viewing wine as an art rather than a commodity. He placed a huge emphasis on viticultural practices and the proper timing of grape harvest. This was an uphill battle in the 1930s, and in 1942, he sold Paul Masson to Seagrams. He did not give up, however.
Purchasing land on the hilltop across from the old Paul Masson vineyards, Ray transferred many cuttings of Pinot noir and Chardonnay that Masson had acquired from France to establish what is now known as Mount Eden Vineyards–2000 feet above the Santa Clara Valley.
The same dedication shows in the wines of Martin Ray Vinyards & Winery today. "The name Martin Ray resonates deeply in the history of California Winemaking," notes the winery. "Martin Ray was a pioneer, dedicated to crafting single varietal, region specific wine from 1943 through 1972 in Saratoga, in the heart of the Santa Cruz Mountains."
What Wines Does Martin Ray Winery Produce?
Today, though, Martin Ray wines call Sonoma County home. Nearly twenty years later after Ray's demise, Courtney Benham stumbled upon 1500 cases of Martin Ray wine in a San Jose warehouse. Recognizing his good fortune, combined with an intent and drive to produce terroir-driven wines, Ray's historical significance and philosophy resonated with Benham. He purchased the brand, and since 1990 has been committed to the production of artisanal wines worthy of the Martin Ray name.
Martin Ray Winery has its own 12-acre estate and buys quality fruit from Santa Cruz and Napa, to the northern reaches of Dry Creek Valley and the Sonoma Coast, bottling wines under the Martin Ray, Synthesis, and Angeline brands. The winery specializes in varietal wines expressing a sense of place.
Whenever you order wine delivery, from the Sonoma Coast, try the 2021 Martin Ray Rose of Pinot Noir, perfect for summer drinking! This dry rose offers aromas of peach and sliced green strawberry. With a medium body, bright acidity, and lively finish it serves perfectly as an aperitif or with a lunch on the terrace. The 2018 Martin Ray Napa Valley Cabernet Sauvignon scored 93 points from James Suckling and is now ready to drink! Deep and manicured with blueberry and blackberry aromas and flavors, Suckling loves this full-bodied red wine "with super polished tannins and a tight, racy finish." There's also the 2019 Martin Ray Synthesis Estate Pinot Noir, which is fleshy, with silky fine-grained tannins layered over high-toned acidity and touches of truffle and clove on the finish, according to the winemaker. 
If you want to sample wine made from Martin Ray's original vineyards in Santa Cruz, try the 2020 Arnot-Roberts Peter Martin Ray Vineyard Pinot Noir. The hardy nature of this rugged, low-yielding mountain vineyard bears fruit with generous flavor, color, and structure.
By Charlie Leary
---