Wine Region Profile: Provence, France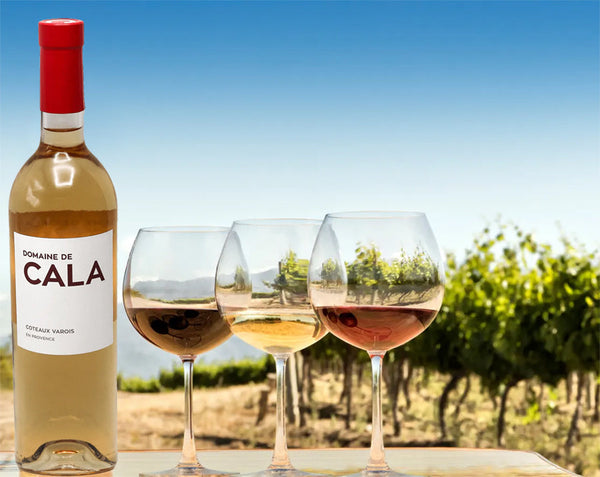 Provence is a wine region in the extreme southeast of France known for the quality and quantity of its rosé wines, however, it also produces excellent red wines. The vineyards extend from east to west along almost 200 km of coastline, constituting one of the largest wine growing areas in the country. This is France's Mediterranean region par excellence.
French wine is said to have been born in Provence, around 125 BC Phoenician and Greek settlers planted the first vines here. The Middle Ages was a magnificent period with the wines of Provence presiding over the tables of kings, popes, and great nobles, but phylloxera swept everything of this older winemaking tradition away in the late 19th century.
Today, when you can get wine online, you can taste how winemaking continues to be a very important activity in this undulating landscape, with thousands of acres of vineyards, full of olive groves, forests, old towns, and luxurious estates. In Provence there are nine appellations of controlled origin or AOC. Provence wines are almost entirely blended wines. Each appellation boasts a great variety of wines stemming from the combination of grape varieties with different soil types, so there will be as many different wines as there are terroirs.
Within the AOC Provence there are four sub-regional appellations: Coteaux d'Aix en Provence, Coteaux Varois, Côtes de Provence, and Coteaux de Pierrevert. Provence has five communal appellations: Bandol, Bellet, Cassis, Palette and Les Baux de Provence.
The climate of Provence is clearly Mediterranean, the vineyards enjoy about 3,000 hours of sunshine a year and an average temperature of 14.5 degrees. Both the long, dry summers and the cold wind that blows from the Rhône help against vine diseases.
The Provence vineyards feature three types of soils: the limestone terraces bordering the massifs, the soils composed of schist and granites, and the siliceous and sandstone soils of the low areas.
As occurred in most of the south of France, with the implantation of more popular international grape varieties such as Grenache, Syrah, and Cabernet Sauvignon, the traditional vines of the region were replaced, although in Provence with less intensity, since some are still very important creating wines such as Mourvèdre, traditionally known as the best red variety of appellation.
In typical French fashion, Provence produces many blended wines, due to the diversity of terroirs and its large number of grape varieties.  Although recently there's renewed interest in red wines, 70% of the production in Provence remains rosé: fresh, fruity, and dry wines. 25% are quality red wines, soft, robust, tannic and aromatic. The remaining 5% of production is dry and fruity whites. All appellations produce red, white, and rose, except AOC Les Baux de Provence which does not produce white wines.
A suggested Cotes de Provence Rose is the 2021 Domaine Gavoty "Recital" made from equal parts Grenache and Syrah, with about 10% Carignan. This direct-pressed rose delivers the ethereal color, lip-smacking salinity, and bright fruits one expects from the appellation. A chateau-denominated wine also from Cotes de Provence is 2021 Chateau Les Mesclances Faustine Rose. From the exceptional La Londe sub-appellation, the wine was made 15 hours of maceration of Grenache grapes, along with a saignée (bleeding method) for Mourvedre and Syrah.
From Coteaux Varois en Provence, the 2020 Domaine de Cala is a blend of 46% Grenache, 41% Cinsault, 10.5% Rolle (Vermentino) and 2.5% Syrah. In giving it 90 points, Wine Advocate said, "it starts off with hints of brined peaches, redcurrants and preserved lemon on the nose, then it delivers crisp, refreshing citrus flavors on the medium-bodied palate. It's a zesty, refreshing drink for the summer months." The spectacular Coteaux d'Aix en Provence appelation offers the  2021 Commanderie de la Bargemone, made from 40% Grenache, 25% Cinsault, 20% Syrah and, for a twist, 15% Cabernet Sauvignon. This pale pink wine boasts an expressive nose of tropical fruits and white flowers.
One red wine bottle from Provence is the 2019 Mas de Gourgonnier Les Baux de Provence Red, which expresses the typical terroir through natural winemaking. The earthy aromas of flowering Mediterranean herbs and juniper and the mountain freshness of the cooling mistral winds are all echoed in the estate's organically raised wines.
Written By- Charlie Leary
---