Wine Region Profile: Piedmont, Italy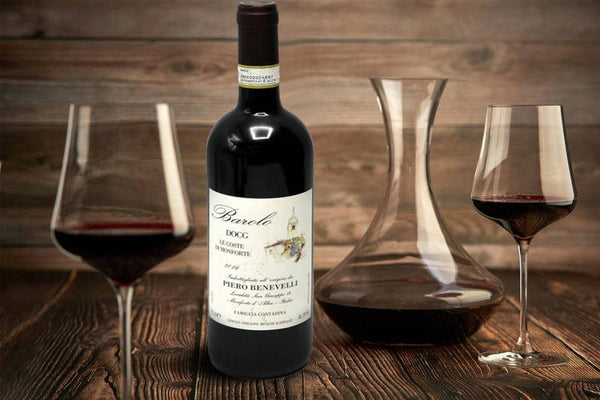 Piedmont constitutes an amazing viticultural region located in the north of Italy, very close to Milan, which is characterized by its production of great Italian wines, mostly from the Nebbiolo grape. Italian Wine Central notes: "Piedmont is known for the high quality of its wines across the board, and that is attested to by the fact that nearly 90% of its wine qualifies for the DOP quality level."
Piedmont is almost surrounded by mountains, like the Monte Rosa, Matterhorn and the Gran Paradiso. It borders Switzerland and France, so its climate is influenced by the Alps and the Apennines.
Summers in the region are hot and dry, while winters are cool and occasionally foggy during harvest time. This climate is slightly moderated by the influence of rivers, such as the Po, which rises on the western slopes of the region and collects water from the surrounding mountains.
The vineyards cover Alba, along the Tanaro River, while others are found in the Langhe and Monferrato hills in the southeast.
This is a terroir synonymous with quality. Piedmont red wine is among the best rated in Italy. The quality of the region is evident in its 58 DOC and DOCG zones, and although it is only the sixth largest producer in Italy in terms of volume, it has the highest percentage of wines classified for excellence. For example, the vineyards located in the Langhe hills of Piedmont, known for their gentle slope, have been recognized worldwide for the production of red wine.
More than half of the 700 km² of vineyards registered under different Denominations of Origin cultivate red grapes such as Barbera and Dolcetto, although the representative variety of this region is Nebbiolo: wines with high tannins, high acidity, and aromas of black fruits are typically produced. They are complex, with a unique depth and great aging potential.
Famous Grape Varieties of Piedmont 
While less Nebbiolo wine is produced there than Barbera, it's considered to be the greatest wine from Piedmont. Nebbiolo's high tannin content comes side-by-side with flavors of red cherry, tar, and rose petals. When sipping a Nebbiolo red wine, you will feel grippy tannin towards the front of your mouth—a great clue for blind tasting. A Piedmont Nebbiolo wine will be best enjoyed around the 10–15 year mark, redolent with notes of spices, still the rose and cherry, but now joined by dried fig.
Barbera: is Piedmont's most planted red grape variety, and it is easier to cultivate for quality red wine than Nebbiolo. Piedmont's Barbera wines feature a dark color with flavors on the palate of black cherry, anise, and dried Mediterranean herbs.
Dolcetto: wines are great for drinking young. These wines feature an inky red color with flavors of blackberry and licorice. The best examples balance relatively low acidity with medium-high tannins. They are not made to age because of the low acidity. Modern winegrowers produce Dolcetto in a fruit-forward style, with more reduced tannin and fruit forward: think black plums, like Merlot.
Famous Red Wines of Piedmont
Red wines lead in terms of quality and aging potential  and are mostly made from Nebbiolo. The DOCGs where Nebbiolo wines are produced are: Barolo, Barbaresco, Gattinara, Ghemme and Roero, where the grape is found at its best.
The red wine made from the Barolo grape, known as the "king of wines and the wine of kings", is produced in the Langhe hills with a production of about six million bottles, while Barbaresco produces about 2.5 million. Although wine production has been modernized since the 1980s, they are still complex and capable of continuing to age in the bottle for many years; In addition, the offer marked fruity notes.
In terms of volume, Barbera wines are the most significant, closely followed by Dolcetto. Both the Barbera and the Nebbiolo wines have recently undergone a transformation to appeal to modern tastes: most versions are very fruity and high in acidity.
The Brachetto grape is used to make the sweet and sparkling Brachetto d'Acqui.
Famous White Wines of Piedmont 
The main white wine variety is the aromatic white Moscatel de petits grains, with which one of the world's most famous sparkling wines is made: Asti Spumante DOCG. In fact, Asti is having a comeback in popularity. The fizzy Moscato d'Asti and fully sparkling Asti (Spumante) versions predominate. These Italian wines are usually quite sweet. These the most enjoyed wine from Piedmont, with a production well surpassing 60 million liters per year. The sweetness and soft bubbles of the Moscato make it a very famous wine. In fact, its popularity is much higher internationally than in the region.
The best white wine in the region is Gavi DOCG, which snuggles against the Ligurian Apennine Mountains and produces white wine from the Cortese grape. It is a DOCG that has helped ensure consistency of quality. A dry white wine, which is very pleasant to pair with fish dishes and pork. Wine from Malvasia is also made in Piedmont.
Bottle Barn has a full range of Piedmont wine for wine delivery in USA. Did you enjoy learning a bit about this Italian wine appellation? Leave us a comment and check out our other informative articles on wine!
By Charlie Leary
---