Wine Region Profile: Paso Robles AVA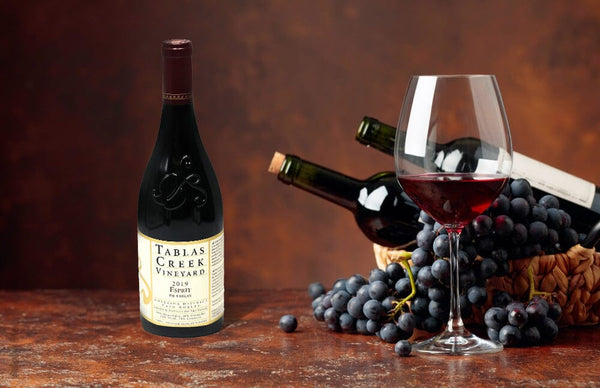 In existence since 1983, the Paso Robles American Viticultural Area (AVA) is a diverse appellation nested in the northern half of California's San Luis Obispo County. There are 64 different grape varieties of Paso Robles, ranging from Rhone and Bordeaux varietals to ones of Italian and Spanish origin, as well as California's own Zinfandel. While the entire AVA enjoys a large diurnal temperature shift from day to night, the landscape varies from river bottoms to rolling hills to benches and mountains. Soils characteristics range from calcareous/carbonate-rich to clay soils to sandy loam to silica-rich. 
Where is the Paso Robles AVA? 
The AVA's western frontier is approximately six miles from the ocean. It constitutes one of the larger AVAs in the state. About halfway between Los Angeles and San Francisco, Paso Robles means "the pass of the oaks." It's a popular destination for wine enthusiasts. A large region covering more than 600,000 acres, the AVA has 40,000 planted vineyard acres and more than 200 wineries. It's so large, in fact, that it now contains 11 sub-AVAs. It's reputation for quality wine production, too, has expanded greatly over the past 15 years. Lying on the inland side of the Santa Lucia coastal mountains, the Paso Robles AVA forms a rectangle about 35 miles wide and 25 miles long. 
What are Paso Robles AVA's Growing Conditions? 
It boasts some growing climates similar to Sonoma's Alexander Valley and Napa's Rutherford. Paso Robles features up to fifty-degree F diurnal variation, bringing long, cool nights and breezes from the Pacific Ocean. This temperature drop helps to preserve a balanced acidity in the resulting wines, particularly Cabernet Sauvignon. Combined with the area's arid nature and extreme growing conditions such as well-draining, gravelly and chalky limestone soils yields Bordeaux varietal wines worthy of their recent acclaim. 
Because of Paso Robles' superb climate, location, and growing conditions, or terroir, Cabernet Sauvignon grapes can remain on the vine until until ideal ripeness, carefully monitored by winemakers, is achieved. Paso Robles' long growing season allows the late-ripening Cab sufficient time to develop not only the superb structure that makes it one of the most cherished grapes in the world but also a balanced, mouth full of fleshiness admired by wine lover throughout the USA. Cabernet Sauvignon wines from Paso Robles are intense and concentrated with fruit-forward aromas and flavors – similar to its northern counterparts in Sonoma and Napa, but with riper and softer tannins. 
Paso Robles is east of the Pacific Ocean, with the closest part of the AVA only six miles from the ocean. Paso Robles extends from Monterey County to the north and the Cuesta Grade to the south and from the Santa Lucia Mountains to the west and the Cholame Hills to the east. The Salinas River flows northerly through the middle of the AVA. 
Variety and Diversity 
People often speak of Paso Robles as one large region. But there are differences between the east and the west and from north to south. As a result, in 2007 an independent AVA committee submitted a petition proposing 11 sub-districts. Each of these sub-districts offers something unique which is why Paso Robles can grow so many different grape varieties. 
The Paso Robles AVA will always produce an ever-growing number of critically acclaimed wines. Reigning over all, however, it is the potential of Cabernet Sauvignon and other Bordeaux varieties that has knowledgeable wine connoisseurs singing its praises. 
Wines to Try from Paso Robles
Among the famous wines of Paso Robles, don't miss the 2020 J. Lohr Hilltop Cabernet Sauvignon when you buy wine online. This is a flagship wine, which the Tasting Panel says offers mocha and sandalwood as its "driving force with a "broad, dense palate." "Blackberry, Worcestershire sauce, and wet earth work in tandem to bring out a savory character and textural depth." Then there is the 2018 Joseph Carr Paso Robles Cabernet Sauvignon, offering aromas of baked blackberries and dried figs with warm notes of vanilla, butterscotch, cinnamon, and other baking spices. 
To show that Rhone varietals perform exceptionally well, savor the 2019 Tablas Creek Vineyard Esprit de Tablas. The winemaker blended about 40 percent Mourvedre with Grenache, Syrah and, yes, Counoise. "It's plush and lively, plainly in the red spectrum of fruit, with a zin-like directness and an earthy, leathery grip of tannin," according to Wines & Spirits. Along the same lines comes the 2019 Villa Creek Avenger, with 46% Syrah, 28% Graciano, 14% Carignan, 6% Grenache, and 6% Mourvèdre.  It wafts aromas of vanilla, brambleberry, cinnamon, pencil lead, and violets. On the mid-palate encounter flavors of grilled plums, brown butter, salted caramel,  and spice, all with fine tannins. Both are age worthy. 
Finally, there's the 2018 Tooth & Nail Red Blend with 51% Cabernet Sauvignon, 38% Merlot, and 11% Petite Sirah, a true Bordeaux blend. This is a great value. 
So, go ahead, order some red wine online from your favorite wine store Santa Rosa!
---