What Makes Malbec Different?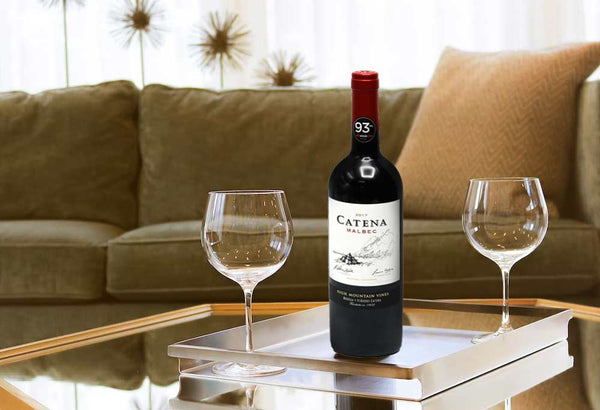 Malbec is an ancient French grape variety now most often associated with wine from Argentina. Malbec produces inky, powerful red wine, generally dry but sometimes with a touch of residual sugar, with medium tannins and medium to low acidity. It's full bodied and wines contain up to about 15% alcohol. You may typically find aromas of red and black plum, blackberry, cocoa, tobacco, even blueberry and sometimes vanilla in these red wines perfect to accompany red meat dishes. When you order wine online, you'll find California Malbec wine in addition to luscious examples from France and especially Argentina, where there's great diversity in terroirs.
Lovers of Cabernet Sauvignon and Syrah wines may also fall for Malbec. Cab has a longer finish and the tannins differ. It's an ancient vineyard neighbor of Cab in Bordeaux, though today it's French home lies in nearby Cahors, where it's known as the "black wine." Wine writer Vanda Jackson says, "I believe you haven't truly tasted Malbec until you do so, overlooking the vineyards from which it was born." For many, that would be Mendoza in Argentina, a vast wine producing region, part of Cuyo in the country's center, characterized by the foothills of the Andes mountain range.
Argentine Malbec
Here, the humid winds off the Pacific Ocean, combined with the distance from the Atlantic Ocean and the barrier formed by the Andes, shape the overall continental climate. Altitude, varied soils, valleys, and the snowmelt, forming streams and rivers, are key factors for excellent Malbec wine production, a tradition stretching back decades.
The territory of Mendoza can be divided into five large sub-regions, which give the varieties their characteristics: Valle de Uco GI, integrated by the departments of Tunuyán, Tupungato and San Carlos; Primera Zona, including the departments of Luján de Cuyo and Maipú; the Northern oasis, the East,  and the South, covering practically the entire province's expanse. Well-established viticulture augmented a bevy of creative winemakers pursuing new research, "has led to the identification of micro-regions with different terroirs, reflecting the diverse character of Argentine viticulture" says Wines of Argentina. "It is specifically in Malbec where this quality is best appreciated." 20% of Argentina's Malbec lies here.
There have also been exchanges between Mendoza and Cahors winegrowers, seeking to understand the full potential of this grape, what it needs to shine. Argentina Malbecs still represent great values for a red wine that to me offers a perfect balance between fruitiness, pleasing tannins, complexity, and depth. A lot of the character of the resulting wine depends on attitude in Argentina. Malbec loves sunshine. It produces thick skins on the grapes resulting in high levels of pigments known as anthocyanins.
French Malbec 
In Cahors, altitudes are low, but there are mineral rich soils (like in Mendoza). The appellation's vineyards spread over 4,000 hectares of vines on both sides of the Lot River. French Malbec, in my mind, tends more towards perfume and delicate elegance, as opposed to the powerful elegance of the Argentine wine.  Cahors wine an AOC (controlled designation of origin) constituting a section of the Southwest France wine region. By regulation, Malbec must make up a minimum of 70% of the wine. You may also see "Auxerrois" or "Côt" on labels, which are alternative names. Only red wine can be called AOC Cahors, and the Malbec may be supplemented by up to 30% Merlot and/or Tannat, the latter of which is another interesting grape variety to keep an eye on, especially that from Argentina's neighbor Uruguay.
California has the vast majority of Malbec planted in the United States, though it's still not too common. As California Malbec vines age, you will find increasingly complexity and intensity in these wines.
What if you want to try Malbec? Here are the few recommendations. 
The 2019 Catena Zapata High Mountain Vines Malbec comes from a top producer who helped revolutionize Malbec in Argentina. You generally can't go wrong with Catena wines. Family winery heiress Laura Catena and chief winemaker, Alejandro Vigil have produced a red wine to drink now or cellar for 10-20 years.
The 2019 Zuccardi Q Malbec comes from the Uco Valley region of Mendoza and boy is this a great value. It scored 94 points from James Suckling and 91 points from Wine Spectator and is just $16.49 at Bottle Barn! The latter says, "a deep well of cherry, dark plum and wild herb flavors matched to crisp acidity."
Going a bit upscale with a California Malbec example, the 2019 Meeker Bells Echo Vineyard Malbec is from the Mendocino AVA and won a Gold Medal at the North Coast Wine Challenge this year. The winemaker mixes characteristics in this wine built for ageing, saying the aromas and front of the palate feel like South American (read Mendoza), new-school Malbec, while the driven, tannic, finish feels like Cahors.
Did you enjoy learning a bit about Malbec wine? Do you want to try some? Please read some of our other wine blogs, order some Malbec, and leave a comment below!
By Charlie Leary
---