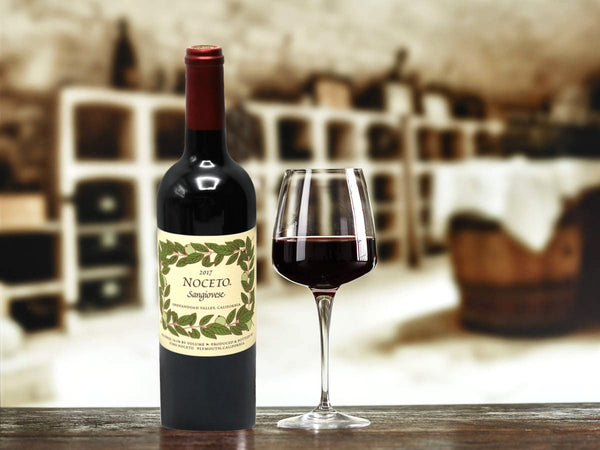 Do you like Tuscan red wine, like Chianti or Brunello di Montalcino? Then you like Sangiovese wine! As with many traditional wines from Europe you may order red wine online that simply has the origin on the label and no mention of the grape variety. That's the case here.
The Sangiovese wine grape variety originates from Tuscany. Its name derives from the Latin phrase "Anguis Jovis", which literally means "blood of Jupiter." It's one of the most highly valued varieties in Italy and grows best in the Tuscan hills.
There are about 14 sub-varieties of Sangiovese grape. Among the most famous are Brunello and Prugnolo Gentile, which grow best at low altitudes because the grape takes longer to ripen than many other varieties. It's used to make Vino Nobile di Montepulciano, a Sangiovese wine as well.
Sangiovese grapes are violet, thick-skinned, with high acidity and moderate to high tannin content. Its late maturation help gives character to the wine, and skilled grape growing is required. According to Wine Spectator, "there was some Sangiovese brought to California in the late 19th century by Italian immigrants, used in their field blends." Although making Sangiovese wines never really caught on in the Sunshine State, there are some great examples for when you order wine online from Bottle Barn! This includes wine made in the Shenandoah Valley of the Sierra Foothills AVA. The 2017 Vino Noceto Sangiovese scored 90 points from Wine Enthusiast, for example. Rich and expressive red-cherry and strawberry flavors distinguish a full-bodied wine "true to its Italian roots." The famous Sonoma winery Ferrari-Carano also makes great Sangiovese wine.
The Sangiovese grape usually provides red fruit (think a bowl of cherries), floral, and spicy aromas to the wine, although these can be easily overshadowed in red blends if the grapes used are not of the best quality. This variety fully expresses it inherent flavors and aromas when grown in limestone soil in hot, dry climates. Under these conditions, its varietal characteristics are fully developed.
The Sangiovese variety is primarily used to make medium to full-bodied Italian-style red wines, both Normale and Riserva (which indicates better quality, greater vigor), so look for this when you order red wine. It constitutes the main component of Chianti and Sangiovese di Romagna DOC wines, which must be at least 85% Sangiovese. In addition to Italy and California, the Sangiovese variety is grown in South Africa, South America, and Australia.
Still, the best examples are from Italy. For example when you next order wine online consider the 2017 Castell'in Villa Chianti Classico. "Classico" on the label assures the grapes were grown in the historical center of Chianti production, the birthplace of Sangiovese wine. Vinous describes it as a silky, wonderfully-nuanced wine "ready to charm right out of the gate," offering typical sweet red cherry, cedar, tobacco, sage, and dried herb flavor that linger nicely.
An example of Sangiovese wine from another famed Italian appellation is the 2015 Altesino Brunello di Montalcino Riserva, which received 96+ points in a barrel tasting by Wine Advocate. Unlike the Castell'in Villa, this wine deserves some cellaring, even today. You will discover typical tart Sangiovese fruit flavors that still retain spectacular freshness. On the palate, there's impressive richness of flavors including dried cherry, licorice, violets, balsam, and dusty limestone from the typical soils of the region.
Finally, for a little twist, Sangiovese also makes great roses, perfect for summer drinking. A perfect example is from right here in Sonoma County. The 2021 Ferrari-Carano Sonoma County Dry Sangiovese Rose is best served well chilled and will welcome you with aromas of strawberries, orange blossom, rhubarb, and raspberries. When you taste it, expect flavors of white peach, watermelon, and blood orange flavors with a typical Sangiovese wine's refreshing acidity.
Did you like learning about Sangiovese and its various expressions in California and Italy? Read Bottle Barn's other wine articles to expand your knowledge!
By Charlie Leary
---