The Top 3 Chardonnays of Summer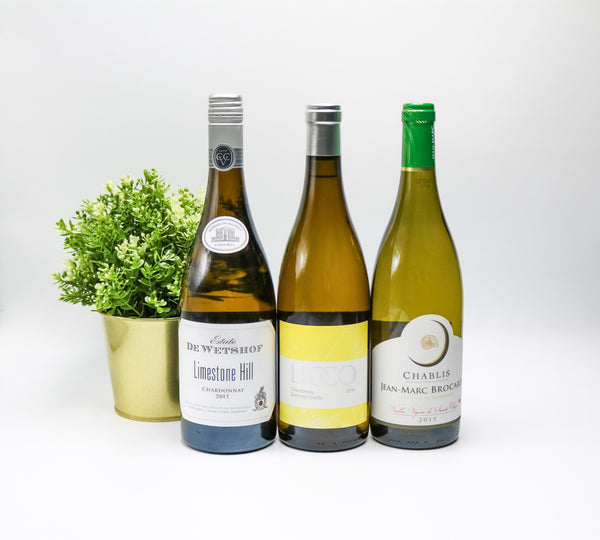 When thinking of the best summer wines--those porch slammers you can't wait to open with friends and family--many think of vibrant whites like Sauvignon Blanc, Pinot Grigio, or Rosé. Underrated however are the lively Chardonnays of the world--less oaked, more fruit forward and just as refreshing on a hot day as ever.
To give you all inspiration for branching out as the weather warms up, Jordan on our wine team rounded up his three top picks at the Barn right now. Check them out and let us know what you think!
Lioco Chardonnay, Sonoma County, 2016
Jordan says, "One of our all time Bottle Barn favorites is the 2016 Lioco. This is their Sonoma County blend, 100% Chardonnay mostly from the Russian River Valley, and this goes through a bit of malolactic, sees all older oak and stainless steel treatment. Very refreshing."
2016 was a killer season thanks to rain through the Spring, shot berries resulting in deeply concentrated vines and a nice long growing season. Made from Goldridge, Teac Mor, and Stuhlmuller Vineyards, it's worth nothing that these sources go into $40 wines produced by other wineries, while this baby rings in at a lovely $17.49.
With lemon curd, chamomile, and yellow apple on the nose, this Chardonnay pairs perfectly with curried mussels, Spanish tortilla and cauliflower gratin or really anything on a picnic blanket.
DeWetshof Chardonnay, Limestone Hill, 2017
Another dynamic expression of the varietal, this DeWetshof Chardonnay is grown in South Africa on heavy clay soils rich in limestone. And for $14.99, it's a steal.
According to Robert Parker, "The De Wetshof Estate Limestone Hill Chardonnay never sees oak, and offers impeccably pure, refreshing apple, peach and lemon fruit, a lovely leesy richness of texture, and a nutty, chalky, fruit-filled finish of imposing length. Understated and less tropical than some of the better un-oaked Chardonnays, this wine possesses far better balance and sheer drinkability – not to mention more finesse – than 99% of the world's Chardonnay I have experienced."
The wine pairs well with oysters, cream-based pasta dishes and light curries, as well as roast pork and veal dishes--great for a summer dinner with family and friends.
Jean-Marc Brocard Chablis, Vieilles Vignes Sainte Claire, 2015
This is one of our all-time favorite Chardonnays from the Old World in the store. A classic Chablis from Jean-Marc Broucard, from a single vineyard, biodynamically grown, this has all the complexity and finesse yould hope for in a good Chablis.
The vines this was grown on are about 70 years old, and their roots stretch down over 25 meters into Kimmeridgian soil. On the nose you'll find anise, pink grapefruit, lemon, and salt with a persistent and crisp palate, full of balanced, beautiful energy. According to the producer, it's best served between 54° and 57°F.
This charming Chablis is best drunk while sitting outdoors in the summer shade with light, bright foods like fish, grilled asparagus and dry goat cheese.
Do you have a favorite summer Chardonnay we missed? Let us know on Facebook!
---