Take Advantage of Wines Online: Dessert Wines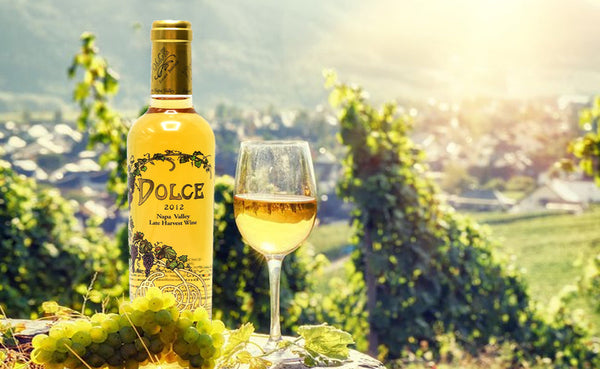 With wine delivery USA from Bottle Barn, there's no reason not to sample unique and rare dessert wine specials. Dessert wines are sometimes called sweet wines, since they feature a high sugar content and are often enjoyed after meals, either being the "dessert" itself or drunk with them. Winemakers and growers produce dessert wines by various methods. These have created characteristic dessert wine styles, such as Botrytis wine or ice wine, late harvest, etc. If you are in Spain, do not stay without trying a good Muscatel or Pedro Ximénez for your dessert. You will not regret it. Of course, the most exquisite dessert wine is French Sauternes, made from botrytized Semillon grapes.
Dessert wines possess relatively high sugar and alcohol content, either naturally or through fortification. However, low alcohol content wines that have been enriched in sugars by various procedures, such as freezing the grapes on the vine or late harvests, are also included in this category. When going to buy dessert wine online, try the 2014 Far Niente Dolce Napa Valley Late Harvest, made from extra-mature, sweet Napa grapes.
Dessert wines and fortified wines are similar, but not identical. Both can be sweet; the residual sugar content of dessert wines, in particular, varies between 50 grams per liter to 400 grams per liter. These wines, like the fortified ones, have a high alcohol content through natural yeast conversion of sugar into alcohol, but with residual sweetness remaining. In addition, dessert wines can be made through alcoholic fortification, in which case they would also be fortified wines, like Port. Port starts as a wine to which brandy is added before fermentation is complete. This process stabilizes it and allows it to preserve that sweetness of the grape and the aroma that characterizes it. A good example is the 2016 Quinta do Noval Vintage Port.
Some of the most used grapes for Port production are Tinta Roriz, Tinta Barroca and Touriga. Port's vineyards, 100 kilometers from the City of Porto, are on very steep terraces, which have been used for the same viticultural purpose for more than two thousand years. The valley has an intricate geography that does not allow the industrialization of the process. Port-style wines are also made in California, such as the Terra d'Oro Amador County Zinfandel Port.
In the UK there is a clear, traditional difference between dessert wines and fortified wines. Fortified wines are served before and after meals, while dessert wines are served during meals (especially with dessert and fruit). Think of the 2016 Domaine Huet Vouvray Cuvee Constance, which scored 96 points from Wine Spectator! In the New World, including the US, this distinction is not so strong. Dessert wines are considered to be all wines with an alcohol content (ABV) greater than 14 percent, and this definition encompasses both dessert and fortified wines.
In many European countries, it is customary to use dessert and Port wines while savoring sweet foods or even cheeses. This means that if you have to choose a wine to accompany a formal dessert course, it is a sweet wine. They are the wines that are best combined with desserts, including chocolate confections. In Spain, three fundamental groups can be mentioned among the most appreciated: Muscats, Malvasías, and Pedro Ximénez, often from Jerez (Sherry) or Montilla-Moriles (though there are rarer specimens like Fondillon). From California Muscat grapes, sample the 2017 Quady Elysium Black Muscat! Elysium pairs wonderfully with cheeses (especially goat cheese and Gorgonzola), with desserts containing red fruits (such as English Summer Pudding), and with cream desserts and cheesecake. Elysium poured onto vanilla ice cream makes for an effortless favorite.
By Charlie Leary
---