South Africa's Signature Wine Grape: Pinotage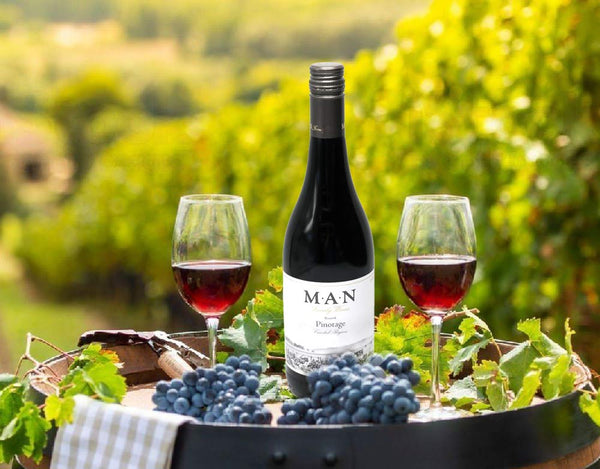 My first experience with Pinotage in 1996 struck me, sticking in my memory, with its rich color and bouquet, but also the uniqueness of its flavor, at once subtle and forceful, with flavors between blackberry and black cherry and a certain meatiness. No grape, and no wine, could be more emblematic of South Africa, not even Steen (Chenin Blanc). My first tasting of Pinotage also left me with an uncertainty about its flavor, stemming the wine's tendency for isoamyl acetate development during winemaking, which lends a pungency like a volatile banana, circus peanuts, or even paint thinner.  But feat not, that concern has been addressed in recent years, as you'll learn below. 
What Is the History of Pinotage Grapes? 
The South African wine industry has a storied history, stretching back centuries in large part because of its superb Mediterranean climate, its strategic commercial location in the Age of Discovery and after, and its unique culture. Pinotage is a South African invention, in fact, coming out of the deep culture of winegrowing there. Abraham Izak Perold, the first Professor of Viticulture at Stellenbosch University, created Pinotage in 1925 as a cross between Cinsault and Pinot Noir. Sound intriguing?
Pinotage is not a hybrid grape; it's a full-fledged Vitis vinifera. It goes into red wine and sparkling wine and has delighted palates only since the early 1940s. The wine world almost lost the opportunity to taste Pinotage wine because Professor Perold forgot about the vines resulting from the Pinot cross he created, which he planted on an experimental farm. Charlie Niehaus, a young university lecturer, saved them from being grubbed up and the best plant was selected to continue propagation.
Regions that Grow Pinotage Grapes 
Pinotage grows on the Cape, heartland of South Africa wine, with vineyards situated in a narrow viticultural zone of the southern hemisphere, with an overall Mediterranean climate. Mountain slopes and valleys form an ideal habitat for winegrowing. South Africa grew to fame for its Constantia, or Vin de Constance, a famous and expensive sweet wine of the 18th and 19th centuries. Jane Austen and Charles Baudelaire referred to South African wine in their writings, and Vin de Constance was favoured by Frederick the Great, Napoleon Bonaparte, George IV of England and Otto von Bismarck of Germany. Long summers dripping with sun and mild, moist winters add to the conditions favoring Cape viticulture.
"Liberated by the advent of democracy in 1994, the South African wine industry has gone from strength to strength, with exports reaching 388 million litres in 2021," says Wines of South Africa. South Africa is no small player on the wine scene, and their wines often represent great values, including Pinotage wine. The 2020 harvest amounted to 1,342,112 tons (1,042.0 million litres), 86% of which used in winemaking. Growth is apparent. The annual harvest in 2021 amounted to 1,459,613 tons (1,133.3 million litres), of which 80.4% was used for wine production. How much of that is the flagship grape, Pinotage? It takes up just about six percent of the vineyard area, but South Africans are proud of this symbol of the country's distinctive winemaking traditions.
What Kind of Wine is Pinotage? 
A common South African saying about Pinotage is "Pinotage has the heart of a lion and the tongue of a woman; after drinking a certain quantity you can talk forever and fight like the devil!" Is it a full-bodied wine? Generally, yes. It had its detractors in the 1990s, when I first tried it. Fortunately, in the last 15 years," says Wine Folly, "several producers have banded together and focused on reducing the crop yields and used careful winemaking techniques to manage this unique grape." No more isoamyl acetate banana aromas!
Believe it or not, Pinotage performs extremely well in sparkling wines, and South Africa has its own version of traditional method sparklers that are highly regulated for quality, known as Cap Classique. Using Pinotage makes for an extremely unique effervescent wine, especially combined with lees ageing in the bottle. A good example and a good value is the 2019 Simonsig Kaapse Vonkel Brut Rose, which blends two traditional Champagne grapes, 75% Pinot Noir and 2% Pinot Meunier with 23% Pinotage. Just $13.99 at Bottle Barn, it has 6.6 grams per liter of residual sugar and is ready to drink now, before summer ends! With a light salmon colour, this Cap Classique wine features a fine and persistent mousse. Aromas of raspberries, cranberries, and  white flower compliment strawberry sherbet on the palate followed by a slightly biscuity finish.
To try a varietal wine, the 2020 MAN Family Wines Pinotage is a vegan-friendly wine made in the modern style emphasizing its softer characteristics resembling Pinot Noir. This ruby-garnet colored wine with a hint of purple wafts a bouquet of mocha chocolate and roasted coffee beans, followed by flavors of red berries, nutmeg, and vanilla, suggesting oak ageing.
Did you enjoy learning a little about Pinotage wine? Try some! And please leave us a comment below.
---