Seasonal Wine & Food Pairings for Fall
Written by Jordan Wardlaw, Import Wine Specialist
Summer is nearly on the wane, and it's almost time for my favorite season (I don't think I'm alone in this sentiment). Not only are traditional fall flavors comforting and nostalgic for many of us, but they invite an endless slew of fun and sometimes daring possibilities with wine selection. Early autumn, in many years, often marks a transitional period for wine enthusiasts; many of us have been spending summer evenings barbecuing with chilly rosé on hand or quaffing Riesling and Muscadet while shucking oysters and welcome the chance to broaden our scope a bit. So let's do just that.
But first, a few brief thoughts about food & wine pairing. 
This is a rather intimidating topic for many wine lovers and home cooks, and that is a shame because it should be fun. There is bound to be trial and error, hits and misses—but we encourage you to find what works for you. It is my personal belief that there are very few hard and fast rules when it comes to pairing. It is certainly ok to be daring and unconventional and to "find your own voice" once you've grasped the basics.
I urge you to strive for results that resemble a fine marriage. Food and wine should complement one another without any single character being the dominant feature. Ideally, they will bring out the best in each other and form a harmonious balance. Often when I feel that I've nailed a great pairing the thought occurs to me that I couldn't imagine one without the other. And we can achieve this balance essentially in one of two ways: mirroring and contrast.
Mirroring brings together two or more sets of flavors, aromas and textures that often share certain similarities in their natural form. This forms the logical basis for countless regional classics—for example, oysters with a glass of briny Chablis, or venison with a glass of gamey Syrah. The contrasting approach marries food & wine by choosing elements that form a natural affinity for one another through the contrapuntal tension of opposites. I can think of no better example of this than foie gras with a glass of Sauternes. Regional pairings can fall into either category, terroir creating certain bonds between food and fermented grape juice (as the old saying goes, "What grows together goes together"). 
With these basic guidelines in mind I've chosen five reds and five whites—made in classic styles—from the U.S., France and Italy. In addition to sampling the wine selections, I invite you to try each of the recipes as presented or in some cases to try your own spin on some of the more time-honored seasonal and regional classics. 
Image courtesy of Seafood Watch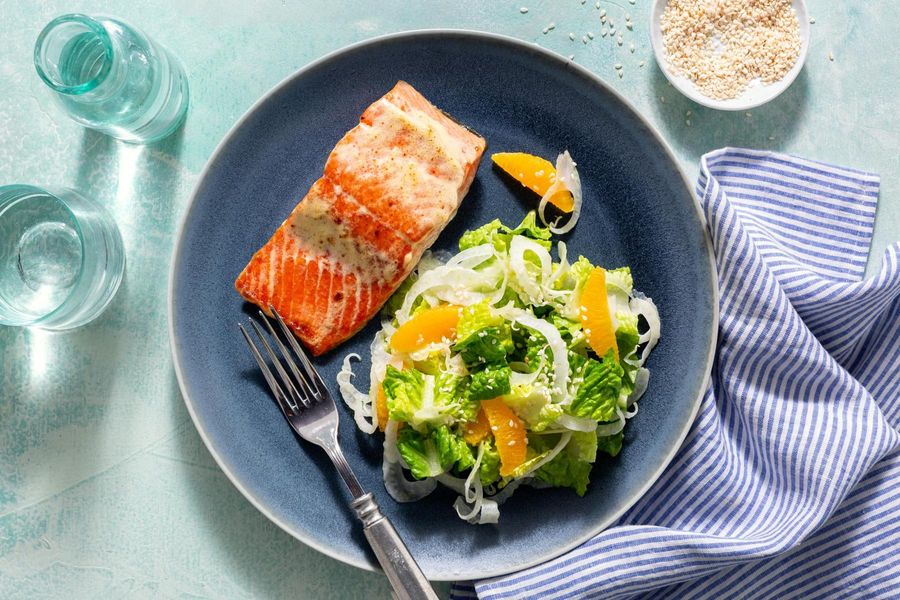 Image courtesy of Seafood Watch
1. Grilled King Salmon w/ 2017 Cristom Estate Pinot Gris (Willamette Valley, Oregon)
This is a great one to try in the early autumn during King Salmon season which often extends into the latter part of September. Local Pinot Noir is a wildly popular mate for the rich, fatty fish fresh off the Pacific Coast, but I find the local Pinot Gris to be every bit as satisfying with its full body, bright acid and savory spice character. Many producers throughout this region refer to their Pinot Gris as their "fish wine", and who am I to argue with that?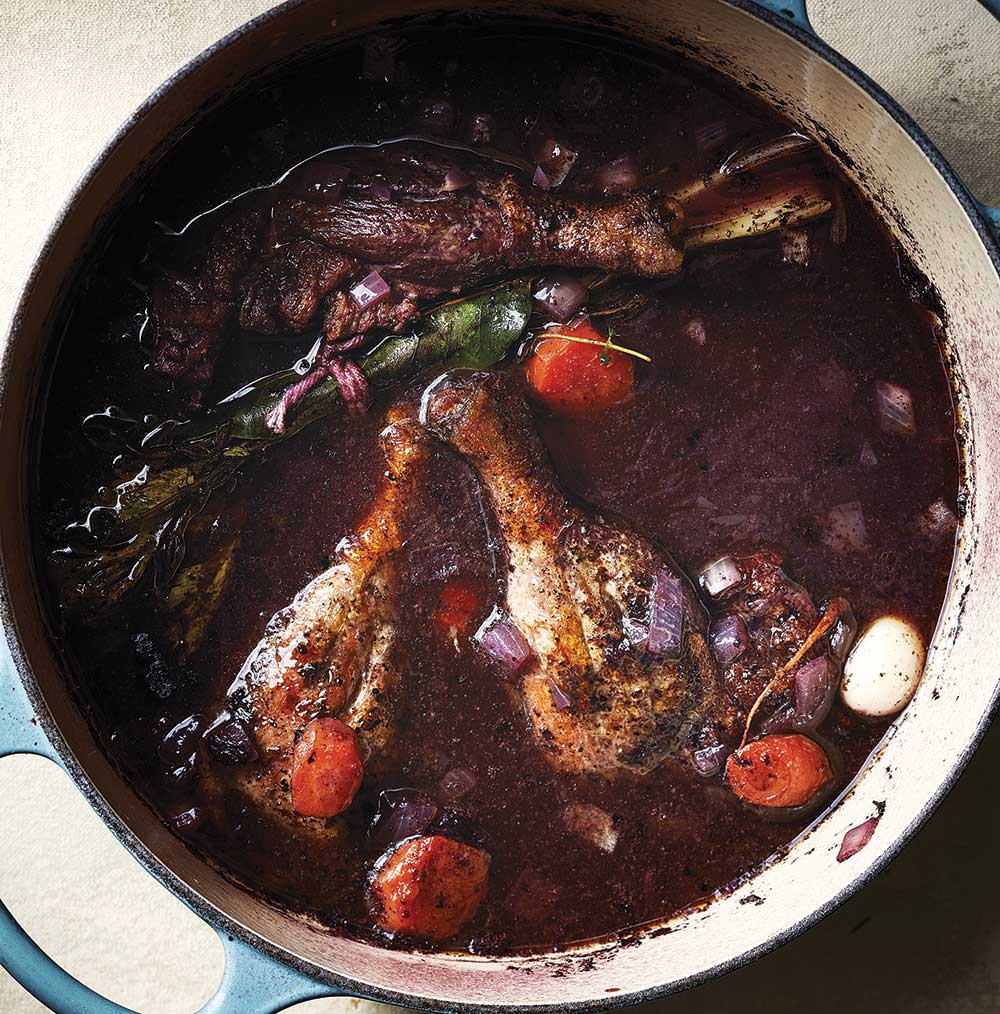 Image courtesy of Saveur
2. Civet de Canard Aux Pruneaux D'Agen w/ 2016 Joseph Roty Marsannay Pinot Noir (Burgundy, France) 
This is a wonderfully rich and soulful dish that is easy to master with a dutch oven and a bit of classic French technique. Peasant cooking elevated to high art, it pairs beautifully with an old school red Burgundy imbued with plenty of savory earth notes and bright red fruit. Roty's wines are highly elegant and very fruit-friendly. High-quality prunes, aromatic vegetables and herbs give this recipe a rustic fall appeal. 
3. Tuscan Lamb Chops w/ 2016 Felsina Berardenga Chianti Classico (Tuscany, Italy)
Sangiovese is one of the quintessential fall wines in my view, particularly those from the high-elevation vineyards of the Chianti region between Florence and Siena. A good regional example of this variety will often express aromatic nuances that bring to mind the smell of autumn leaves and aromatic herbs. Seeing as a glass of Chianti and a piece of lamb is one of the classic minimalist wine & food combinations, I think it's worth celebrating here.
Image courtesy of Williams Sonoma
4. Thai Pumpkin Curry* w/ 2017 Pierre-Yves Colin-Morey St. Aubin La Pucelle Chardonnay (Burgundy, France)
To help bring out the best in this exotic take on autumn squash, I turned to Chardonnay from one of the most dynamic producers in Burgundy. This rockstar partnership in the Côtes du Beaune has developed a rabid cult following for its vibrant, pure and complex Chardonnays sourced from some of the top 1er cru sites in all of Burgundy. They are rich and textural but also provide a wonderfully bright and snappy palate cleanser. I've become a fan of this textbook Burgundian style with a range of Asian cuisine, and it seems fitting to bring these elements together with the sweet and savory aspects of this pumpkin curry dish. 
*Can be prepared as a vegetarian dish
Image courtesy of MyRecipes.com
5. Pear and Prosciutto Pizza* w/ 2015 Gini La Frosca Soave Classico Garganega (Veneto, Italy) 
Pears are a time-honored early fall classic, and a fruit that I love to bring together with both rich and savory elements. This pizza recipe was inspired by a version featured at a local Santa Rosa pizzeria, has many variants and is one that you should feel free to experiment with. The Gini Soave Classico is one of the most versatile aromatic whites in all of Italy with its citrus and orchard fruit profile, clean acidity and refreshing sense of minerality. 
*Can be prepared as a vegetarian dish
Image courtesy of Antonis Achilleos, Food & Wine
6. Braised Pine Nuts & Butternut Squash w/ 2017 La Sibilla Campi Flegrei Falanghina (Campania, Italy) 
The citrus, herbal and almond flavors of fresh and fragrant Falanghina are an excellent foil for this vegetarian pressure cooker dish that closely resembles risotto. The lively acidity of the wine provides a wonderful contrast to the rich sauce and salty parmigiano-reggiano while accentuating the fresh orange zest garnish, should you choose to use it. (Vegetarian)
7. Slow-Roasted Pork Shoulder w/ 2015 Nervi (Conterno) Gattinara Nebbiolo (Piedmont, Italy)
Gattinara is one of several notable Italian DOCG zones that lie in the massive shadow of Barolo. But Conterno's larger-than-life reputation makes the Nervi wines collector's items regardless of label designation, and this one is a classic example of old school Nebbiolo that marries power and precision, virility and finesse. We recommend a lengthy decant (3 to 4 hours) before indulging your senses in this beauty, followed by a hearty preparation of pork shoulder that completes one of the classic regional pairings in all the world. This young beast has more than enough tannin, fruit and bright acidity to handle the robust flavor profile and crispy skin of this rustic traditional roast.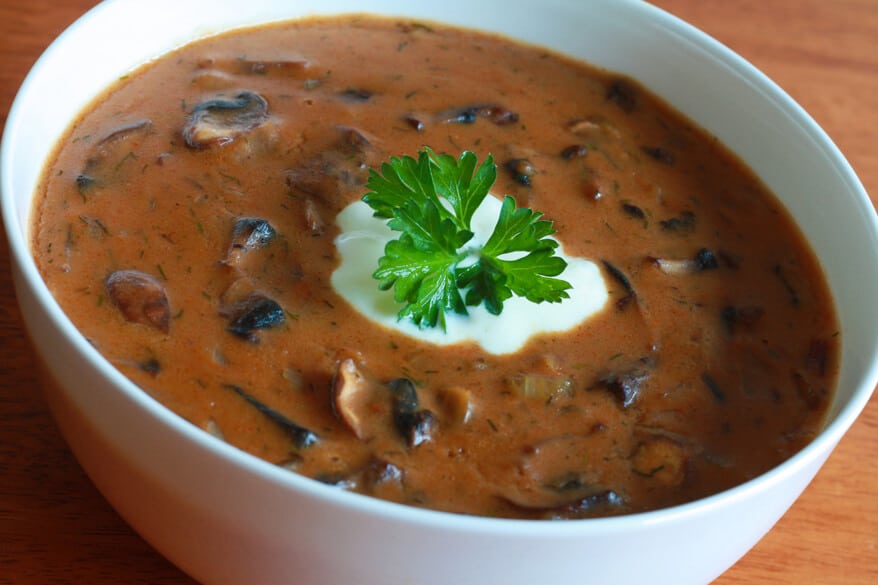 Image courtesy of The Daring Gourmet
8. Hungarian Mushroom Soup w/ 2016 Anthill Farms Peters Vineyard Sonoma Coast Pinot Noir (Sonoma County, California)
This one is a shout out to exotic Hungarian paprika and mushroom foragers all over the North Coast. You can substitute wild mushrooms of any variety or stick with creminis, but regardless of what you choose there can be no better wine companion for this dish than the flexibility of cool-climate Pinot Noir. This single-vineyard selection from Anthill Farms is the quintessential chameleon food wine that can scale up to the richness of the soup with its ample acidity and dense fruit, but also has the spice and earth components to bring together the mushroom, paprika and accents of dill. 
Image courtesy of BBC Good Food
9. Rosemary-Mustard Pork Chops w/ 2017 Mill Creek Russian River Valley Gewüztraminer (Sonoma County, California)
Next we have a classic example of contrast pairing inspired by the gastronomic tradition of Alsace, France. Aromatic white varieties are the ideal partner for the decadent flavors and rich sauces associated with this culinary style, particularly when made from grapes grown in moderately warm climates resulting in wines with both rich tropical fruit and loads of natural acidity. The unique and extroverted Gewürztraminer is a particularly fun wine to use in these pairings with its exotic spice notes and exuberant fruit and florality. Here we're going with a more basic and minimalist approach, bringing together the classic flavors of juicy pork, fresh herbs and spicy mustard that explode on impact with the dense and penetrating fruit that is a fundamental part of Gewürztraminer's character. This variety has also has a well-earned reputation as an essential part of the traditional fall feast during the holiday season, so keep plenty on hand and have fun experimenting.
Image courtesy of The Kitchn
10. Roast Chicken Dinner in Dutch Oven w/ 2017 Nicole Chanrion Domaine de la Voute des Crozes Cote de Brouilly Gamay (Beaujolais, France)

Cru Beaujolais wines are a foodie's best friend. The best wines from the region have bright, exuberant fruit along with high acid and firm tannin structure- all the necessary components for this final dish. Roast chicken is a western classic with several variations, and I happen to be quite fond of this one for its practicality and the range of flavors it produces. Bread stuffing, vegetables and herbs roast underneath the chicken inside your dutch oven, rendering fat into the mixture. Fall comfort food at its finest pairs exceptionally well with intensely brambly and fruity Gamay wines such as this Cote de Brouilly by Nicole Chanrion. Juicy, well-structured and light on its feet, it has both the fruit and tannin to handle these Thanksgiving dinner flavors.
Do you have a favorite fall food and wine pairing? Let us know in the comments!
---