MacRostie Winery & Vineyards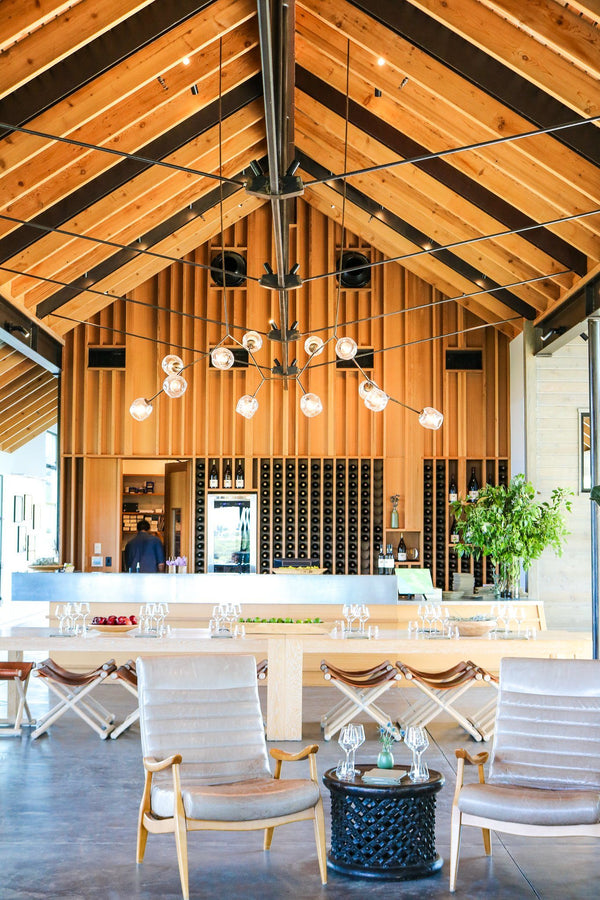 Nestled up on a hill a few miles west of Healdsburg is one of Sonoma's greatest treasures, MacRostie. Completed in 2015, the site is surrounded by so many rolling, vineyard-covered hills, you momentarily forget where you are in the world. With modern architecture and an indoor-outdoor tasting space, it's as attractive as it is relaxing and the perfect place to spend an afternoon.
MacRostie isn't a new name to the winemaking game--in fact they have been producing Sonoma County cool climate varietals for over 50 years. Steve MacRostie, the founder, went to UC Davis and graduated in the early 1970s with a degree in oenology. While stationed in Italy with the army, he fell in love with how wine was part of everyday life and strove to create similarly balanced, beautiful, affordable wines himself.
"We are highly specialized. We make Chardonnay and Pinot Noir exclusively and in the 30-year history of MacRostie we've only had three winemakers," says Key Accounts Manager, Kim Ilsley.
From the beginning she says, Steve has been a big advocate of sustainability, and MacRostie is not only certified sustainable but the team is constantly seeking to stay true to the land and people helping grow the grapes.
Their current winemaker, Heidi Bridenhagen, started at the winery in 2010 and was asked to become MacRostie's chief winemaker in 2016. With a background in Biochemistry, she brings a scientific approach to the table and her and Steve are known for both challenging and supporting one another. According to Ilsley, Heidi really motivated him and help him reach out and start sourcing more fruit from local growers.
In 2013, Steve found out that their current property was for sale and decided to move the production to Russian River Valley. Opening the winery in 2015 has given MacRostie the opportunity to finally host guests, and today they see almost 30,000 people a year, including many from Sonoma CountyIlsley has been part of the new property's team from the beginning.
"I was the third employee. The Director of Hospitality was hired, our General Manager Lisa Marie was hired, and then together they hired me. It was the three of us for a couple months working literally in a construction trailer or a conference room at our 8th Street East location down in Sonoma. And then on February 12th of 2015, [we flipped] the sign to open and we hired, trained and ran hospitality here for two years and then [I] moved into outside sales."
She says this new property is where they do all of their small lot, high-end Pinot Noir production, on 20 acres of land with 14.5 planted to vines. Having the facility so close also helps during production, since it gives them the opportunity to bring in blocks or individual clones precisely when they are ready to be processed.
As far as their production level is concerned, they seem to be happy with the 30,000 cases of wine they are currently producing a year. Their Sonoma Coast Chardonnay is the largest part of that production--an elegant appellation blend.
"We all need those affordable wines and our Sonoma Chardonnay delivers the quality but for the price, it is the gift that keeps on giving."
Since they focus on small lot, single-vineyard wines, she says "it's a love-hate relationship being an employee here and I think maybe even a wine club member because we do make small lot expressions of Chardonnay and Pinot Noir. We might make 200, 300, 400 cases of wine you fall in love with, and then it's sold out and we move onto another one, which you ultimately end up falling in love with."
She believes at the moment they are making about 12 different single-vineyard Chardonnays and about 15 different single-vineyard Pinot Noirs. So for those coming to taste, there will always be something new.
And with the big, glass windows and indoor-outdoor space, you can rest assured the view will always be spectacular.
"That's one of my favorite things about working here actually," Ilsley comments, "Just the surroundings and the ever-changing environment. To be up here with the views that we have, you see what's happening in the vineyards at every stage--whether the vines are dormant, whether the mustards out, whether it's in full growth or the grapes are out. You get to see it and feel it."
If you've never tried their wines but love Sonoma County, pick up a bottle in-store ASAP.

For more information on visiting, click here.
---