Go Pink – Spring Buying Guide To Rosé Wine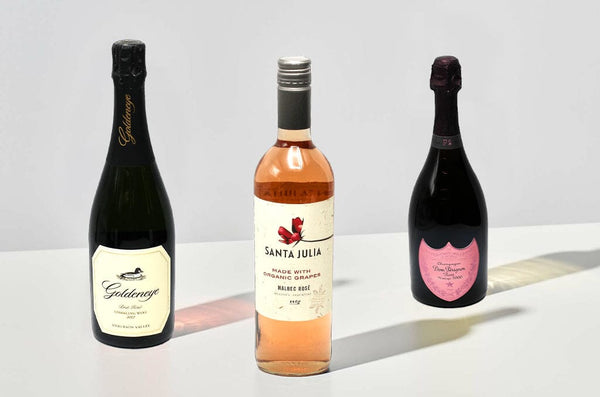 Warmer weather is here, and it's the perfect time to explore the refreshing world of rosé wines. When you buy rose wine, with their vibrant pink, orange and grey hues and diverse flavors, they offer a delightful but varied wine drinking experience. Let's explore the different styles of rosé, recommend wineries in various price ranges, and even introduce some sparkling options for those seeking an extra touch of effervescence. 
Rosé wine is made from a variety of red grapes, and its pink color comes from brief contact with the grape skins during fermentation. Three primary methods of making rosé wines exist: maceration, saignée, and blending. Maceration means allowing the grape juice to macerate on the skins for a short period, extracting the desired pink color. Saignée, meaning "bleeding" in French, consists of "bleeding" off a portion of the juice from red wine fermentation to create a rosé. Blending involves mixing red and white wines together to achieve the desired rosé color and flavor profile, although this method is less common and restricted in some wine-producing regions. Each method influences the style and characteristics of the resulting rosé wine available from the best online wine store. The winemaking process determines the wine's style, ranging from bone-dry to slightly sweet. Some rosés showcase fruity notes of strawberries, cherries, and watermelon, while others exhibit floral or herbal undertones. The versatility of rosé wine makes it an adaptable companion to a wide range of dishes, from light salads and seafood to grilled meats and cheese platters. 
For those seeking affordable yet enjoyable rosé wines, several brands offer excellent value. 2022 Santa Julia Organic Malbec Rosé, with its crisp flavors of cherries and peach, provides a delightful entry-level option. Another superb choice is 2021 Bodegas Muga Rioja Rosado, from Spain, boasting a dry and vibrant profile with hints of orange peel and wild berries. A budget-friendly sparkling rosé worth considering is Barefoot Bubbly Brut Rose, which combines lively bubbles with notes of red fruits. 
In the mid-range price bracket, there are numerous rosé wines that provide a step up in quality and complexity. One such offering is 2021 Lieu Dit Santa Barbara Rose, made from Cabernet France, a distinct style of rosé with elegant notes of wildflowers, citrus, and red berries. 2021 Pax Fanuchi-Wood Road Vineyard Trousseau Gris, from Russian River Valley right here in Sonoma County, is a hidden gem among rosé enthusiasts, known for its delicate flavors of peach, strawberry, and mineral undertones. If you prefer a sparkling option, Gruet Brut Rosé from New Mexico delivers a fantastic balance of strawberry and toastiness. Your California wine store has all three! 
Luxurious Rosé To Experience
When seeking a luxurious rosé experience, a few noteworthy brands stand out. 2022 Chateau de Pibarnon Bandol Rosé, an iconic producer from southern France, offers a refined and elegant rosé with flavors of apricot, peach, and exotic spices. The exquisite 2000 Dom Perignon P2 Brut Rose showcases intense red fruit flavors, hints of smokiness, and an underlying minerality, making it a perfect choice for celebratory moments. For those intrigued by a California sparkler, 2017 Goldeneye Anderson Valley Brut Rose Sparkling Wine is a rare gem, often crafted in limited quantities and renowned for its luscious texture and complex layers of red fruit and floral notes. 
This spring and summer, embrace the pink hues and refreshing flavors of rosé wines and order wine online. Whether you're on a budget, exploring mid-range options, or seeking a premium experience, there's a rosé wine to suit every palate. Don't forget to consider the sparkling rosés for added effervescence. Cheers to discovering your new favorite springtime sip!
---