Five Standout Cabernet Sauvignon Wines from Napa Valley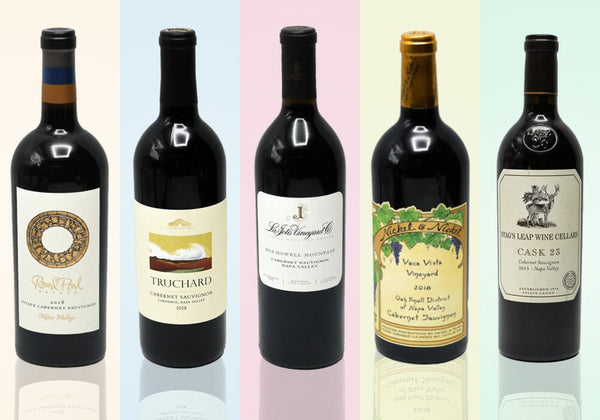 You will find California wine country's favorite wine store, Bottle Barn, in Sonoma County, a more laid back place that its neighbor, Napa County. Both are California vinous powerhouses, with ideal growing conditions but still stounding variety of geography and climate. Napa County is home to the Napa Valley American Viticultural Area (AVA), America's first, which now holds within it 16 "nested" AVAs, including: Atlas Peak, Calistoga, Chiles Valley, Coombsville, Diamond Mountain District, Howell Mountain, Los Carneros, Mt. Veeder, Oak Knoll District of Napa Valley, Oakville, Rutherford, St. Helena, Spring Mountain District, Stags Leap District, Yountville and Wild Horse Valley.
More than any other wine, Napa Valley's fame arises from its age-worthy Cabernet Sauvignon wines, though Chardonnay performs well too. Sonoma and Napa share Los Carneros AVA, created in 1983 as the first California wine region defined by its unique climate as opposed to political boundaries; it straddles land in both Napa and Sonoma Valleys. Napa Valley is about 40 miles long and at places less than one mile wide. Not far from the San Francisco Bay, Napa is cooler at the bay end, the south, and substantially warmer in the north. The Oxford Companion to Wine says "Napa's magic" stems from "a magnificent diversity of exposure, climate, and soil" which caused the creation of the nested AVAs.
Here are five standout wines from five different AVAs for when you buy red wine. I will focus on Cabernet Sauvignon wines, either blends or pure Cab. Why? When it comes to producing great wines, you have to start by growing great grapes. Cabernet Sauvignon vines benefit from sunny, warm (and not so hot) weather, allowing them to ripen gradually. While some places in California are very hot, Napa Valley's location on San Pablo Bay produces an induction effect at night that provides cloud cover in the morning. The morning mist retards certain aspects of ripening. In addition, the AVAs of Napa that are above the clouds, such as Howell Mountain and Atlas Peak, benefit the altitude: the thermal oscillation between night and day in the hills delays certain aspects of ripening, maintaining acidity.
Many different types of soil are suitable for Cabernet Sauvignon, but the most important thing is to have good drainage and not a lot of soil fertility. This lack of fertility puts the vines in a state of stress at the beginning of the vine's annual growth cycle, which shifts the focus from leaf growth to grape ripening. What makes Napa Valley special, especially as a New World region, is the prevalence of volcanic soils that add earthy, "dusty" notes to the best Napa wines. And, since these earthy and mineral notes are not common in New World regions, this "dustiness" adds complexity to Napa wines.
Here are Five Standout Wines from Five Different AVAs 
Did you learn a bit about Napa Valley wine? It's an incredibly complicated topic given the diversity of climate, soil, and geography in this world-class winemaking location. I chose five wines from the nested Napa Valley AVAs that are worth not only exploring, but also comparing with one another when you buy wine online!
By Charlie Leary
---