Five most expensive whiskies you can buy online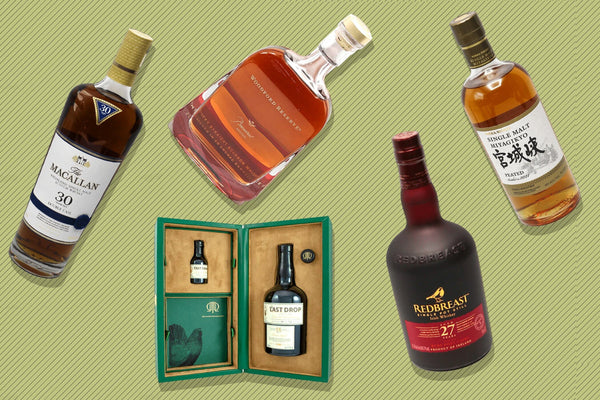 Ready to try some high-end whiskies? Bottle Barn has a great selection when you buy whisky online in California. Several factors can contribute to a whisky's high price tag, including:
Age - Older whiskies may be more expensive because they have been aged longer than most, which increases the amount of evaporation (known as the "angel's share") and reduces the volume of liquid in the cask, resulting in a more concentrated and complex flavor profile.

Rarity - Whiskies that are produced in limited quantities or are no longer in production can be more expensive due to their rarity and the high demand from collectors.

Production process - Whiskies that are produced using traditional methods, such as using pot stills or hand-mashing the grain, can be more expensive because they require more time and effort to produce.

Cask type - Whiskies that are aged in rare or unique casks, such as sherry or port casks, can also be more expensive due to the added cost of sourcing and transporting these casks.

 
Your favorite whiskies store California has lots of options, and they are easy to find online under the whisky section and sorting by price. 
Let's take a look at five fantastic, savory whiskies
Nikka "Miyagikyo Peated 2021" Japanese Whisky: Part of the of the "Nikka Discovery" series. Nikka "Miyagikyo Peated" is a Japanese whisky produced by the Nikka distillery, located in Miyagi prefecture. It is a peated whisky that is made using malted barley that has been dried over peat fires. The result is a unique flavor profile that combines the smokiness of peat with the fruity and floral notes that are characteristic of Japanese whiskies.

 
The Macallan 30 Years Old Double Cask Single Malt Scotch Whisky: Is a premium whisky produced by The Macallan distillery, located in Speyside, Scotland. It is aged for 30 years in a combination of American and European oak casks, which imparts a rich and complex flavor profile. The "Double Cask" aging process involves the whisky being aged in a combination of two types of oak casks. This technique is designed to balance the flavor of the whisky by blending the sweetness and vanilla notes from American oak with the spiciness and dried fruit flavors from European oak.
The Last Drop 48 Year Old Blended Scotch Whisky: Is a premium blended whisky produced by The Last Drop Distillers, a company that specializes in sourcing and bottling rare and exceptional spirits. The whisky is a blend of malt and grain whiskies that were distilled in 1965 and have been aged for 48 years in oak casks. With only 898 bottles produced, each one is individually numbered and comes with a leather-bound case, a certificate of authenticity, and a small tasting booklet. 
Woodford Reserve Baccarat Bourbon: Wow! A premium bourbon whiskey produced by Woodford Reserve, a distillery located in Versailles, Kentucky. This is a limited edition bourbon that is bottled in a Baccarat crystal decanter, which is known for its high-quality and craftsmanship. The bourbon is produced using a combination of corn, rye, and malted barley and is aged for an average of 7 years in new charred oak barrels. The aging process imparts a rich and complex flavor profile with notes of vanilla, caramel, oak, and spice. 
Redbreast 27 Year Ruby Port Casks Single Pot Still Irish Whiskey: Is a premium whiskey produced by the Midleton distillery in Cork, Ireland. It is a limited edition whiskey that is aged for 27 years in a combination of ruby port casks and bourbon barrels, which imparts a unique and complex flavor profile. The whiskey is made using a traditional single pot still Irish whiskey recipe, which includes both malted and unmalted barley, and is distilled three times to create a smooth and flavorful spirit. The aging process in the ruby port casks and bourbon barrels results in a rich and fruity flavor profile with notes of berries, dark chocolate, and oak.
Trying a rare whisky when you buy whiskies online can be an enjoyable and unique experience for whisky enthusiasts or anyone looking for a special occasion. It can offer a chance to taste unique flavors, feel a sense of prestige and exclusivity, or even make a potential investment.
---