Five Dynamic Red and White Wines from Lesser-Known Sonoma Wineries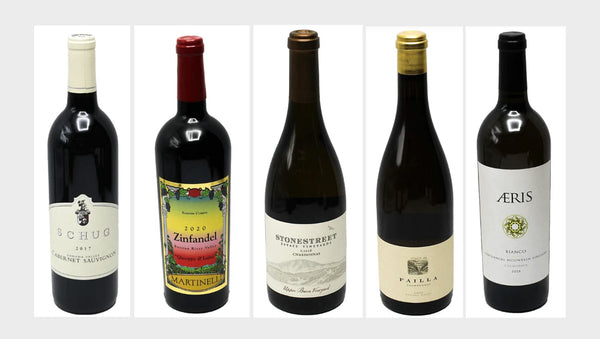 Sonoma County, a wine-lover's haven nestled next to its slightly more famous cousin Napa in California, is appreciated worldwide for its wineries and exceptional vintages. While iconic names dominate the region's wine landscape, there are lesser-known wineries that are crafting extraordinary wines, waiting to be discovered by adventurous oenophiles, and the best wine store USA has them. In a journey of exploration, let's delve into the intriguing world of five hidden gem wineries, each offering distinctive red or white Sonoma county wines that capture the essence of local terroir. 
Have you heard of Carricante? Get some when you order wine online! John Gilman says, "This is flat out great juice, which is delicious today, but clearly will continue to blossom and grow with bottle age." 
2018 Aeris Centennial Mountain Vineyard Bianco: Offers a journey to the Centennial Mountain Vineyard, where Aeris Wines present their exquisite 2018 Bianco. This captivating white wine is 100% Carricante, carefully selected and sourced from the mountainous terrain. The wine sparkles in the glass with a pale gold color, exuding a captivating fragrance of honeysuckle and citrus blossoms. With every sip, the palate is enveloped with exotic flavors and aromas, from crisp green apple to succulent pear, all harmoniously balanced through contact with neutral oak. The 2018 Aeris Centennial Mountain Vineyard Bianco is a true celebration of Sonoma's vibrant white wines. 
Failla Sonoma Coast Chardonnay: Experience the magic of Failla Wines with their 2020 Sonoma Coast Chardonnay. Nestled amidst the cooling coastal influences of the Sonoma Coast, Failla vineyards produce Chardonnay grapes that embody the essence of the region. This Chardonnay delights the senses with its bright straw color and an alluring bouquet of white flowers and stone fruits. On the palate, a delightful medley of lemon zest, pear, and a hint of honeycomb dances on the tongue, leading to a refreshing finish with a touch of minerality. The 2020 Failla Sonoma Coast Chardonnay is a true expression of the winery's commitment to crafting wines that reflect the unique terroir and cool climate of Sonoma's coastal vineyards. 
Stonestreet Upper Barn Vineyard Chardonnay: Prepare to be captivated by the elegance of Stonestreet Estate Vineyards with their 2018 Upper Barn Vineyard Chardonnay. Nestled high atop the Alexander Valley, this vineyard benefits from cool breezes, resulting in Chardonnay grapes of exceptional quality for a superb, luscious expression in that white wine bottle. Glistening in the glass with a pale gold hue, this Chardonnay offers an enchanting bouquet of citrus blossoms and pear. The palate is treated to a delightful fusion of crisp green apples, ripe peaches, and a hint of toasted oak. The wine's refreshing acidity and refined minerality make it a true gem among Sonoma's white wines. 
Martinelli Zinfandel - Giuseppe & Luisa: Prepare for an explosion of flavors as you visit the Martinelli Winery, where Zinfandel reigns supreme. Sourced from the Giuseppe & Luisa vineyard, these old-vine grapes offer a unique glimpse into Sonoma's winemaking heritage. With a deep garnet hue as you pour from the red wine bottle, the wine exudes enticing aromas of ripe blackberries and raspberries. As you savor the first sip, layers of complexity unfold, revealing hints of black pepper and velvety smooth tannins. The Martinelli Zinfandel is a true testament to the family's dedication to preserving the legacy of Sonoma's vineyards and crafting wines of unparalleled quality. 
2019 Schug Sonoma Valley Cabernet Sauvignon: Transport yourself to the captivating vineyards of Schug Carneros Estate Winery, where their 2019 Sonoma Valley Cabernet Sauvignon showcases the epitome of Sonoma's winemaking prowess. Handpicked from select vineyards in the Sonoma Valley, this Cabernet Sauvignon boasts a deep ruby color and enticing aromas of blackberries and cassis. As you indulge in the wine, your taste buds will be tantalized by flavors of dark chocolate, espresso, and a touch of vanilla, all harmoniously balanced by supple tannins. The 2019 Schug Sonoma Valley Cabernet Sauvignon is a testament to the winery's legacy of crafting wines that embody the true spirit of Sonoma's terroir. 
In conclusion, Sonoma County wine offerings extend far beyond its renowned wineries. Hidden within its picturesque landscape are lesser-known gems, each crafting wines that embody the region's spirit and soul. These five wineries, with their outstanding red and white wines, showcase the diversity and complexity that Sonoma has to offer. So, as you traverse this enchanting wine region, don't forget to seek out these hidden treasures and immerse yourself in the artistry and passion that go into every bottle. Cheers to the joy of new discoveries!
---