Father's Day 2023: Five Wines to Give Dad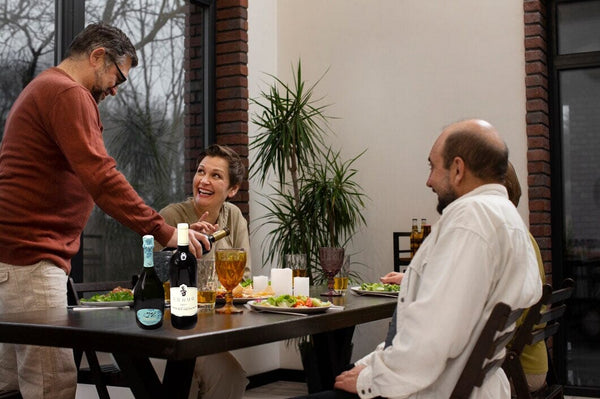 Father's Day marks a special occasion for honoring and appreciating the fathers in our lives. If your dad is a wine enthusiast or simply enjoys a good glass of wine, gifting him a bottle can be a thoughtful and memorable gesture. To help you in your search, here are five outstanding wine styles and recommended wines that make perfect Father's Day gifts in 2023. Here you'll find great recommendations for a red wine bottle, a white wine bottle, or why not both! 
Bold and Robust: Cabernet Sauvignon
Cabernet Sauvignon is a classic choice for wine-loving fathers who enjoy full-bodied and intense flavors. This varietal is known for its rich black fruit notes, firm tannins, and a lingering finish. Whether from California's Sonoma Valley or Bordeaux in France, a bottle of Cabernet Sauvignon will undoubtedly impress your dad's discerning palate. Why not try the 2019 Schug Sonoma Valley Cabernet Sauvignon, a generous Bordeaux style blend. 
Elegant and Refined: Pinot Noir 
For fathers who appreciate finesse and elegance, a bottle of Pinot Noir will make an excellent gift. This red wine varietal is renowned for its delicate aromas, silky texture, and complex flavors of red berries, earth, and spice. Look for a well-crafted Pinot Noir from regions like Burgundy in France or Oregon in the United States to offer your dad a refined tasting experience. He'll love the 2015 Yamhill Valley Vineyards Reserve Pinot Noir, which scored 91 points from James Suckling! Just remember to order wine delivery today, just in time for the celebration! 
Celebratory Bubbles: Champagne 
Father's Day is a time for celebration, and what better way to toast your dad than with a bottle of Champagne? This sparkling wine from the Champagne region of France embodies luxury and festivity. With its fine bubbles, crisp acidity, and notes of citrus and toast, Champagne brings joy and a sense of occasion to any gathering. Blow him away with the QVFMR Les Jardins d'Elise Extra Brut Champagne Grand Cru from the best wine store California
Versatile and Food-Friendly: Chardonnay
If your dad enjoys white wine, consider gifting him a bottle of Chardonnay. This versatile grape variety produces a range of styles, from crisp and unoaked to rich and buttery. Chardonnay pairs well with a variety of foods, making it an excellent choice for family dinners or summer barbecues. Explore offerings from California's Sonoma County or the Burgundy region for top-notch Chardonnay options. You can't beat the 2021 Sangiacomo Sonoma Coast Chardonnay, from Bottle Barn's home region. It scored big at the North Coast Wine Competition, Best of Show, with 98 Points! 
Bold and Spicy: Malbec 
For fathers who appreciate bold and spicy reds, look no further than Malbec. Originally from France but now thriving in Argentina, Malbec offers a robust and fruit-forward profile. With its dark fruit flavors, hints of chocolate and tobacco, and a velvety texture, Malbec is sure to captivate your dad's taste buds and provide an exciting wine experience. The 2017 Zuccardi Jose Zuccardi Malbec constitutes an amazing value for this complex wine when you buy wine online, fast and easy.
 On Father's Day 2023, show your dad how much you care by gifting him a bottle of exceptional wine. Whether he prefers red, white, or sparkling, these five wines – Cabernet Sauvignon, Pinot Noir, Champagne, Chardonnay, and Malbec – offer a range of flavors and styles to suit his preferences. Raise a glass to your dad's love and guidance, and make this Father's Day a memorable one with the perfect wine gift. Cheers to all the amazing fathers out there! Don't forget to order wine online today . . .
---