Everything You Need to Know about Gruner Veltliner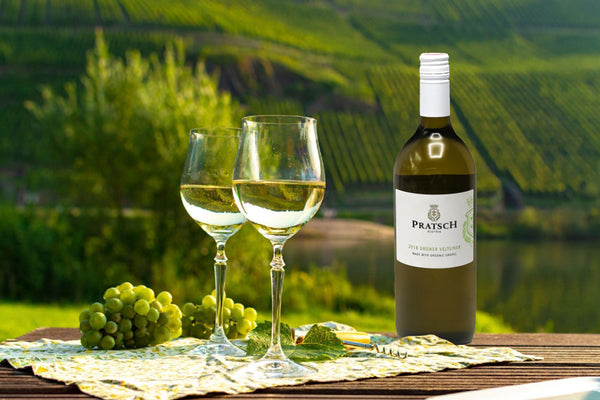 A couple of decades ago, Grüner Veltliner, the grape variety with the largest plantation area in Austria, starred in one of these recurrent stories in the world of wine, like the famous 1976 Judgement of Paris. In a blind tasting, David defeats Goliath.
I refer to the blind tasting that elevated the Austrian wines made with Grüner Veltliner to the level of mythical Burgundian and Australian Chardonnays. In a blind tasting—no peaking at the labels—a group of 39 prestigious critics from thirteen different countries placed six of the tasting's Grüner Veltliners among the eight best whites. You can try that too—a blind tasting—when you buy white wine online, like comparing Gruner and fine Sonoma Chardonnay!
Master of Wine Jancis Robinson, wine critic for the Financial Times, doesn't mind acknowledging that it took her a while to discover the charms of Grüner Veltliner. She states: "It took one of several significant blind tastings staged by Munich fine wine merchant Jan Paulson to convince me that Grüner Veltliner was truly a great grape variety. It was an audacious exercise." She adds: "Before this London tasting back in 2002, I could not imagine it would be anything other than a walkover for Chardonnay in general and white burgundy in particular." Now Janice advises that no self-respecting restaurant wine list should be without a Gruner or two.
White wine made from Grüner Veltliner tend to be crisp and less complex if production yields are too high. But when grown carefully, concentrated, full-bodied white wines with high acidity are obtained thanks to the region's continental climate (short summers and long, cold winters). These wines impart aromas of stone and citrus fruit, gooseberry, starfruit and white pepper, and over time develop notes of honey and toast. The wines generally have a medium body, average alcohol, and high acidity, which Master of Wine Nick Jackson describes as tangy or humming.
It is the white variety most present in the Austrian vineyard, its most representative grape, the most important among the autochthonous ones, since up to 31% of Austrian wines are made with it. Its origin is uncertain, although it points to the area of ​​Niederösterreich (Lower Austria), although the inexistence of kinship with grapes such as the Roter Veltliner or the Frühroter Veltliner whose denomination could mislead us has been demonstrated.
In German, "Veltliner" refers to the Valtellina, an Italian alpine area that belonged to Austria in the years of the geographical ups and downs of past centuries. "Grüner" meanwhile, refers to "green".
Some wine critics place this white wine halfway between Viognier and Sauvignon Blanc. Luis Gutiérrez from The Wine Advocate highlights the ability of this white breed to transmit the characteristics of the terroir where it has grown.
It is a late-ripening grape variety, characterized by its citrus notes, reminiscent of grapefruit, pear or lime, as well as spicy hints of white pepper. Very distinctive are certain green touches, such as peas, asparagus, or green beans when the grapes have not reached full maturity at the time of harvest.
There are important extensions of Grüner Veltliner vineyards in the areas of Lower Austria bathed by the Danube River. Thus, Wachau, Kamptal and Kremstal are its main kingdoms in Austria. In smaller proportions it has a presence in Hungary, Slovakia and the Czech Republic. It's also grown in California, such as the Santa Rita Hills in Santa Barbara.
With it, both simple wines are made—many of the "house whites" that are served in jugs in the city of Vienna—and some of the most interesting long-lived whites on the current wine scene, similar to Chablis.
"The Grüner Veltliner variety is excellent for pairing with highly spiced dishes. Species such as ginger or black pepper harmonize very well with wines made with Grüner Veltliner," says Ferran Centelles, sommelier at El Bulli Lab and author of a wine pairing book.
With Gruner we then achieve versatile wines: aged whites that are a very good option to accompany a tasting menu. Their versatility makes them ideal for successions of creative dishes with a multitude of flavors.
Here are five Gruner Veltliner wines to try when you order white wine:
Please read our other Bottle Barn wine blogs and leave us a comment below!
---