Bottled in Bond: What Does it Mean?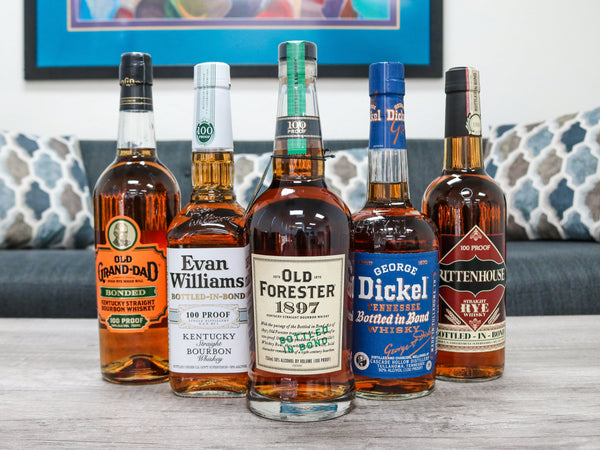 Have you ever wondered what the words "Bonded" or "Bottled in Bond" on a whiskey label mean? We get this question all the time, and thought we'd clear it up for you!
The term actually comes from the 1890s, when Congress passed the Bottled in Bond Act in order to create a system for guaranteeing the quality of spirits being made and sold in the states. Considered the first ever consumer protection law, producers can only put it on their label if the government oversees the production, aging and bottling processes.
At the time, large producers were making simple neutral grain spirits and selling it to individuals who later became known as "rectifiers". The rectifiers then would modify the spirit by making additions like honey and beets but more dangerously turpentine, charred animal bones and ammonia.
Today, Bottle in Bond acts more as a guarantee that the spirit was made in one season, nothing was added but water, it was aged in a federally bonded warehouse and bottled at 100 proof. In an increasingly competitive market, it now signals a distinct quality and helps brands stand out in a different way.
To read more about it, check out this Washington Post story.
Featured Products:
1. Old Grand-Dad 100 Proof Bonded Kentucky Straight Bourbon Whiskey - $21.99
2. Evan Williams 100 Proof Bottled-in-Bond Kentucky Straight Bourbon Whiskey - $15.99
3. Old Forester 1897 Bottled in Bond Kentucky Straight Bourbon Whisky - $48.99
4. George Dicknel Bottled in Bond Tennessee Whisky - $34.99
5. Rittenhouse Bottled-in-Bond Straight Rye Whisky - $21.99
*Note: These products are only available at Bottle Barn Santa Rosa and not through our online shop. For more information, email buywines@bottlebarn.com or call (707) 528-1161.
---