All you need to know about white Burgundy wine: A primer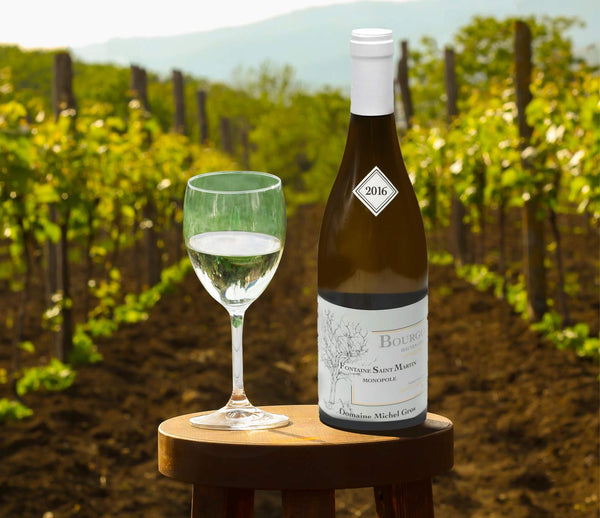 Julia Child said, "I would happily die with a bottle of white Burgundy in my mouth." White wine from Burgundy (Bourgogne) means Chablis, but it also means whites from some of the same appellations producing red wines from Pinot Noir. Burgundy white wine comes from Chardonnay grapes, and, in fact, Chardonnay as a varietal originated there. Speaking generally, the appellation d'origine Bourgogne (appellation of origin Burgundy) covers white, rosé and red wine made in the entire region of Burgundy, distributed in three departments: department of the Yonne with 54 communes; Côte d'Or with 91 municipalities; and Saône et Loire with 154 producing towns, which makes a total of 299 municipalities able to allocate their vineyard for the production of AOC Bourgogne wines.
What are AOC Bourgogne Blanc wines like? 
The white wines made exclusively with Chardonnay have a characteristic aroma of flint, mushrooms and an acidity that is very present when they come from the Yonne department, this being the northernmost and coldest area in all of Burgundy. Those made in the Côte d'Or department express memories of hazelnuts, honey, spices and butter with a soft and elegant taste sensation. The whites made in Saone et Loire mix an aromatic pattern of white flowers and flint with a slightly heavier and more structured taste than the rest. Like in many European regions, there are strict quality controls. The minimum alcohol content allowed for AOC Bourgogne Blanc wines is 10.5 degrees and yields must be less than 68 hectoliters per hectare. White Burgundy wine is superb with fish and chicken dishes.
However, the characteristics described above are sometimes questionable since the legislation allows the production of AOC Bourgogne Blanc white wines by mixing the grapes from any of the assigned municipalities to obtain a single white wine, so in these cases the wine's typicity is lost. That said, the aging potential and the great capacity for evolution with age that the regional whites of Burgundy compare fabulously with Chardonnay wine from other producing areas.
What are the Characteristics of Chablis? 
An AOC since 1938, the Chablis vineyard, between Auxerre and Tonnerre, extends over just under 5,000 hectares covering 20 municipalities and villages. Chablis is located in the northernmost part of Burgundy, with an oceanic climate with continental influences. The region is characterized by a cool climate, with vineyards well exposed to the sun and sheltered from the wind. The Chablis vineyards produce only dry, aromatic white wines made from Chardonnay, which expresses itself in different ways depending on its exposure and soil composition. A good example when you order wine online is the 2019 Domaine Michel Gros Hautes Cotes de Nuits Fontaine St. Martin Monopole Blanc. The Chablis terroir is mainly composed of limestone and marl, along a large valley formed by local rivers dating back thousands of years. Chablis groups four different wine appellations: Petit Chablis, Chablis, Chablis Premier Cru and Chablis Grand Cru. The region and the production conditions allow the production of wines with exceptional qualities. The above all very fine Chardonnay wines, fresh, pure and mineral, of a rarity that you will not find anywhere else.
Chablis: Burgundy's "Golden Gate"
The Golden Gate of Burgundy, Chablis is located 180 km from Paris and offers the region one of the most famous white wines in France, appreciated throughout the world. The success of Chablis wines has become synonymous with very fresh white wine, but as intense as it is fine. The fame of this vineyard region dates back to Gaul, but its true development stretches back to the 12th century thanks to the monks of the Abbey of Pontigny, 15 km from Chablis, who spread the cultivation of the Chardonnay grape variety.
Chablis is the denomination in Burgundy, France, located between the two banks of the Serein River, extending over numerous villages, which often give their names to the white wine. This is where most Chablis is made, comprising the vast majority of all the wines produced in the region. Chablis is a perfectly dry white wine, with finesse generally a light color, pale gold or greenish gold with emerald or gray reflections in some wines. Fresh on the nose, the wine has notes of flint, citrus zest, and green apple, older wines accompanied by a touch of woodsy undergrowth and mushrooms. On the palate, its distinct aromas will stay fresh through a long finish. After opening a white wine bottle, Chablis will present a unique and easily identifiable personality, often imitated but never perfected. Did you know the Chablis name is used fraudulently on five continents by wines that have no rights to it? There is only one true Chablis and it comes from Burgundy! During aging, the color of the white wine turns golden and its spicy aromas are accentuated. It has a storage time that varies between three and five years.
A Value Region that's Still Chablis: Petit Chablis 
This is the most recent appellation of the four and represents 18% of the region's wine production. The region of the Petit Chablis denomination is located in the highest part of hills or at the beginning of the plateau. It is made up of a hard brown limestone soil or, occasionally, sandy soils, generally between 230 and 280 meters above sea level, with different exposures. On both sides of the Serein valley, the Petit Chablis controlled appellation of origin was established in 1944 and forms one of the crowns of the Chablis region. A full-fledged Chardonnay, the "Petit" Chablis, in fact, is not small at all! Pale gold colored wine, with silver or green reflections, characterized by aromas of white flowers (hawthorn or acacia) mixed with citrus notes (grapefruit and lemon) on a mineral background. On the palate it is a very light wine with a good balance of acidity and body. It should be enjoyed young; it does not need to age to be pleasant to drink, but waiting two years would be ideal. Petit Chablis often represent good values compared to white Burgundy wine from nearby regions.
To read and learn about wine, check out Bottle Barn's wine information pages! We cover the entire world of wine!
By- Charlie Leary
---