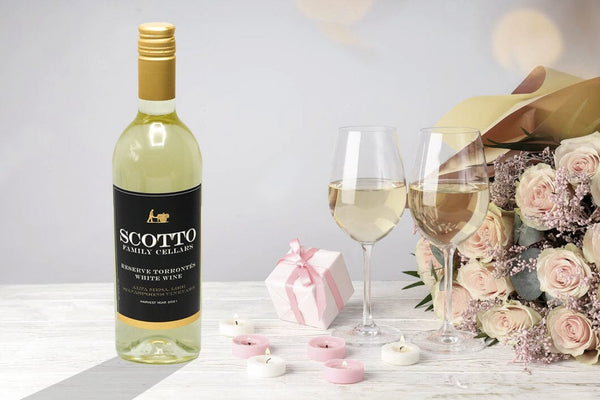 Did you know that Torrontes is the only 100% Argentine grape variety, and it produces aromatic white wines of increasing sophistication? 
The Torrontés variety is the only native variety of Argentina: a cross between the Muscat of Alexandria grape brought from Spain and Argentina's own Criolla Chica that resulted in an expressive variety with which wines of very different styles can be made. Best of all you can buy wine online and taste this amazing white wine! 
What is the Torrontés grape and what wines does it produce?
Owing to its freshness and balance, the Torrontés variety was historically one of the most consumed in Argentina. However, until some time ago, it was not known with certainty where this grape with so much character and personality had come from. 
The process to identify its heritage was complex, since at first it was often planted mixed in with other varietals in an undifferentiated way. Likewise, from a scientific point of view, this strain did not have a name or an ampelographic description (vine classification); that is to say, that there were no theoretical traces regarding its origins. 
Fortunately, over time, different genetic studies were able to trace its origins and determined that this variety is the result of a natural cross between the Moscatel de Alejandría and Criolla Chica strains, which arrived in the Argentine territory during the Spanish colonial period. 
Main characteristics of Torrontés wine 
Today, Torrontés is cultivated in the Argentina wine regions of Salta, Tucumán, Catamarca, La Rioja, Mendoza, San Juan and in Patagonia. Each of these Argentine terroirs, including different climates, soils and especially altitudes, imbue particular characteristics on this variety, which develops different profiles and well differentiated notes depending on its place of origin. 
However, there are certain attributes of the variety that are maintained throughout the national territory whichever you get from the best wine store USA: 
It is a rebellious varietal with a wild identity, however, if it is worked properly it can give very elegant wines.

All wines from Torrontes are aromatic, full-bodied but extremely fresh and floral owing to its notes of jasmine and orange blossom and with hints of tropical fruits.

It is one of the few varieties in which all the aromatic compounds and freshness are in the pulp of the grape.

It is one of the only vines in which the typicity is maintained even in sweet and late-harvest wines.

 
What does Torrontés wine taste like? 
Although in many examples its tropical aromas predispose the senses towards tasting a sweet wine, its flavor reveals the fresh acidity that is always the protagonist in Torrontés wines. Most Torrontes wines are dry, but still highly aromatic and tropical. 
Therefore, although it is extremely expressive and powerful on the nose, on the palate it is mainly agile, fluid and refreshing, perfect for drinking on hot days. Some winemakers are experimenting with oak ageing, which adds more complexity—a whole other dimension. 
Torrontés Pairings 
Torrontés is a very versatile wine to be enjoyed in different situations and with a wide variety of dishes. Although it is ideal to drink as an aperitif, it combines very well with green salads, guacamole, grilled fish, sushi, ceviche, Argentine-style empanadas, and goat cheese. 
In addition, it is perfect for pairing with hot and spicy flavors such as those of Thai, Vietnamese and Mexican food. For the sweet moment, it combines very well with cheesecake and with its or light aged cheeses with walnuts and honey. 
Are there varieties of Torrontés? 
In Argentina, the Torrontés variety is one of the most widespread white varieties from north to south of this huge country. Throughout the national territory there are three variants of Torrontés: Mendoza and San Juan, which is more apt for eating the fresh grapes, and Rioja, which is the most cultivated and expresses the best qualities for the production of fine wines: very fruity, fresh, and expressive. 
Why choose a Torrontés? 
There are countless reasons to choose a Torrontés wine when you plan to buy white wine. To begin with, it is a friendly, seductive wine, easy to appreciate and enjoy. It's also unusual, and will spark conversation. In addition to pairing with very different dishes, it is also perfect for drinking on a sunny afternoon, by the pool, or in any informal and relaxed situation that invites you to uncork a rich and refreshing wine. 
Your wine store Santa Rosa offers these options, and there's even one from California! 
Torrontes wines are generally a great value!
---