5 Whiskies Worth Collecting: A Connoisseur's Guide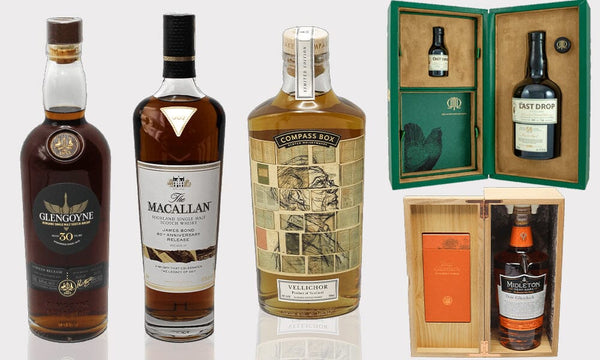 Whisky collecting has gained immense popularity among enthusiasts and connoisseurs around the world. The allure of rare and exceptional whisky bottles has captivated the hearts of many, leading to the formation of extensive collections. Here, we'll explore five for when you buy whisky online that are highly sought after by collectors. Each of these whiskies possesses unique qualities, historical significance, and exceptional flavors that make them worth adding to any collection. Let's dive into the world of rare and collectible whiskies from the best place for liquor delivery California! 
Glengoyne 30 Year Highland Single Malt Scotch Whisky: Glengoyne 30 Year is a true gem in the world of single malt Scotch whisky. Aged for three decades in hand-selected oak casks, this expression embodies the mastery of whisky craftsmanship. With a rich amber hue and a velvety texture, Glengoyne 30 Year offers an exquisite bouquet of honey, dried fruits, and warm spices. The complexity and depth of flavors make it a must-have for collectors who appreciate the finest Scotch whiskies. 
The Last Drop 48 Year Old Blended Scotch Whisky: The Last Drop 48 Year Old is a truly rare and exceptional blended Scotch whisky. Crafted from a small batch of carefully selected casks, this whisky represents a piece of history in every bottle. With a limited release of only a few hundred bottles, it offers a once-in-a-lifetime opportunity for collectors. The Last Drop 48 Year Old boasts a harmonious blend of flavors, including honeyed oak, dried fruits, and a hint of smokiness. Its rarity and unparalleled quality make it a prized possession for whisky enthusiasts. 
Midleton Dair Dhalaech Kylebeg Wood Tree No. 3: When you go to buy whiskey, remember this is a remarkable Irish whiskey that showcases the artistry of Irish distilling. This whiskey is part of the Method and Madness series by Midleton, which explores innovative maturation techniques. Aged in virgin oak casks made from Irish oak trees, it presents a unique flavor profile characterized by rich vanilla, toasted oak, and a touch of spice. Its limited availability and distinct Irish heritage make it a standout addition to any whisky collection. 
Compass Box Vellichor Scotch Whisky:  Compass Box is a testament to the creative and boundary-pushing nature of independent whisky bottlers. This blended Scotch whisky combines meticulously selected malt and grain whiskies to create a masterpiece of complexity and balance. Vellichor entices the palate with notes of orchard fruits, creamy vanilla, and gentle spices. As a limited edition release, it showcases the artistry and innovation that collectors seek in their whisky acquisitions. 
Macallan James Bond 60th Anniversary Release Decade IV Highland Single Malt Scotch Whisky: Macallan James Bond 60th Anniversary whisky is created to honor the iconic fictional character and his enduring legacy. This limited edition Highland single malt Scotch whisky exemplifies the classic Macallan style with its rich flavors of dried fruits, warm spices, and a whisper of peat smoke. Its connection to the world of Bond, along with its rarity, makes it a highly desirable addition to whisky collections. 
Collecting whiskies is not only a passion but also an investment in exceptional craftsmanship, history, and the art of flavor. The five whiskies discussed here, which you can get by whiskey delivery California, are the Glengoyne 30 Year, The Last Drop 48 Year Old, Midleton Dair Dhalaech Kylebeg Wood Tree No. 3, Compass Box Vellichor, and Macallan James Bond 60th Anniversary Release Decade IV. They represent the pinnacle of whisky collecting. Each bottle offers a unique and extraordinary experience, showcasing the dedication and expertise of their respective distilleries. Whether you are an avid collector or a whisky enthusiast looking to embark on a new journey, these whiskies are truly worth cherishing.
---