5 Expensive Wines You Must Try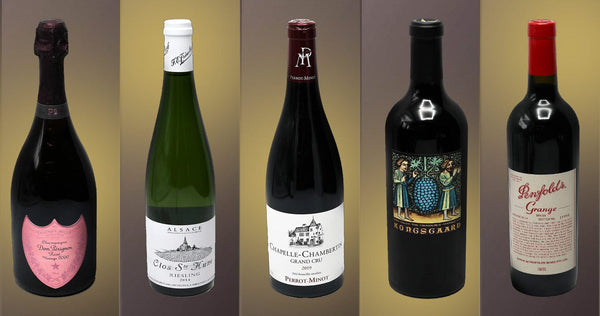 Are expensive wines worth it? You must decide based on personal taste and circumstances, but costly wines usually hold many virtues if well chosen. Trying expensive wines can be a way for people to indulge in luxury, demonstrate good taste, and experience unique and expressive examples from the Wonderful World of Wine. 
The Qualities of More Expensive Wines 
Expensive wines typically have several qualities that set them apart from lower-priced wines. Some of the characteristics that are commonly associated with dear wines include the quality of grapes used in winemaking. Expensive wines are often made with premium quality grapes, which are grown in specific regions (often specific appellations, vineyards, or estates) and carefully selected for their flavor and texture. These grapes are usually grown in ideal conditions and are harvested at the optimal time to ensure that they are of the highest quality. 
Expensive wines are typically made with more advanced and sophisticated winemaking techniques. For example, they may be fermented in smaller batches, aged in oak barrels, and subjected to longer aging periods. The winegrowers also pay close attention to every aspect of the winemaking process, from grape selection to bottling, to ensure that the wine is of the highest quality. 
Expensive wines often have more complex and layered flavors than lower-priced wines. They may have a wider range of flavors, such as fruit, spice, and earthy tones, and these flavors are usually more integrated and balanced. The wine's aroma is also typically more pronounced and sophisticated. They are also often made with the potential for aging in mind. They will improve in flavor and complexity over time, and some may be able to age for decades. As a result, these wines may be more valuable in the long run and may appreciate in value as they age. 
Expensive wines are often produced in limited quantities, which makes them rare and exclusive. This rarity contributes to their perceived value, as well as price over time, and make them highly sought after. You may even want to consider them as an investment! 
In contrast, lower-priced wines may be made with less expensive grapes, produced in larger quantities, and may have simpler and less complex flavors. They are often designed to be consumed within a year or two of their production and may not have the potential for long-term aging. 
Expensive wines serve as great special occasion wines for weddings, anniversaries, or other milestone celebrations. The price tag can add to the perceived importance and significance of the event. 
Some Select Wines to Try from the Best Wine Store in California 
Need some advice on selecting wines with a higher price tag? Fortunately, Bottle Barn has not only a great selection but also very competitive prices! 
So, dive in and give some more expensive wines a try! Please leave us a comment below and check out our other information-packed wine articles.
---