12 Wines to Try from the South of France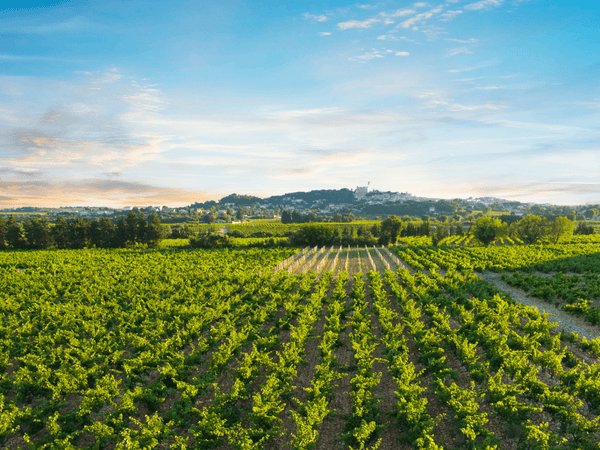 If you're not sure where to start with French wine but want good value and great quality, our tip is to head south. We're finding some of the best deals right now coming from the region, and our wine buyer rounded up a list of his current favorites for you to check out!
1. 2015 Gerard Bertrand Languedoc Cote des Roses Rouge
Retail Price: $16.00
Our Price: $9.99
The winery writes, "Côte des Roses celebrates the Mediterranean lifestyle. The Languedoc appellation stretches along the Mediterranean coast from the Spanish border as far as the city of Nîmes, along the foothills of the Montagne Noire and the Cévennes. The soils are highly varied, mainly with hard limestone and schist, but also gravel transported by the rivers of the Languedoc region. The warm, windy climate ("semi-arid Mediterranean climate with mild winters") helps the grapes to ripen in good, healthy condition, while retaining all their fresher qualities thanks to the altitude and the influence of the sea which eases the scorching summer heat.
The bottle is original with its base in the shape of a rose, created by a young designer from the Ecole Boulle. A wine to be given in the same way you would offer a bunch of roses!"
2. 2015 Domaine Lafage Tessellae Carignan Vieilles Vignes
Retail Price: $16.99
Our Price: $14.99
Wine Advocate, 92 Points
"A sensational value the readers should snatch up is the 2015 IGP Cotes Catalanes Tessellae Carignan Vieilles Vignes! This full-bodied, ripe, sexy red has incredible purity of fruit, no hard edges and classic notes of blackberries, plums, spice and pepper. It's a screaming deal."
3. 2017 Domaine du Somail Minervois Vin de Plume
Retail Price: $18.00
Our Price: $14.99
Wine Advocate, 92 Points
"Mostly Mourvèdre (80%), with 20% Syrah, the 2017 Minervois le Vin de Plume offers intriguing aromas of dried spices, garrigue, even something floral that approaches lilacs in character. In the mouth, the wine delivers mixed berries, herbs and spices, a medium to full-bodied palate, ample concentration and a long, dusty finish. It's one of the more interesting wines I tasted from Minervois this year."
4. 2018 Domaine de Fontsainte Corbieres Gris de Gris Rosé
Retail Price: $22.00
Our Price: $15.49
A crystalline salmon color with superb amethyst tints. Expressive and particularly tonic, the wine immediately gives off notes of raspberry, cherry and freshly picked strawberries - followed by exotic aromas such as pineapple and mango. A direct and considerable freshness - the density and richness of the fruit mingle with the superb acid vitality giving a wine with a frisson and a magnificent persistency. Stunningly balanced, this is an extremely appetent wine!
Ideal as an aperitif with toast and crushed olives, or with wok-fried vegetables and garlic mayonnaise, grilled fish, lamb tagine, finely roasted guinea-fowl with rosemary.
5. 2017 M. Chapoutier Les Vignes de Bila-Haut Cotes du Roussillon Villages
A rare find online!
Our Price: $16.99
Jeb Dunnick, 92 Points
"The 2017 Côtes du Roussillon Villages Les Vignes de Bila Haut reminds me of an impressive St Joseph (despite having lots of Grenache in the blend) with its black raspberry, white pepper, and leafy herb aromas and flavors. It's seamless, elegant, and balanced, with both acidity and richness. Put this in a blind lineup of Northern Rhônes and shock your friends."
6. 2018 Chateau de Beaupre Coteaux d'Aix en Provence Blanc
A rare find online!
Our Price: $18.49
A white with a robe or clear, with yellow gold highlights. Expressive and complex nose, it reveals spicy aromas (clove), vanilla, toasted almonds and buttered. 
On the palate, the attack is supple and generous. A perfect balance between roundness and power. It is a rich white with complex aromas and long and persistent finish!
To be enjoyed with white meat, fish in sauce or crustaceans.
7. 2016 Clos du Mont-Olivet Cotes du Rhone A Seraphin
Retail Price: $25.99
Our Price: $18.99
Jeb Dunnick, 90-93 Points
"The top Côtes du Rhône is the 2016 Côtes du Rhône A Séraphin and it's going to be an outstanding wine. This cuvee includes slightly more Syrah than the Vieilles Vignes and it shows, with the wine offers more olive, pepper and dark fruits. It too is medium to full-bodied, polished and elegant on the palate, and has loads to love."
8. 2016 Domaine Cabirau Serge & Nicolas Maury Sec
Retail Price: $24.00
Our Price: $18.99
Jeb Dunnick, 93 Points
"Also tasted as a barrel sample, the 2016 Maury Sec Serge & Nicolas checks in as a blend of 63% Grenache, 23% Carignan and 14% Syrah, from 35- to 70-year-old vines that had the Grenache brought up all in tank and the Syrah and Carignan in demi-muids. Notes of strawberries, spice-box, licorice, violets and dried herbs all emerge from this beauty, and it's medium-bodied, silky and polished, with beautiful purity, solid mid-palate density and building depth and length. There's just a little over 1,000 cases and is going to be a smoking value." 
9. 2016 Alain Jaume Vacqueyras Grande Garrigue
Retail Price: $33.00
Our Price: $24.99
Jeb Dunnick, 92 Points
"The Jaume brothers have produced a classic 2016 Vacqueyras Grande Garrigue based on 60% Grenache and the rest Mourvèdre, Syrah, and very old vine Cinsault. Dark fruits, garrigue, crushed rock-like minerality, and ample spice notes give way to an ultra-classic, balanced 2016 that has a great mid-palate and sweet tannin. Drink this layered, pleasure-bent effort over the coming 7-8 years."
10. 2017 Le Clos du Caillou Cotes du Rhone Le Bouquet des Garrigues
Our Price: $24.99
Jeb Dunnick, 91 Points
"Mostly Clairette Rosé, the 2017 Côtes du Rhône Bouquet de Garrigue Blanc offers a light color as well as tons of citrus blossom, crushed rock, pineapple, and floral notes. It too is crisp, clean, and beautifully balanced."
Organic and biodynamically grown.  
11. 2013 Domaine de L'Hortus Pic Saint Loup Grand Cuvee
Retail Price: $30.00
Our Price: $24.99
Wine Advocate, 91-93 Points
"A big step up, the inky colored 2013 Pic Saint Loup Grande Cuvee is a smoking effort. Medium to full-bodied, ripe, supple and sexy, it's loaded with notions of black raspberry, blackberry, crushed rock, smoked meats and licorice. Like a lot of 2013, it leans more towards the fresh, focused and elegant side of the spectrum, yet still has solid depth and richness."
12. 2015 Domaine les Pallières Gigondas Terrasse du Diable
Retail Price: $40.00
Our Price: $34.99
Jeb Dunnick, 94 Points
"The 2015s are also brilliant, and if not for the 2016s, I'd say best yet. The 2015 Gigondas Terrasses du Diable sports a ruby color as well as considerable polish and elegance in its blackberry, black cherry, garrigue and mineral-drenched style. Full-bodied, concentrated, loaded with spice, and beautifully textured, it's a knockout 2015 to drink over the coming decade."
That's all for now! Did you favorite make the list? If not let us know in the comments!
---